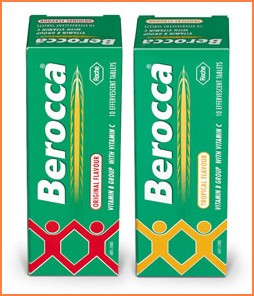 When I was last in Australia there was some hilarity among our hosts about a product called Berocca, which they looked upon as a magic potion combining the best properties of Gatorade, speed, and Viagra.  The Aussies partied mercilessly knowing that tomorrow they could reach for the elegantly shaped tin, pull a lozenge of Berocca out, drop it in water, and watch it miraculously alchemize into like six months of prior healthy consumption of vegetables, vitamins, minerals, fruits, and whole grains.
What I love about Australians is that they could say something like this in advertising a product: "Alcohol consumption and smoking, along with sleep deprivation, can take a significant toll on your body. That doesn't by any means mean you shouldn't be doing it, but when you do, treat yourself to a Berocca."  I couldn't have stated my personal philosophy better!
I mention this because at the recent PGA Show in Las Vegas I encountered Nuun, which comes elegantly costumed in a similar plastic-topped metal cylinder to the ones that I filled my suitcase with upon my return from "down under"– which, by the way, has always seemed to me to be the exact opposite of "hung over" to begin with.  Coincidence?  I think not!
Nuun does not market itself as a hangover cure, but rather as a sports drink for serious athletes.  And now the people at Nuun have, for some inexplicable reason, equated golfers with serious athletes as well as people who climb mountains and kayak dangerous rivers, etc., which is even more entertaining than the idea that whatever I do tonight can be cured by a tablet dropped in a glass of water.  Brilliant!  They even feature a photo of US Open winner Lucas Glover on their website, and he looks almost like an actual athlete.
The Nuun website suggests that years of research have resulted in a product that allows you to absorb electrolytes (sodium, potassium, magnesium, and calcium) quickly and efficiently without cramping or other problems normally associated with dehydration as experienced by triathletes, marathon runners, bike racers, and other actual physical specimens.  It contains no sugar or caffeine, thus not conflicting with the need for doughnuts and coffee; no carbs; and a flavor that they suggest will entice you to drink more water than you normally would.  It's also, according to the Nuun website, made with a sprinkle of love.  Nuun comes in lemon+lime, citrus fruit, and tri-berry.  Just to prove that these folks have a sense of humor, they report (tongue planted firmly in cheek) that if you eat a Nuun tablet and drink a fizzy drink you will EXPLODE, and they link this claim to a website for the seventies candy sensation Poprocks, which explains that Mikey from the Life cereal commercials did NOT, in fact, die from eating Pop Rocks and washing it down with soda.
A recent golf outing in Vegas in 110-degree temperatures turned the entertaining thought of golfers as athletes into a realization that a product like Nuun in fact makes sense– possibly even more so if you're riding in a cart drinking dehydrating beer all day in the hot sun (not that I was, of course).  But we have to say we're still amused by the notion that a highly researched and engineered sports drink like Nuun would begin marketing itself to golfers.  Our Aussie friends would simply see this as more reason to consume alcohol while playing.  The same way that I see taking statin drugs every day for my high cholesterol as a safe way of allowing me to consume cheeseburgers and pizza with aplomb.
As my friend and A Position partner Tom Harack would say, slightly altering a famous Australian anthem,"Yes, worries."