Like any intrepid adventure traveler, today's golfer should consider local conditions before and during his 18-hole journey.  In the same way that you'd think twice about picking up a rock in the desert (scorpions), or stowing that extra chocolate bar under your sleeping bag in the mountains (grizzlies), golfers also need to adjust to the specific dangers of their surroundings—and plan for those hazards before packing their clubs.  For example, you probably won't want the seven-wood in a place where the wind howls, or the flop wedge in Scotland (or even at Bandon Dunes, in Oregon), where the blade is likely to bounce off the firm turf and hit your ball in the forehead rather than cutting underneath it.
With the traveling golfer in mind, we consulted a few experts in the field—golf pros, that is—to talk about golf shots required by certain locations, and to garner a few tips for taking these challenges on.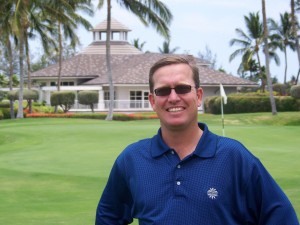 When asked to describe a golf shot essential to playing in Hawaii, Scott Head, Director of Golf at the terrific Waikoloa Resort, responds, "Since we've got a nice breeze out here today, let's talk about playing in the wind."  After chasing and retrieving his hat, Head explains that most courses in the islands were built with the prevailing trade winds in mind, which is why they're so playable—at least until you step up to the tee on an upwind par five and your skinny playing partner disappears in a gust.
Head recommends that golfers headed for his territory learn how to execute a low-running wind cheater.  "The key to playing in the wind is being able to manage trajectory," he explains.  "Most people try to hit too hard to create more club head speed so their ball will penetrate the wind.  But golf is a game of opposites; to control the ball in the wind you actually want to impart less spin so the wind will have less influence.  You want to keep the ball closer to the ground."
Head says rule number one is to take more club and swing slower—a three-quarter-speed swing will reduce spin and allow your ball to penetrate the wind, while providing you with more influence over it.
"Grip down two to three inches on the club," he counsels.  "Place the ball back of center—four to six inches farther back than normal.  The big key is to swing through the ball.  At impact, the left wrist should be flat and facing the target and the shaft of the club should be leaning forward, essentially delofting it."
The 15th hole on Waikoloa's Kings Course is an ideal place to show off your new shot.  This gruff par three—ranging from 115-165 yards—plays into the teeth of the wind.  A large lake guards the front and left of the small green, while several pot bunkers lurk menacingly on the right side.  "Distance control is everything here," Head observes.  "Finish low, not high, and hold your position at the left hip.  This will result in low ball flight."
Players venturing south to the desert for a warm, dry early-spring golf trip will face the opposite challenge: how to hit shots that hang in the air longer than Superman showing off for Lois, and that land softer than the final notes of a Kenny G song.  Desert courses such as the beloved layouts at Troon North, in Scottsdale, are often target-style, meaning that fairways and greens present lonely islands of grass in harsh desert topography full of cacti, rocks, arroyos, rattlesnakes, and other dangers.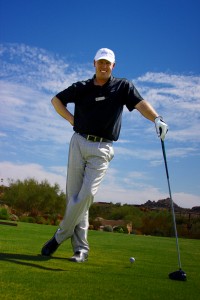 Doug Hammer, Director of Instruction at Troon North, says, "Out here in the desert the greens are firm and fast and often elevated.  They also have false fronts with hazards and heavy bunkering to hit over, so you need to know how to hit the high, soft shot."
When trying to launch shots likely to be approved by NASA, Hammer recommends a full swing with the ball positioned forward in your stance.  "Keep your lower body quiet.  If you slide you'll catch the ball on an upswing.  Try to pinch the ball between the club and the turf and keep the clubface from closing, like on a cut shot.  Inside of 100 yards, take less than a full swing with a slightly weaker grip and an open stance. You want to slip the club under the ball and above the turf.  Try not to take a divot, and just brush or sweep the grass."
The high-flyer may prove especially helpful on Troon North's Pinnacle course, where the front nine features holes with forced carries over arroyos; or on the second hole of the Monument Course, a par three of approximately 150 yards that plays to a very elevated green with bunkers positioned short and right and a big false front.  If you're short, the ball will roll back down to where you can't even see the hole.  Which, at least, will give you another opportunity to practice the short high shot again.
In creating the world-class Chambers Bay Golf Course outside Tacoma, architects at Robert Trent Jones II sculpted sandy expanses from a former gravel mine into massive dunes and some of the largest waste bunkers ever designed in golf.  One vast Sahara—located between the fourth and fourteenth holes— sprawls across eight acres.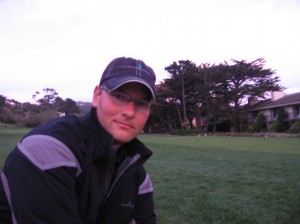 Brent Zepp, First Assistant Professional at Chambers Bay, reports, "Every hole here has ragged, natural sandy waste areas just like in Scotland or Ireland.  If you play to the wrong side of some of our fairways, you'll find some quite demanding shots."  Zepp points out that the difference between waste areas and bunkers is that you can ground your club and take a practice swing in a waste area—so feel free to pound the earth in frustration.
The seventh hole at Chambers Bay presents a risk/reward conundrum that can play as long as 508 yards, and about which Zepp says, "We're proud of how brutally difficult it is."  Golfers can either hit straight out to the fairway, leaving a tremendously long uphill approach, or cut across the waste area but risk not reaching the fairway 250 yards or more across the sand.  If your ball happens to stop for a picnic on the beach, your next shot will be no picnic—at least 175 yards straight uphill, all across waste bunker, to a green 50 feet higher in elevation.
Zepp's first tip for hitting out of waste areas?  "Be smart.  You might have to carry 175 yards of sand to the green, but to the left the fairway may be five yards away.  Weigh your options.  If you're not confident in the long shot, just get back to the fairway and play from there."
If you decide that you didn't come to Chambers to lay up, Zepp advises, "Take a wider stance to give yourself a good base in the sand.  You should be square to the target, not open.  Play the ball back so that you hit the ball first with a normal swing, and make sure to accelerate through the shot.  You're not trying to lift the ball out of the waste area—you want to hit down on the ball and make contact with it first, which is what will make it come up."
Zepp adds that club selection is also important.  In case you don't carry a shovel in your bag, "choose right by taking more club than you probably need.  Too much club won't hurt you, and you can always choke up."  Zepp suggests that a hybrid is a fine choice—the low center of gravity should help the ball get up and out, at which point you can do the same.  Just make sure to empty the sand out of your shoes (and, possibly, your teeth).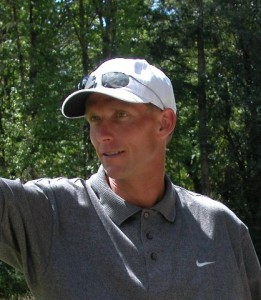 Christopher Smith, PGA Lead Instructor at Pumpkin Ridge Golf Club, in Portland, is a different kind of instructor.  World speed golf record holder and author of "I've Got 99 Swing Thoughts But 'Hit the Ball' Ain't One," Smith took an unexpected tack during our consultation, too.  He believes the most demanding topography for hitting golf shots is in the mind.
"Regardless of where you're playing, or what the conditions are like, the most challenging shot is always the next shot after a bad one, or the next time you have to hit a similar shot to one you just muddled."  Smith says.  " Short term memory loss can be a blessing for playing the shot right after a lousy one.  If you miss a short putt early, the next short putt is way harder.  If you stub a chip or blade one out of a greenside bunker, the next, similar shot is really challenging.  You haven't lost the physical skill to hit the shot, but there's mental interference with performing the way you want to."
Case in point: the fifth hole at Pumpkin Ridge's Witch Hollow course.  During the 2003 US Women's Open, one contender came to the short par three and after splashing her first tee shot in the water, hit her next shot in the same place.  How to avoid a similar fate?
"The first thing," Smith recommends, " is change the tool.  After a bad shot, a club has bad chi, or energy.  Take a different club.  If you take more club, grip down on it and swing easier.  If you take less club, swing more aggressively.  Better players can also choose to hit a different shot—if you muffed a high draw, try to hit a low fade."
But according to Smith, the challenge has far less to do with the club or the shot then the thoughts in the players mind.  He advises, "Don't think too much about the swing or what went wrong.  Don't slow down, either—I'd actually suggest playing less deliberately and following your instincts.  My instructional book is based on my own speed golf experiences—faster means less consciously and more intuitively."
"Stay in the present," Smith says.  "What negatively affects the next shot is that your mind wanders.  You are in the here and now while your mind is in the past or future.  Do whatever you can to distract your mind and keep it in the now—talk to your playing partners, or practice deep breathing while counting"
One last thing.  "The reason the next shot is hard is that we fear failure," Smith concludes.  "So ask yourself 'what's the penalty if you do miss?'  Why is there so much fear?  How important is the shot, really, and how bad are the consequences for failing—will there only be peace in the Middle East if you succeed?"
Learn more about Smith's fresh approach to instruction on his CD Better Golf, or on his website, ChristopherSmithGolf.com.
With these four golf pros in your corner, and their specific tips in your golf shot arsenal, you should be ready to take on the specific challenges presented by a variety of different golf terrain (although we still recommend against playing across an active volcano).  If your own golf adventures confront you with shot requirements not covered here, all our pros offer private lessons—or consult a local pro for emergency instruction.