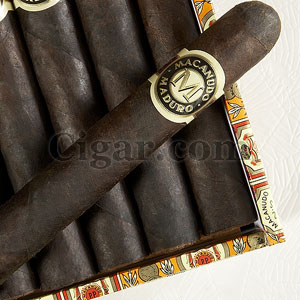 This afternoon I lit up the perky, beautifully polished Macanudo Maduro on the back nine at Pumpkin Ridge Golf Club (the nines were actually reversed so we played the back nine first, so my back nine started with the first hole).  I was playing with three members of the same family whom I'd been paired with on this late afternoon round on the perfect summer Saturday.  My wife was out of town and so the evening stretched out before me without dates or deadlines, and the weather had grown hot and clear though I knew we'd play into the shadow time, when the air would cool with just a whisper of autumn.
The mahogany color of the Connecticut broadleaf wrapper was as dark and mysterious as a cup of lovingly-roasted fresh-brewed coffee and the cigar smelled richly and deeply of the Dominican soil which the tobacco grew in– spicy, with a hint of salt air and a tinge of sweetness, and very mild for a maduro, which isn't normally what I smoke.  But it looked so gorgeous in the shop in its wooden box that I couldn't resist liberating it.
I lit the cigar while my playing partners were teeing off and set it down just long enough to rope a solid drive into the breeze, landing on the left side of the fairway.  That cigar has game!  My next shot was 195 yards to a welcoming green protected by a small false front that would steal a bit of distance from a well-hit shot.  Given that, and the breeze, and the back pin placement, I decided to hit three-wood.  I set the cigar down carefully on a special spot on my golf bag that welcomes a lit cigar, and took a full lash at the ball and knocked it five feet from the pin, my best shot of the day.
You should be polite enough not to ask if I made the birdie.  All I'll tell you is that the Macanudo seemed to applaud with flavor.