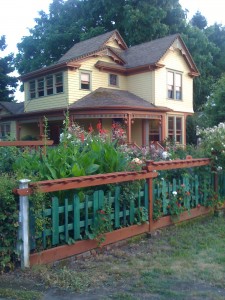 On Sunday evening my friends David and Leslie and I drove to a neighborhood in Portland better known for its criminal than culinary history and discovered the kind of secret place that has virtually everyone in this country with a tattoo or the slightest bit of sense moving to the Rose City.  We attended a dinner sponsored by an organization called Growing Gardens, which has been teaching children and challenged populations how to build and maintain gardens and grow their own organic food since 1996.  The event took place in a dazzling hidden garden on the grounds of the Lonesomeville Pottery Studios, with fifty diners, a celebrity chef, and about three billion lilies.
The chef was Gabriel Rucker of Portland's frantically esteemed Le Pigeon, which has earned a reputation for the kind of creative cuisine that nearly always tastes far better than it sounds (with a single exception I'll get to in a moment).  Beef hearts, sweetbreads, and many other parts that I'm happier to eat than know about showcase Rucker's talents and regularly generate lines around the block.
The chef admitted that this evening's menu lacked the "smoke and mirrors" of his restaurant, and he proved his chops by cooking the simplest of meals imaginable in a way that shocked with its depth of character.  Employees and volunteers of Growing Gardens– including the president elect, in a foot cast– passed trays of figs with blue cheese, balsamic, and crispy prosciutto while reps from Oregon's renowned and pioneering Elk Cove Vineyards started us out with a 2009 Rose of Pinot Noir, which paired even more perfectly with the warm afternoon, bees circling the flowers, and the garden stretching and looping between beds, revealing brightly-painted Adirondack chairs around a fire pit, peppers ripening on the vine, and stained-glass snifter lights and other artwork spaced airily around us.  One cul de sac hosted photos of Growing Gardens clients– the shots of minority children and poor grandmothers hoisting a bean plant or a basket of tomatoes recalled triumphant shots of athletes holding up the Stanley Cup or the British Open's claret jug, such was the pure joy and success of their venture of turning weedy yards and empty lots into veritable produce departments.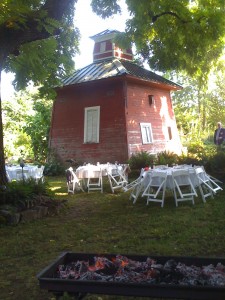 But on to the dinner!  After wandering the grounds– including the 1890 farmhouse where four potters live, work, and no doubt twaddle their fingers at those who would choose to live in urban Portland when a friggin'  farm is available a mile from downtown for godsakes– and meeting our random dinnermates beneath the elegant old walnut trees, we sat to a first course of carrot and almond salad with punchy bitter greens and a light, creamy dressing.  The tiny discuses of carrots played soft counterpoint to the crunchy Marcona almonds and not a person among us didn't look for the server to see if perhaps there was just a little more.  Elk Cove provided a slappingly refreshing Pinot Gris that I could have chugged like Gatorade after a bike ride if I'd gotten my hands on the bottle.
Spirits soared, laughter rang out along with the bonging of wind chimes, and– I'm not making this up– squirrels dropped walnuts on us from the high branches, seeming to snicker when they plunked into our wine glasses, which only increased our giddiness– which was, I think focused on the pleasure to come in the form of whole salmon grilled over charcoal, with yogurt dressing and two salads– one of summer squash, one of potatoes.
I must admit that in reading the menu I was disappointed.  Having been to Le Pigeon several times and being delighted by everything except the foie gras ice cream profiteroles (wrong in so many ways, and I'm not even talking about politically), I'd expected something more alarming, er, I mean adventurous.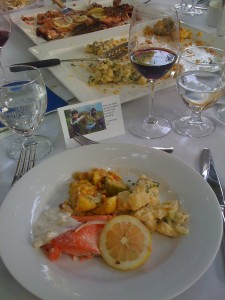 The fact that chef Rucker and his partner could make you look at cold potato salad in a new way is far greater tribute to his skill than anything he could prepare with various strange parts from ducks and rabbits and alligators.  The consistency of the potatoes was supremely perfect– they were soft yet firm, delectable porn stars of potatoes, and the cilantro added a piquancy like a good solid  tasering.  It was salty and sophisticated, like a beach on the Italian Riviera.  The summer squash salad had a balancing tang and a soft crunch that seemed to burst with fresh rainwater.  The dressing, while it looked like Tartar sauce, was another slide into cool pleasure.
Speeches were made describing Growing Gardens' mission, introducing various dignitaries.  All were demure and uncommonly heartfelt and short winded– their mission is pure and simple and so good that nobody needed convincing, especially if we could help them raise money by eating this dinner.  And by swaddling the Elk Cove Pinot Noir that brought taste buds to attention while whispering: this is why you live in Oregon!  As if we could forget.
Desert was a strange delight– almond-olive oil cake with a plum rose compote and whipped cream.  The lovely girl in the green dress looked over at the plate of the jovial contractor who'd gotten up from his seat and switched her smallish slice for his larger one.  Later, the contractor (not even knowing about the theft), stole a second piece from inside the kitchen, where it might have been meant for the chef or possibly for one of the adorable dogs who worked the room all night, and certainly deserved almond-olive oil cake with plum rose compote, if only as reward for their cuteness and noble demeanors.
The evening cooled and we knew we'd have to leave, eventually.  I made an offer to Danny Hills, the co-owner of Lonesomeville Pottery (worth a visit just to see the gardens, but please buy something to support the potters!), for the thrift-store toilet seat that you'll have to click here to see a photo of.
The evening was perfect in everything from our table name tags which had notes from various Growing Gardens beneficiaries on the back (mine said "Thank you for making garden club possible, this is the best club I could ask for," with a photo of the student who wrote it holding up a giant kale leaf) to the marketing materials in the design of a seed packet.
How could anyone not want to attend one of these events?  We all told the girl in the green dress, who is going to another dinner in the series next week, that we would come along and share her food.  She smiled, alarmed, and finished her Elk Cove 2008 Ultima ice wine before the contractor or the wind power advocate or the art therapist could sneak a sip while she looked up at the whoosh of breeze in the high branches of the walnut tree.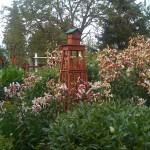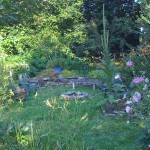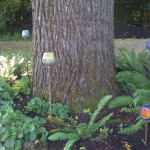 All Photos by David Wolf.