Who needs a massage more than The Golf Road Warriors?  And where better to enjoy the quiet, private luxury of a spa and secret springs than Two Bunch Palms, in Desert Hot Springs– reputed fortress hangout of mobster Al Capone back in the 1920s.  After a long day full of shooting (on The Classic Club's golf course), I cannot imagine a more relaxing location to hide from the heat.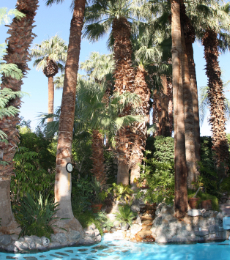 Built in the 1920s, the original construction included ornate rock bungalows with stained glass windows and interiors floored with planked oak and decorated with massive rock fireplaces.  Outside, hot mineral water gurgles beneath groves of palms and collects in a series of rock pools of varying temperatures.  Overnight guests can choose from fifty-two rooms and suites that offer close proximity to the baths, spa, dining room, grassy lawns, and other great places for escaping your troubles, whether they include FBI and IRS raids, or thoughts of a three-putt on the eighteenth green.
In recent years Two Bunch has begun attracting more actors than mobsters, but the likes of Jennifer Lopez, Matt Damon, and Barbara Streisand look no more assuming in the resort's signature white robes than any other guests.  High rollers can hole up in the Capone Suite, which features an oak bar, large patio, verandah, and more.
Spa-sters can sample from an extensive menu including a variety of massages from foot to scalp, various forms of water therapy, well-being treatments, wraps, facials, and more.
The place exudes an esoteric, genuine, and laid-back feel that most modern spas fail to achieve despite piped tinkly music and burning sage and folks wandering around muttering "namaste".  This is the California you've dreamed of but never quite seem to find.