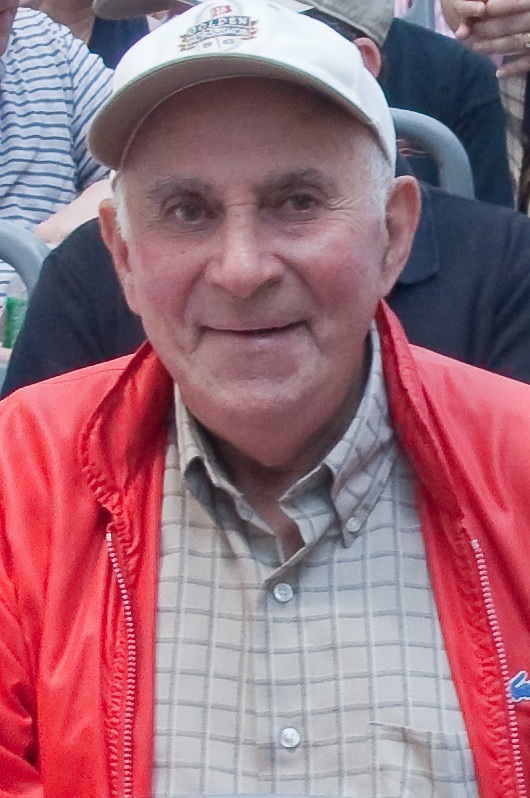 For my Father, Sidney Wallach, June 11, 1925-February 9, 2010.
I'm in the garage of my parents pink house in Delray Beach, Florida, among the recycling bins and the stacks of Costco toilet paper and the ancient sports gear, including a tennis racket that hasn't been hit in two decades, trying to choose the right golf club for a challenging situation.  But each time I pull a club out of the old standing bag in the corner to test how it feels, to check the worn smoothness of the faded leather grips, the telephone rings inside the house and I have to run back in and answer it.  I have to listen to yet another stranger tell me how much they loved my father.  And, frankly, I'm running out of tissues.
The decision comes down to a choice between a 64-degree wedge with a lot of bounce and a Pro Edge 16-degree hybrid.  In later years my dad couldn't hit driver any more and the hybrids were invented just in time to save his game.  He could punch the 16-degree about 150 yards off the tee when he hit it good and didn't step away from the ball because one leg had trouble bearing the weight shift since his cancer surgery.  Actually, I'm giving him the benefit of the doubt, here; the fact is that dad stepped away from the ball in mid-swing long before he ever got cancer, which to everyone's great surprise, was not even the thing that killed him.
Personally, I think not being able to play golf anymore is what killed him, though the many doctors who fought ceaselessly on his behalf toward the end would likely disagree.  As recently as a few weeks ago, over the phone from Florida to Oregon, dad told me how he'd been getting around the house without his walker lately, and was thinking about buying some whiffle balls and hitting them along the narrow strip of Bermuda grass between the house and the neighbor's house.  It was his way of letting me know that he was training for our next match and that I should probably watch out.
He never got that chance because he fell down one day without the walker and his doctor—a cancer specialist who surely loses patients every day but who cried on the phone yesterday when calling with his condolences—was angry with dad and told him he MUST use the walker, he was putting himself at risk without it.  So maybe that conversation is what killed him because even at 84 years old, with his ten-year cancer the least of his health problems, I think until that moment dad truly believed he was going to rally one more time and get back out to the place on this earth that he loved the most.  I'm almost certain that the prospect of a life without golf was the one penalty that my father could not call on himself.
The lob wedge seems like a good choice to me because he always struck it with great confidence—or at least great hope—and was often deadly with it.  That wedge was all about feel, which my dad possessed in abundance.  When he started painting a few years ago for the first time, in his eighties, he showed a natural touch.  His first canvas was of a golf hole, and it hangs on the wall of my office alongside artwork of St. Andrews and Turnberry, and many of the other places I hoped someday to visit with dad even though we both knew the real chance of that had come and gone years ago.
I'm comforted to know that the last round of golf he ever played was with me, just a few months ago, at the Boca Raton Resort and Club, not far from the house in Florida.  I was covering the resort for a magazine story and invited dad to come along.  He'd transitioned to playing only executive courses with his devoted golf buddy Phil, and sometimes he only had the energy for ten or twelve holes, but at Boca dad hit every shot on a course that surprised him with its length, even though it was a short course.  He played well that day—he was frustrated by some bad shots but he hit some truly spectacular ones, and that grin that could light up a full gallery at Augusta carried him up to some of the greens that were just a little too far from the cart for him to get to easily.  That was his final round and I was proud of him, as always.  I saw how hard he struggled, and how much pain he was in, yet he was expansively joyful.  When I left after that trip he shortly gave in to rationality and started with the walker, and from there things played like a short, downwind, downhill par four.
The only other thing I thought about burying with my father was his ball retriever.  I know he'd get a good laugh out of that—his humor is what most people remembered when they called on the phone and cried to me about how much they'd loved my father.  That would be a good one on Dad—the idea that he might still lose golf balls up there.  But I opted for practicality over humor. I ultimately decided on the lob wedge because of his affinity with it, because it had heft, which is something that my father will always have in my life, even though he was so thin at the end that a one-club wind could have blown him over.
At one point I considered a putter, but where Dad is now, I figure all the putts always go in, anyway.  When I kissed him good-bye in the hospital yesterday, I told him I'd catch up to him on the back nine, and in the meantime he'll have a chance to really sharpen his short game.