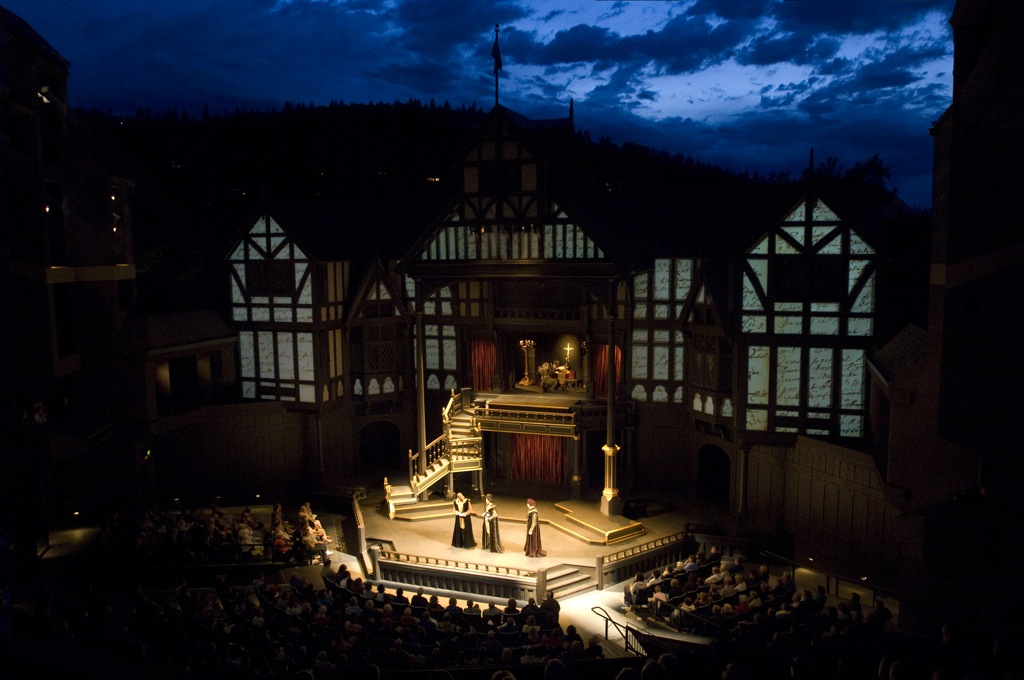 On my way to browse the intimate Bloomsbury Books on Main Street in Ashland, Oregon recently, I happened to spot Lewis the Dauphin, Son of the King of France, eating a large sandwich at a sidewalk restaurant.
Coincidentally, the next afternoon, in search of a good cup of coffee, I espied Constance— widow of King John of England's elder brother Geoffrey, and mother of young Arthur (who, before being kidnapped, aspired to the throne to which Lewis the Dauphin eventually ascended!)— sipping espresso in a pastry shop.
Add to these the information that I received from a local businessman who swears that he saw Hamlet working out on the Stairmaster next to him at the gym, and you can't help but wonder: is something, in fact, rotten in Denmark?  Or at the very least, is something strange going on in Ashland?
Au contraire, I say (with feeling, and a French accent, before exiting stage left).  In addition to its charms as an eclectic island of arts, culture, and counter-culture halfway between Portland and San Francisco, Ashland is also home to the world-renowned, Tony Award-winning Oregon Shakespeare Festival.  Founded in 1935, this nine-month extravaganza annually presents nearly 800 performances of nine shows in three theaters including a replica Elizabethan venue.  This year, OSF's offerings include such examples of the Bard's work as Hamlet and Twlfth Night, as well as fresh, bold interpretations of more modern fare including Cat on a Hot Tin Roof and  American Night.  OSF is among the oldest and largest non-profit theater companies in the U.S.  And not only for that reason, Ashland itself is, quite literally, full of characters.
Many visitors to OSF fill their schedules to bursting with theater, seeing two shows per day and participating in other play-related events in between.  Preface programs before certain performances introduce audiences to plots and characters; lectures provide actors and directors an opportunity to discuss a plays' symbolism, context, or history; and classes, workshops, backstage tours, and other programs orbiting around actual performances create an atmosphere that is all about drama—or comedy, as the case may be.
At some point, most patrons stumble out of a darkened theater and need to take five.  Ashland is a welcoming locale for a variety of activities or even just for napping in a fine, sun-lit European-style boutique hostelry such as the Ashland Springs Hotel, originally built in 1925 but recently renovated from basement to parapets.  The old-world luxury mixed with a naturalist theme is both hip and cozy.  Sit by the fire in the lobby and mull such age-old questions as: "Were Romeo and Juliet really star-crossed?"  And "What should I have for dinner?"  (The answer to the latter: anything at the French-inspired Amuse Restaurant, close-by to both the hotel and theaters.)
If you crave shopping after seeing The Merchant of Venice, downtown presents a collage of galleries, shops, and boutiques.  And as long as there's no Tempest raging outside, walk off your torpor amidst the wooded paths and burbling streams of 93-acre Lithia Park, or through leafy neighborhoods of Victorian and Craftsman homes (including genuine Greene and Greene designs).  But beware: B&Bs threaten to charm you to death on every corner.
With a bit more time, go hiking, biking, rafting, kayaking, skiing, or climbing in the surrounding Siskyou and Cascade Mountains.  Situated at 2,000 feet and with only 19 inches of annual rainfall, Ashland's climate is, well, lovely as a summer's day.  Or drive ten miles to Medford to play John Fought's links-style Centennial Golf Club, which does not lend itself to a single Shakespearean reference.  But make sure to get thee back to Ashland for the evening curtain.
For further info: 800-219-8161, www.osfashland.org.  If, for you, the play's the thing, following are a handful of other great American theater festivals.
A Sidebar in Ten Acts:
Contemporary American Theater Festival, Shepherdstown, WV, July 6-29.  In it's 17th season CATF describes itself as "the ultimate new play festival in America."  Each year audiences view four new works by such homegrown playwrights as Sam Shepard, Richard Dresser, and Joyce Carol Oates.  The plays, about contemporary issues, are meant to both challenge and entertain.  800-999-CATF, www.catf.org.
Shaw Festival, Niagara-on-the-Lake, Ontario, April 3-Oct. 28.  This non-profit company produces plays (such as 2007's Saint Joan) by George Bernard Shaw and his contemporaries (Ibsen, Inge, Wilde, etc.) or about his era (1856-1950).  In its 45th year, the Shaw is known for reviving plays that other companies are unable or unwilling to produce.  800-511-SHAW, www.shawfest.com.
Vancouver Fringe Festival, Vancouver, British Columbia, Sept.  Part of a global theater network based on the original Edinburgh Fringe Festival, VFF promises uncensored performances from 100 international troupes.  Eleven days of events take place in theaters, garages, even on a water taxi.  604-257-0350, www.vancouverfringe.com.
Spoleto Festival USA, Charleston, SC, May 25-June 10.  The largest festival of its kind in the Americas, Spoleto features well-known masters and up-and-comers performing opera, dance, and plays in historic theaters, churches, and outdoor spaces.  Since 1977, festival goers have applauded the works of artists ranging from Tennessee Williams and Arthur Miller to Phillip Glass and Laurie Anderson, and performances by the likes of Yo Yo Ma and Emanuel Ax.  843-579-3100, www.spoletousa.org.
In the Street Theater Festival, San Francisco, CA, Oct.  Likely back for its 12th season after a year off, the only street theater festival in the US offers irreverent, intimate, and interactive entertainment featuring 200 acrobats, clowns, puppets, dancers, and other performance artists on neighborhood streets.   415-255-5971, www.zeitgeist.net.
Williamstown Theater Festival, Williamstown, MA, July-Aug.  This award-winning summer theater program in the Berkshires is celebrating its 45th year.  WTF offers performances of new and classic plays— many of which have gone on to Broadway— as well as workshops for kids.  413-597-3400, www.wtfestival.org.
Great Lakes Theater Festival, Cleveland, OH, Sept.–April.  Founded in 1962, GLTF currently pairs two alternating productions in several mini-seasons that correspond with school calendars.  Next up: A Funny Thing Happened on the Way to the Forum and Love's Labour's Lost.  216-241-5490, www.greatlakestheater.org.
New York Shakespeare Festival in the Park, New York City, Summer. Shakespeare has been performed outdoors at the Delacorte Theater for five decades since James Earl Jones and George C. Scott appeared in The Merchant of Venice.  Every year New Yorkers get free theater including at least one Shakespeare play, often starring actors such as Meryl Streep and Kevin Kline.  212-539-8500, www.publictheater.org.
One Act Theater Festival, De Pere, WI, Feb. 9-March 17.  In only its second year, this small festival outside Green Bay features approximately a dozen plays each lasting between one and fifteen minutes for a total of under two hours.  920-983-0966, www.venturetheateronline.com.
Utah Shakespearean Festival, Cedar City, Utah, June-Oct.  For more than forty years this Tony award-winning festival has produced both Shakespearean and modern shows in two main venues, including one patterned after a 16th century theater much like The Globe.  This year's offerings include King Lear and Agatha Christie's The Mousetrap.  800-PLAYTIX, www.bard.org.