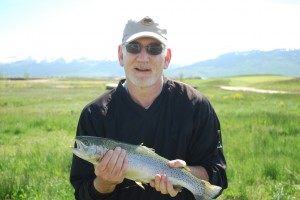 That's me (I'm the one in the hat) holding a cutthroat trout that I caught two days ago in one of the stocked ponds at Huntsman Springs, a beautiful new community in Driggs, Idaho. It's about 45 minutes from Jackson Hole, Wyoming (the closest commercial airport), through the pass on the western side of the Tetons. The money for the community is from the Huntsman family—their eponymous corporation is a vast chemical conglomerate (there's an article about them in the current issue of Fortune)—and the development is part of their way of giving back: Any profits from the project will be given to the Huntsman Cancer Institute in Salt Lake City, which has already received billions from the clan. Jon Huntsman Sr., 73, is a four-time cancer survivor yet still a bundle of energy and an incredibly gracious, down-to-earth guy.
Along with all the other activities in the Teton Valley—hiking, biking, horseback, fishing (obviously), skiing, etc.—the Huntsmans have done the golf world a great favor by bringing in David McLay Kidd to build a terrific new course on their 1,350-acre property (the first hole is shown below). Just opened, the Huntsman Springs course is dramatic, fun, challenging, thought-provoking, and very natural despite the fact that Kidd had to move 4 million cubic yards of dirt before he could lay out a single hole. What used to be flat grazing land and wetlands was recast, dropped below grade, and the nearby wetlands pulled in—some artificially, Kidd admits—to allow for water hazards, split fairways, rolling, rumpled terrain, and big, undulating greens.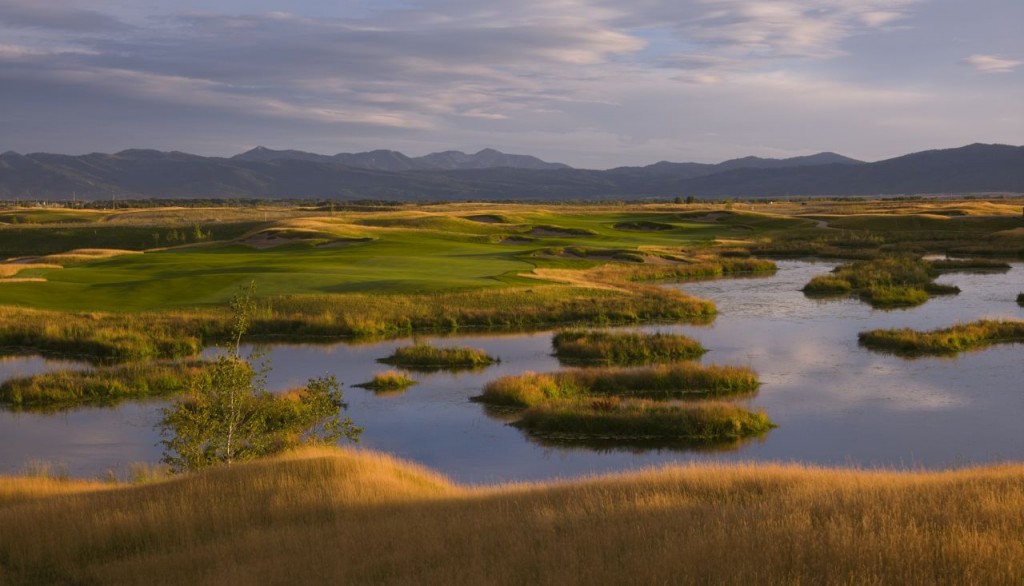 Kidd says this is the project he is most proud of, interesting words from the man who designed the original course at Bandon Dunes. But as he put it, he'd have to have been an idiot to screw up the incredible terrain at Bandon. Here, he had nothing, just flat. Kidd also was involved in the community's master plan, which could eventually have as many as 620 wood-and-stone houses but they will be sufficiently pushed away from the course so as not to be too conspicuous. However, never out of sight are the spectacular peaks of the Tetons.
There's no shortage of things to do at Huntsman Springs, which has been planned by the family to be a family-friendly community, a place to unwind, unplug, and spend time together across the generations. The fact that it's not around the corner from anywhere helps. Should you make it out there, try fly fishing under the tutelage of John Pehrson (Mr. Huntsman's personal guide, and now mine), and check out the Corner Drugstore in Driggs: have a huckleberry milk shake or, in season, a lime freeze. Small-town America and big-time golf (plus other amusements) make a terrific combination.