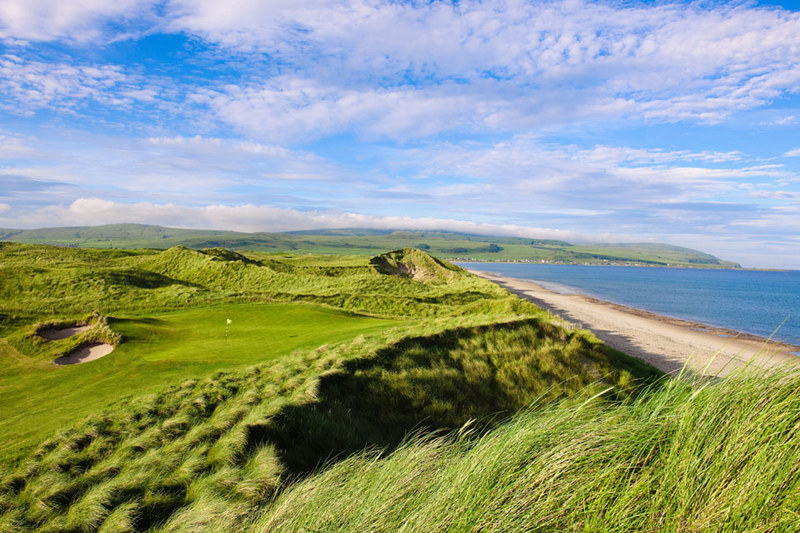 PerryGolf is one of the most experienced and trusted golf travel operators in the world, arranging and conducting trips to Scotland, Ireland, England, Wales, Portugal, Spain, France, Italy, South Africa, China, Australia, and New Zealand. The company is run by brothers Colin and Gordon Dalgleish, originally from Glasgow, Scotland, and educated in the U.S.
Colin—who was Scottish Amateur Champion in 1981, a member of the 1981 GB&I Walker Cup team, and captain of the team in 2007 and 2009—runs the office in Scotland. Gordon—a pretty good player himself as well as a past director of the American Junior Golf Association and recognized by Conde Nast Traveler as one of the Top Travel Specialists in the U.S.—runs the American office, located in Wilmington, North Carolina.
I recently sat down with Gordon and quizzed him about the current state of golf travel.
Give me a very quick assessment of the golf-travel industry right now. Good? Bad? On the rebound?
After a steadily declining 2008 season, 2009 was miserable for every segment of the international golf travel market. No destination was immune, nor was any price segment insulated. The 2010 season has seen an improvement (over 2009), but it's still a long way short of prior years. People are engaged in the discussion about golf travel, they may be more cautious with their money, but unlike 12 months ago they are at least considering what the next golf trip should consist of.
What are the two or three courses or projects you are most excited about that have opened recently or will open soon?
The Castle Course when it opened near St. Andrews in 2008 endured much criticism for severe green complexes. With some adjustments to the course and ongoing fine service, it has become a solid addition to the golf offerings around St. Andrews. I also think that while Machrihanish Dunes (shown at top) possibly opened slightly prematurely in 2009, the development is coming along with attractive accommodation options in a hitherto rarely traveled part of Scotland (for overseas visitors). Finally, it goes without saying that Castle Stuart has been a wonderful addition to golfing in the Highlands of Scotland, extremely well received by golfers since opening last summer.


What's the best golf-travel bargain right now? In the U.S.? Internationally?
Sea Island (above), off the coast of Georgia, is a great buy currently as compared to where it was priced 24 months ago. It is still a wonderful destination with good golf. Internationally, although we do not operate programs there, I am told Turkey has some excellent golf at extremely attractive pricing. With the current relative weakness of the euro and pound it remains a great time to travel to Europe as the prices are probably 25% below what they were 24 months ago.
What's the next "hot" place in golf-travel?
While I have no personal experience in Brazil, I am told that many youngsters are engaged and participating in the sport and coming north to Florida for golf schools. Additionally, with the 2016 Olympics in Brazil hosting golf I suspect venues need to be built or substantially refurbished. If this all comes together, I imagine that Brazil will become an attractive golf destination for the more well traveled golfer.
What places are cooling off?
Ireland has gone through a very tough period as a result of over supply. It enjoyed a strong run up as a result of European Union money, while demand increased as a result of excellent destination marketing. The local suppliers raised rates, the euro strengthened, and the bottom fell out in 2008/2009—the perfect storm. Local rates have fallen, the euro has weakened, and I think Ireland will definitely improve as people who thought it was overpriced start to return. It was a very hard dose of reality for the golf segment in Ireland.
If you were spending your own money to go somewhere to play golf and take the family, where would it be?
Assuming it's during the summer months, it would be to Scotland to enjoy the country and connect my family to my heritage.
What's the biggest mistake people make when planning a golf vacation?
Trying to fit too much into the schedule and as a result not enjoying any quiet time so they can enjoy and appreciate the courses. That's as opposed to desperately trying to recall each hole as they fly home when there's no hope given it was a blur.
What's your favorite little-known course in the world?
Machrie (below), on the Isle of Islay, off the West Coast of Scotland. Peaceful. Wonderful links golf.