Clean Sweep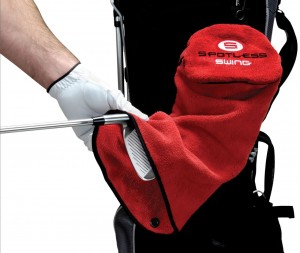 This has been an especially busy golf year for me, traveling back and forth across the U.S. a number of times to see new courses as well as going to Scotland, Wales, the Dominican Republic, and Portugal with clubs in tow. During all those trips, a new towel was attached to my bag.
Called Spotless Swing, and touted as "three golf towels in one," it lived up to its claims. It's shaped like a hood, with the outside made of a microfiber that is six times more absorbent than cotton yet dries quickly; it's for drying hands, face, grips, and gloves. But it's under the hood where things get interesting. That's where you find a MicroBrush fabric that's rough enough to clean grooves without scratching the clubface, doesn't need water, and keeps the mess off your hands. It's clever, machine-washable, available in four color combinations, and well-priced at $20. Get more information and order at spotlessswing.com or call 888-738-7293.
Cold Comfort
I'm not much of a cold-weather golfer, but I'm tempted to give it a try this fall (and winter?) thanks to hats from Ahead and gloves from Etonic Golf.
Ahead's warm wearables include baseball caps made of corduroy (in navy—shown right—brown, khaki, or bone) or heavier-weight melton wool (in black, charcoal, navy, maroon, and dark green), retailing at $24 each. There are also toques (what we used to call ski caps), either a mix of knit and fleece or all fleece, in a variety of colors, at $20 each. www.aheadweb.com
Having used Etonic's rain gloves, I can highly recommend them. So I'm sure I'll like their winter gloves, which have a specially patterned leather palm for gripping and are backed with microfiber fleece. All the gloves retail for $20 a pair in the requisite sizes. www.etonic.com
In The Bag(s)
A number of new golf bags are in stores now. Nike's Performance Carry bag (left), for riding or walking, has a ventilated back pad that provides cushioning and improved airflow. The redesigned strap is curved to better fit on shoulders while also incorporating the company's "Nike Air" technology for cushioning and shock absorption. Available in a wide choice of color combinations, it retails at $240. www.nikegolf.com
Adidas Golf has a whole supply of new bags. The Strike aG Stand bag (right; retail price, $230) weighs less than five pounds but has seven pockets so it doesn't limit what you can bring along. Even lighter are the four-pound University ($130) and 4 ½-pound Clutch ($110), with six and five pockets, respectively. The Approach cart bag ($150), with eight pockets, makes them all accessible when strapped onto a buggy or pull cart. The new Tour aG Staff bag ($350) was inspired by Sergio Garcia's all-white model, unveiled at the Masters a few years back; the aG Tour stand bag ($140) is a smaller version, with legs, that will prove more practical for those of us who don't employ a full-time caddie. All the bags have the company's four-point strap system, with continuous webbing, which lowers weight while distributing it properly for a less fatiguing trek. www.adidasgolfgear.com