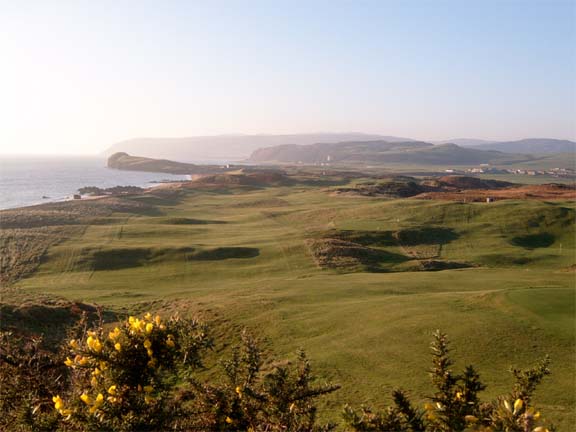 Among the saddest things a traveling golfer can hear is, "You should have been here last week." Or in the case of the Golf Road Warriors, yesterday. Too many people told us how nice it was on the Kintyre Peninsula yesterday, a sharp contrast to the cold, wet day we flew into.
There was no aerial view of Glasgow until we were touching down at the airport, and the co-pilot/steward of the puddle-jumper that flew us from Glasgow to Campbeltown (and who was wearing a Foot-Joy glove because, she said, they don't make small women's flying gloves, whatever a flying glove is!) apologized because the view is usually terrific coming over. Today? Nothing but clouds all the way.
Running on just a few hours of airplane sleep, I joined a hearty foursome at soggy, cold, and windy Dunaverty Golf Club, at the southeastern tip of the peninsula. A short but sporty layout—moving up and down along a long stretch of beach—it would have been the perfect warm-up course for the rest of the adventure if there were anything warm about it. In the first battle, Mother Nature trounced this Golf Road Warrior. It wasn't even close.
I admit it, I gave up after about six holes due to oncoming exhaustion and a poor choice of shoes, which were taking on more water than the Titanic. But my Sun Mountain Torrent rain suit kept me bone-dry from neck to ankles. I could have used a ski hat, and did wear rain gloves, which got soaked but gripped the club well enough that I can't blame them for my poor shots. (I'm going to have to figure out how to not hit everything high and right in the blustery winds.)
Dunaverty, which dates back to 1889 (and has the emphasis on the second syllable—dun-AH-verty), supposedly offers marvelous views on a sunny day. When the clouds vanish (which, the steward swore to me, does happen, and as the photo above attests), it's possible to see across the Firth of Clyde to Turnberry and Ailsa Craig, as well as Northern Ireland. The course and club are rustic in that authentic British way, nothing more than a challenging little course (par 66 and barely 5,000 yards without the wind) and a bare-bones clubhouse that's a nice place to dry off with a coffee and a snack while waiting for the ride back to the hotel.
Ah, the hotel. We are billeted at The Ugadale, on the edge of the Village at Machrihanish Dunes, next door to the original Machrihanish Golf Club. There's been a small hotel on the site since 1878, and after numerous fires and rebuilds, it's been lovingly brought it back to former glory but with all the modern trimmings, including pubs, restaurants, a spa, fitness center, cottages, and 22 luxurious rooms and suites.
It's where I'm typing this from, straining to keep my eyes open but waiting just a little longer until it's time to try a few local single malts, dine, then sleep. Tomorrow promises a round at Machrihanish (the weather forecast is much more welcoming) and a tour of the Springbank Distillery.
Golf and whisky. Scotland's greatest gifts. But with both, I like to go easy on the water.