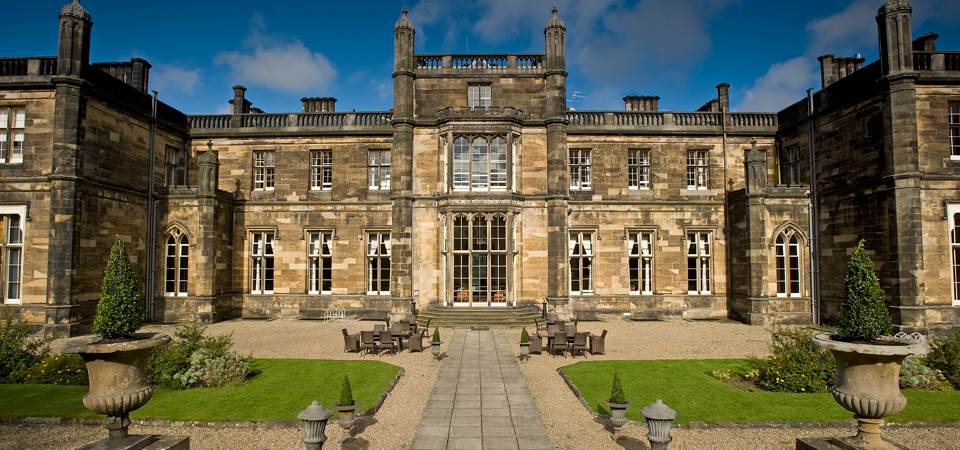 None of us Golf Road Warriors expects any sympathy for the schedule we've kept the last few days. Lots of golf and great meals, staying in luxury, and crisscrossing western Scotland in search of more. Poor poor us, indeed.
Not to complain, but it was a busy few days. Up early, out late, walking courses in sometimes tough conditions, and then applying liberal doses of food and drink (especially whisky) purely for medicinal purposes. We are all dog-tired. So it was welcome relief to check into Mar Hall, a five-star golf and spa resort just a few minutes from the Glasgow Airport, where we'll be heading in the morning. You readers might not feel our pain but the excellent staff at Mar Hall is quite experienced in giving succor to the weary warrior.
The 240-acre estate overlooks the River Clyde and is dominated by the main building, which used to be the Erskine Mansion on the Earl of Mar Estate. The Earl of Mar is the oldest title in Britain, going back to the original kingdoms of Scotland. The baronial mansion was built in the mid 1800s from stone quarried on the site and oak imported from Canada. More than 50 million pounds have been spent refurbishing it to its original, yet updated, grandeur.
Befitting the age and design of the building, it's filled with little passageways leading into grand rooms now used as bars, lounges, dining rooms, and 53 grand bedrooms. On the ground floor is a spa, the only Aveda Destination Spa in Britain, where there's a gym, steam room and sauna, treatment rooms, and a big pool.
The food is excellent, interesting dishes featuring venison, local lamb and produce, fresh seafood, rich desserts, and wonderfully creative presentation: My salmon last night came on a flat piece of slate, and the new chef, who comes from nearby Glasgow, uses curlicues of plants and other things for visual appeal that offer whimsical contrast to the wooden walls and high ceilings of the manor. It works, and tastes great.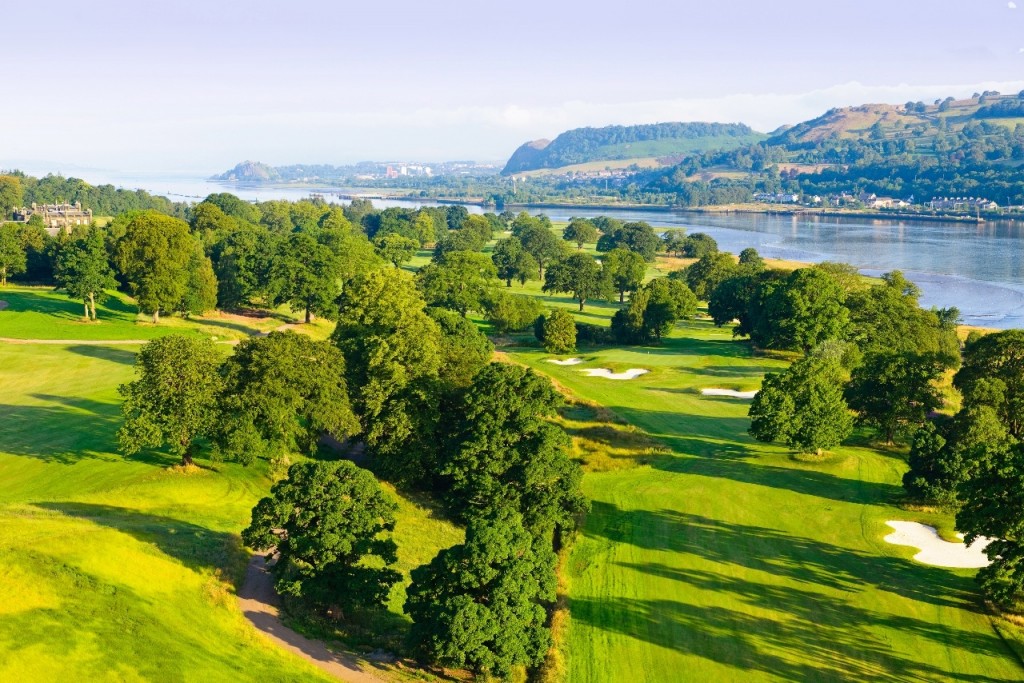 Also on the property is the Earl of Mar golf course, the last one we played, which was a good thing given how we all did. But if your game is going to go south, this isn't a bad course on which to lose it. Designed by Dave Thomas (probably best-known in America for the course at The Belfry, where the Ryder Cup is often played), the layout offers lots of room to hit errant shots without much trouble. There are great views along the Clyde—and on the first few holes of the soaring Erskine Bridge—as the holes run placidly downhill from the hotel to the river and back. There's more than enough to keep it interesting—cleverly positioned trees, big bunkers, doglegs, moving greens—but likely no hard feelings at the end.
So despite a plethora of pitiful pop-ups, pitches, and putts, this group of warriors walked off the course only slightly battered. We all survived, no doubt already anxious to saddle up, clubs on our back, and head into battle again. Just maybe not too soon.
With that, I'm going to start packing—and preparing for a last, but celebratory, meal. The flight home will give me a chance to reflect on the week past, which means you can expect at least one more post with my observations very soon.
If you missed any of my earlier reports, or those from the rest of my Scottish foursome, please check out the website. And let us know what you think.