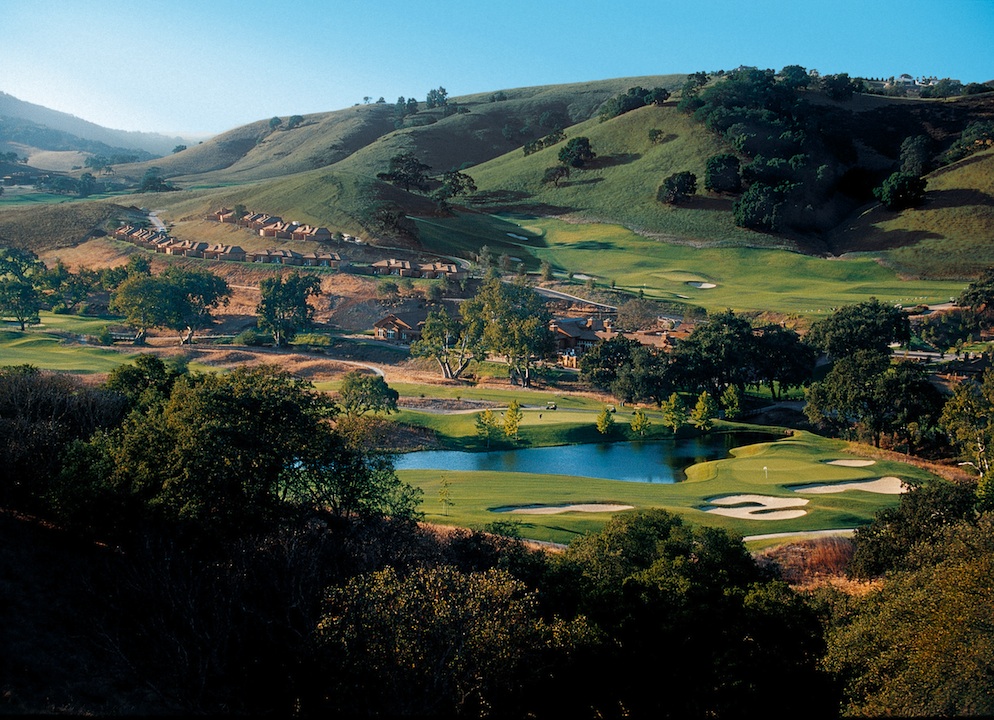 A few miles from the epicenter of high-tech wizardry, CordeValle is high-class resort that runs at a low-pressure pace
Turn north out of northern California's San Jose airport and you're quickly in the middle of Silicon Valley, where the emphasis is on speed and progress is measured in nanoseconds and gigabytes.
But turn south and the journey is in a very different direction, somewhat back in time and to a more relaxed kind of valley. Within a few minutes you are driving past fields lush with cherries, mushrooms, artichokes, garlic, and the state's first vineyards. Head toward the foothills of the Santa Cruz Mountains and you come upon secluded dales laced with creeks and waving with wildflowers, gently rolling terrain that was once divided into huge ranches supporting cattle and orchards. Tucked into one of these is CordeValle—"the heart of the valley"—a 1,700-acre resort of quiet elegance and beauty, with a golf course, accommodations, and service on a level equal to anything this country can offer.
Just at a much slower operating system.
The Golf
Those of us who live in the East probably haven't seen as much work from Robert Trent ("Bobby") Jones Jr. as from his younger brother Rees, both offspring of the legendary architect Robert Trent Jones Sr. The sons, far from the closest of siblings, appear to have worked out an arrangement that divides the country roughly down the middle, with Rees concentrating his American work nearer his Montclair, New Jersey, home, while Bobby takes on the assignments closer to his headquarters in Palo Alto, California. If, as a result, you haven't played many of Bobby's more westerly designs, you're missing some wonderfully creative venues (some have argued that they can get too creative). To see one that proves how golf and nature can sublimely co-exist, go to CordeValle.
Toss out the usual facts—7,169 yards from the tips; as many as seven different tees on some holes; subtle elevation changes and old-style bunkers—then forget them. For this is not a course that one is likely to remember hole by hole but as a continuum: It is a layout that flows, that meanders, that takes its own sweet time winding through the valley, along streams, and around ancient oaks and sycamores, with barely a home in sight. Many courses hope to be known as "a walk in the park," but this one truly is a most pleasant stroll (with walking encouraged, aided by very good caddies).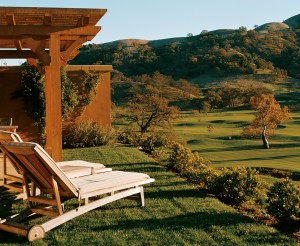 From atop the 9th and 16th tees, the views extend for miles in all directions, and the course below shimmers and bursts with colors that change by the season (in spring, tiny purple flowers enrobed almost every fairway). That same 9th is one of the more confounding holes, a not-too-long par four bisected laterally by a stream that creates two landing areas, both dotted with trees that threaten to impede anything but a perfect second shot. The 16th is one of the quartet of par-threes, all of which tilt gracefully with the land, but have been enhanced by bunkers and false fronts that can be difficult to perceive.
There's a good score to be had, not so much wrested from a brutish foe but cajoled through smart club selection and judicious attacking. And even though the final hole is one of the course's longest—with water all the way down the left side and trees down the right—it's perfectly normal to want to walk off the 18th green and head immediately back to the first tee.
The Resort
There are many other things to do at CordeValle besides play golf; what's nice is that no one is screaming at you to do them. At one end of the main building—like all the structures, built in California Craftsman style that features plenty of wood—is the 5,000-square-foot spa, offering many different treatments, including some designed specifically for golfers and others employing grape seed from nearby vines: high in vitamins C and E, grape seeds are touted as good sources for antioxidants and polyphenols (the latter supposedly combat free radicals, which have nothing to do with California's political climate). For those in search of still more activity, there's a fitness center, heated outdoor pool, tennis courts, and hiking trails through the hills. But the calming nature of CordeValle is perhaps best expressed by the huge men's locker room, which has its own Jacuzzis (indoors and out), bar, pool table, lounge, and cigar room.
Also on the property—nestling up against the sixth fairway, in fact—is the 85-acre Clos LaChance winery, which is open for tours, tastings, even weddings and business meetings. Not just some resort-attraction replica, this is a real, working winery well worth visiting. Producing a wide variety of reds and wines, Clos LaChance has earned very good scores for its Pinot Noirs.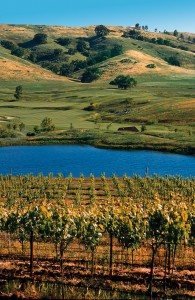 An excellent wine list (from Clos LaChance and elsewhere) can be found in the resort's restaurants. The Dining Room, run by Luca Rutigliano, formerly of New York's Carlyle Hotel, stirs together contemporary American cuisine, drawing heavily on local produce, with the chef's Italian heritage. Just off the main lobby, The Bar is just that, as well as a low-key choice for a light lunch or appetizers. Outside the pro shop, The Grill serves food and drink from breakfast till sunset.
Despite the size of the property, CordeValle has only 45 rooms, situated in bungalows, secluded villa suites, and grand fairway homes (measuring 3,100 square feet and coming complete with four master bedrooms, living room, dining room, kitchen, and private garden). Every guest rooms has a private patio that overlooks the golf course and the valley, and each provides the latest and greatest in amenities—king-size beds, flat-screen TVs with satellite reception, fireplaces, gigantic bathrooms, and countless little touches that ooze luxury.
For more information, call (408) 695-4500 or 888-ROSEWOOD; or go online to www.cordevalle.com.
Insider's Edge
Best chance for a birdie: No. 8, a short par-four (only 358 yards from the back) that bends to the right around a small lake. Play a long iron or fairway wood from the tee, then a short iron in. The green has a backstop so most balls funnel back toward the hole.
Hardest hole: No. 17, a lengthy downhill par-four. Trees and a water hazard line the right side, so anything too far to that side is a likely double-bogey. Even after a good drive, it's a long-iron approach over a big bunker that sits in the middle of the fairway about 100 yards short of the tiered green.
One shot you'll need: "Good putting," says director of golf Travis Skeesick. "The greens may not have huge undulations, but they roll very true so your putting has to be sharp. If you can read the breaks, they'll go in."
Walking: Absolutely. Hotel guests must take either a caddie or forecaddie and should be happy to. The caddie program was set up by the caddie master from Augusta National so don't be surprised when your bag-toter shows up in a white jumpsuit (sorry, your name will not be on his back).
Best time to visit: Toss-up between May and September, with a slight nod toward the fall when the grapes are being harvested and the air is redolent with their aroma.
Don't leave home without: A light jacket and long pants. No matter the season, the mornings can be quite cool and foggy (so much so that you won't be able to see the course looking down from your room!). Also bring a sturdy pair of hiking or walking shoes to explore the wilder parts of the property.
Drinks: The Bar features a long list of specialty drinks and wines, but the bartenders like to come up with something on the spot. So tell them how you feel (and how you played) and they'll whip up the perfect tonic.
Nice touch: The resort's "Nature Guide," found in every room. The acreage is overrun with wildlife, from tarantulas to the occasional bobcat. Bird life is especially abundant, particularly egrets, red-tailed hawks, and magpies. Listen at night for the sound of shriek owls searching for their supper. There's also a pair of binoculars in the room; from your patio, scan the property for fascinating non-human activity.
Members Only: The very attentive staff is instructed to make guests feel as if they are members of a very private club. So enjoy. (And if you really like it, ask about how to actually become a member of the golf club.)
An edited version of this article originally appeared in the April/May 2009 issue of The Met Golfer magazine. Photographs courtesy of the resort.