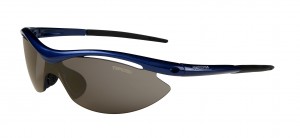 Tifosi sunglasses offer all the bells and whistles except one: high price. Almost every model in this company's wide line of sunglasses sells for around $60. That's a good deal for quality optics and eye protection.
The golf-specific line includes more than 20 frame designs, each with a set of three interchangeable lenses.
–GT (golf-tennis) lens is a smoky green: It's for full sun when you want to see the ball in flight, and is likely to be your everyday lens.
–EC (extreme contrast) lens is purple, and as its name implies, it offers the most contrast, enabling you to see contours and other characteristics washed out by sun and glare, making it the choice for reading greens.
–AC Red (which actually looks more orange) means All Conditions, so it works anytime but is especially good in overcast conditions, early in the morning and late in the day, in low light and shadow.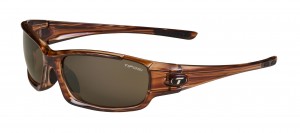 Tifosi lenses also feature a bit of technology called "decentering," something I heard about from a number of optical companies at the PGA Show. Some manufacturers make (or buy) their lenses with the maximum point of no distortion in the center of the lens, which is fine for many activities. However, as a golfer think how often you look through somewhere other than dead center: Addressing the ball, both on a full shot and putting, you're actually looking down and through the lower part of the lens; decentering moves the non-distortion spot a little lower for those times when clarity is vital.
I was also impressed by the frames, made of durable nylon so they are extremely flexible. The temples and nosepiece don't only bend to fit your head size and shape, they're also hydrophilic, which means they grip better when wet (i.e., sweaty). And some of the lenses feature Fototec, gradually darkening in brightening sunlight.
Tifosi sunglasses can be found at more than 3,500 retail locations including Edwin Watts Golf, PGA Tour Superstores, and GolfDom; there's a dealer locator, including online outlets, on the company website, where you can see all the options and learn more about the technology.
Every Tifosi sunglass comes in a hard-shell case that has pockets for the other lenses and a cleaning cloth. They also come with a lifetime warranty and can be fitted with prescription lenses.
As I said, a lot of bang for not a lot of buck.