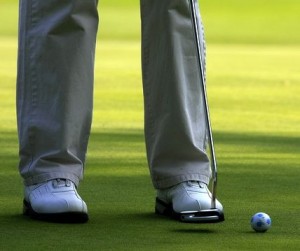 I used to be a good putter. Wait, let me rephrase that: I thought I was a good putter. Once upon a time, putting felt natural, I had confidence, and I made more than my fair share.
But over the last few weeks, as I tested out the new Odyssey Backstryke (see review), I realized something wasn't right. I liked the arrow but the archer was a mess. I said to myself that it's just a new piece of equipment, or slow greens, or early in the season, or whatever else I could think of.
The truth revealed itself a few weeks ago as I was working on some articles for Tee Time, a "magalog"—combination magazine and catalogue—published several times a year by Golf Galaxy, the chain of golf stores (and only available from the stores). Part of my research for these articles entailed interviewing pros who work for Golf Galaxy, asking them how golfers can tweak their games in mid-season.
The pros I spoke to—Rob Passarelli from the store in Christiana, Delaware, and Mike Kohn from Towson, Maryland—both said many golfers use putters that are the wrong length, trying to adapt their bodies to the equipment rather than the other way round.

"There are way too many 35-inch [standard-length] putters out there," Passarelli told me. "People choose putters that make them stand too tall and then they slap at the ball."
Bingo! The light went off in my thick head and I was at the nearest Golf Galaxy the next day.
Ed Koch, the pro at the Paramus, New Jersey, store, watched me putt for a few minutes on the practice green (every Golf Galaxy also has hitting areas with simulators and other tech, allowing them to fit all clubs, not just putters). He recommended cutting the putter an inch-and-a-half—allowing my arms to hang directly under my shoulders and swing freely—and installing an oversized grip to limit my hand action. The whole process took about 20 minutes and cost about $30.
And now I'm a good putter again. In the half-dozen or so rounds since, putting has felt natural and I'm thrilled with the results. My eyes are over the ball at address, my arms are where they should be, and I can make a good stroke without manipulation.
(One of those rounds was with an old friend, one of the top teachers in the U.S. When I told him my story he laughed and asked, "Do you know why the standard putter is 35 inches?" I said I thought it had to do with the length of uncut shafts. "Nope," he said. "That's the standard height of a golf bag, and manufacturers don't want the putter falling into the bag.")
So here's my advice: Check your putter and your putting. Are you setting up with your arms hanging free? Are your eyes over the ball at address? Is your stroke fluid? If not, have a pro watch your stroke and get your putter properly fit.
Finally, some self-serving promotion: The next issue of Tee Time, with my articles on mid-season tune-ups, should hit Golf Galaxy stores around July 12.