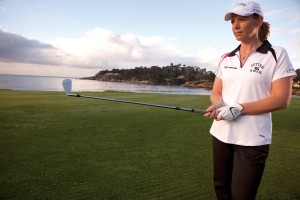 I've long been a fan of Cutter & Buck golfwear, appreciating its fit and styling. Now I can add comfort to the list of attributes, especially in hot weather, as C&B is using a new fabric in the summer/fall 2011 lines that will help keep golfers cool.
The material is called Icefil, a trademarked name for what the company describes as "a multi-functional intelligent moisture sensory fabric." Translating, Icefil has the smarts to wick moisture away from your body, turning your perspiration into refrigerant and reducing body temperature by as much as 5 degrees. It also blocks ultra-violet rays (so no sunburn) and is odor-free.
Icefil is another advance for Cutter & Buck, which already uses Nano-Tex Coolest Comfort technology in its DryTec Luxe Collection. These shirts, designed for active pursuits such as golf, are made of a rich Pima cotton/poly blend that has a great silky finish and hang beautifully. The fabric breathes and draws moisture off the skin.
The two technologies have a place in both men's and women's apparel, including the company's ANNIKA Collection of golf clothing for women. Ms. Sorestam (right) may not be playing tournament golf much anymore, but she is still working with the company, to their mutual benefit.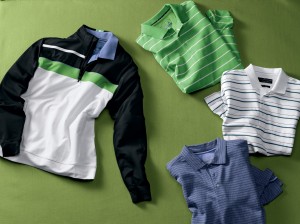 I didn't realize that Cutter & Buck also sells non-golf retail lines of both men's and women's clothing. (Check them out on the website, where you can order directly and get good bargains. There's also a rewards program with additional discounts on products and shipping.) The new men's golf apparel has been designed to pair with the company's specialty wear—coordinating colors and patterns among shirts, sweaters, and bottoms—making it even easier to go from office to course, or, if you absolutely must, vice versa.