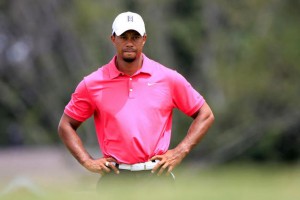 A friend forwarded an article from the LA Times sports blog. The subject line in his email read "Nice Story," which, I guess, means he agrees with the writer's premise: that golf has been great this year and he doesn't miss Tiger Woods.
To which I say: Yes and no.
Yes, the golf has been pretty good this year. Maybe not the flashiest of winners, especially in the majors. But perhaps we are seeing the rise of Rory. And any victory by Darren Clarke is cause for celebration for those of us over 40 and/or fans of fermented liquid from a bottle.
But no, I'm not happy that Tiger hasn't been in the mix. Hasn't even been a factor. Because despite what I think of his off-course antics, his on-course prowess was terrific stuff for spectators, TV ratings, and raising golf in the rest-of-the-world's consciousness. And with rounds and participation rates flat to down, golf needs all the help it can get.
(Note that I didn't say Tiger's presence or success do much to grow the game because I don't think they do or ever did. He brought fans and viewers, but I'm not sure there are many active golfers playing today who were inspired to take up the game by Tiger. That's grist for another topic, another time.)
Tiger might be cold, cruel, angry, a bad employer, a worse husband, and the poster boy for petulance. But when he was anywhere near on his game it was wonderful to watch. And I'm sorry Charl, Rory, Darren, and Keegan—good for you for what you did, but it would have been way more exciting, and much cooler, had it been Tiger. (Remember the final round of the Masters when Tiger was in it for a few holes? Tell me that wasn't tremendous theater.)
The great days of golf have always been defined by the great players, usually one giant who rises above the field and attaches his (and occasionally even her) name to an era: Francis Ouimet, Bob Jones, Walter Hagen, Sam Snead, Byron Nelson, Ben Hogan, Arnold Palmer, Jack Nicklaus, Tom Watston, Nancy Lopez, Annika Sorenstam, and to lesser extent Gene Sarazen, Lee Trevino, Nick Faldo, and so on. All players with multiple majors and the ability to bring out the crowds.
Tiger was nearly the best of them, and again, while the numbers show that he didn't do much for getting people onto the course, he did, much like Arnold, get them to watch and wonder.
Will he ever do so again? Only time will tell. But for so many reasons, I hope so.
And you know what would be even better? If all that happened and he grew up, warmed up, and opened up. Now that might really help the game.