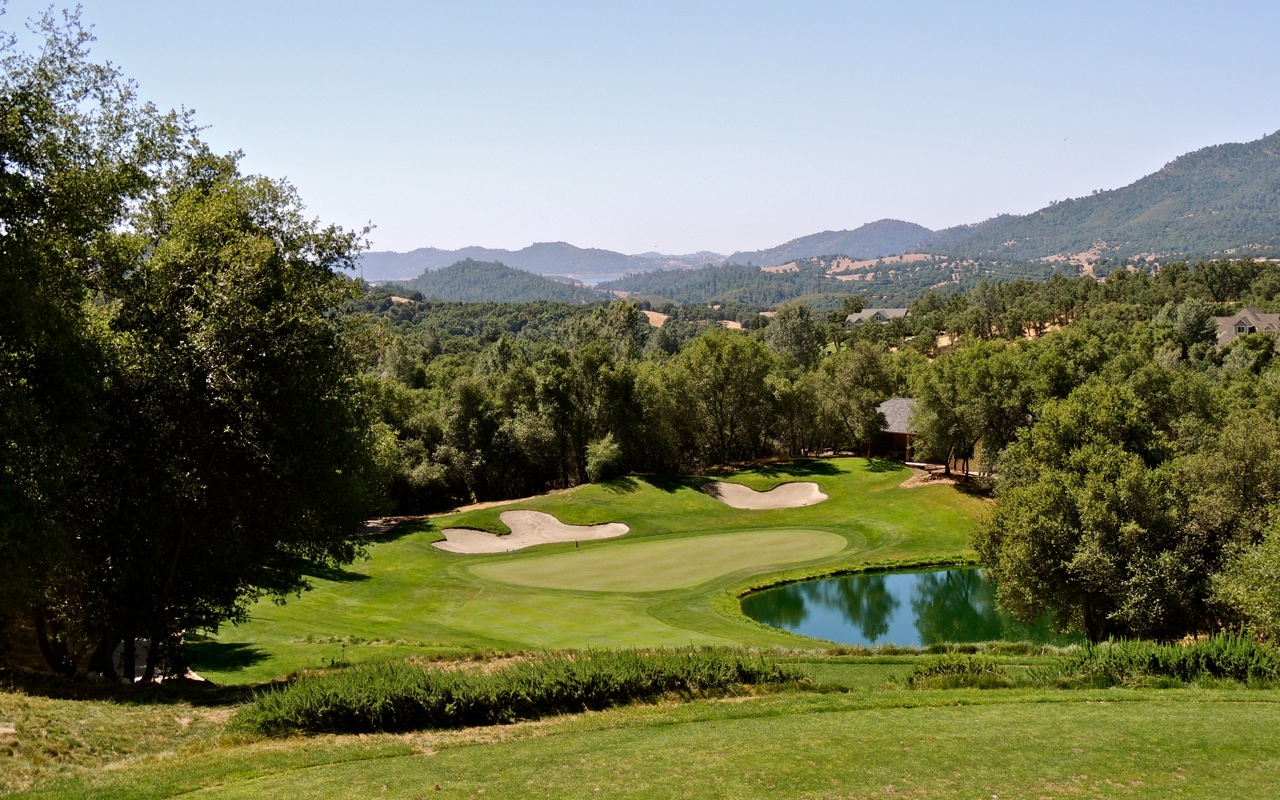 The 150-yard 13th at Greenhorn Creek is always counted among the best par-3's in Northern California and the views aren't bad either!  (Photo by Robert S. Fagan)
Did you know that between five hundred and a thousand years ago the Miwok Indians inhabited the land on which the Greenhorn Creek Resort now sits? In the mid-1800's, gold prospectors replaced these Indians and as the story goes, newly arriving "greenhorn" miners were sent down to the creek to mine. Lo and behold, they were the ones that found the riches – hence the name of Greenhorn Creek. Through the 1930's, these creeks continued to be rich diggings!
Farming and ranching accompanied the mining operations with three generations of Selkirk and McCauley families along with Chinese laborers working the land. The pond area on that makes for the highlight feature of the 5th through 7th holes was actually a dammed stream where the Chinese workers panned for gold and was later a watering hole for cattle. Today, it collects lots of golf balls.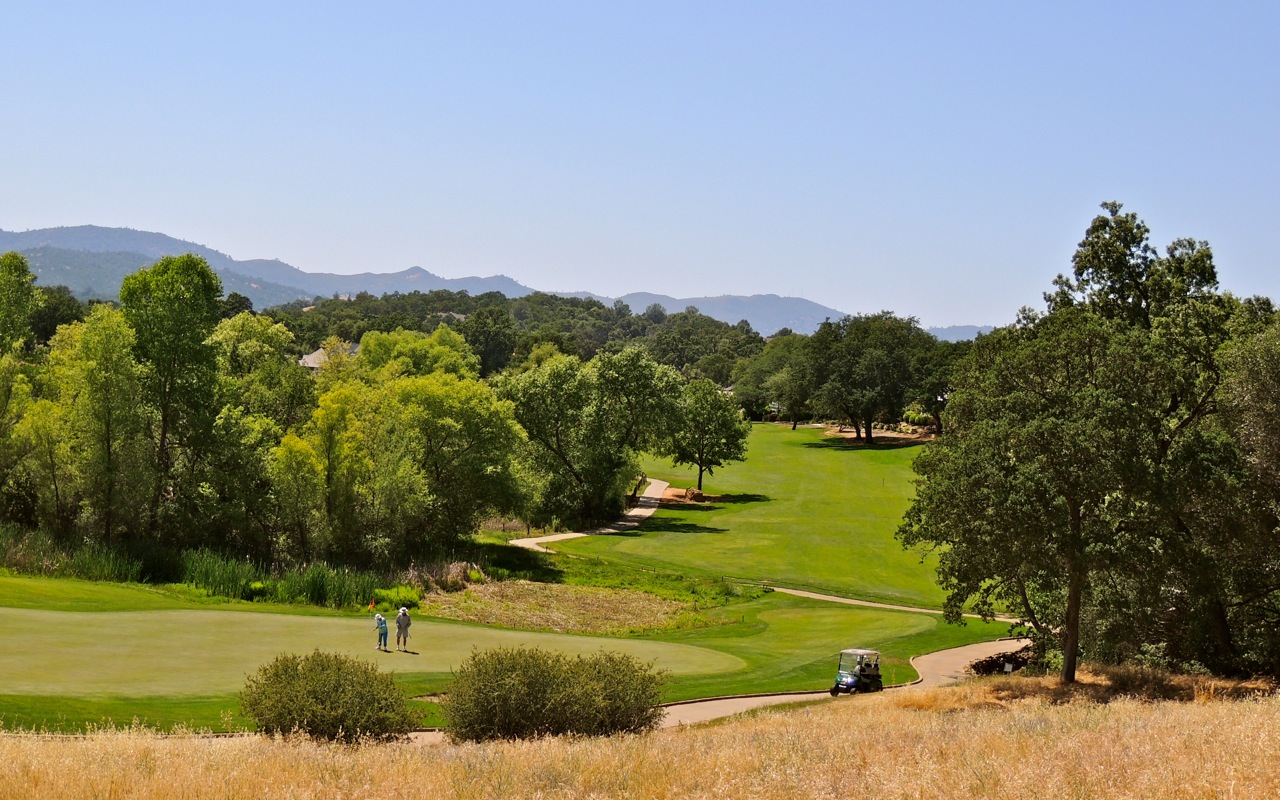 The dogleg right par-four 5th is one of the toughest holes at Greenhorn Creek and the area behind the trees to the left is the water area where prospectors once panned for gold and later where cows would water.  (Photo by Robert S. Fagan)
Local vintner and businessman, Barden Stevenot, acquired the property for mining, but gazing out upon the beautiful surrounds including Bear Mountain soon envisioned a perfect location for a golf course community. Don Boos was brought in to design this challenging golf course in 1996, and I was fortunate to play the layout on the opening day. With dozens of local golf professionals in attendance, it is safe to say that the golf course won. If I recall, a couple of us shot 75 – the best score that day. Even on opening day, Greenhorn Creek was a very scenic course with tightly treed corridors, and the greens and fairways were exceedingly firm. Perhaps though, Greenhorn Creek was a bit too difficult and immature, or at least some thought at that time.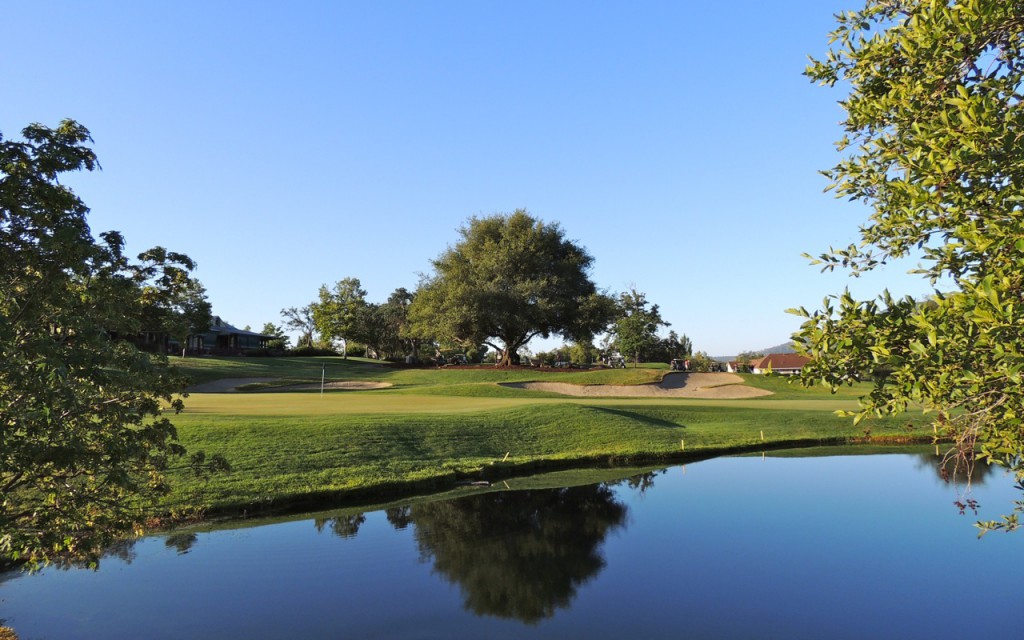 An early morning view of the 18th green at Greenhorn Creek.  (Photo by Robert S. Fagan)
The story continues. Stockton developer Fritz Grupe bought the property in 1999, but it was his great-grandfather that came to the area in 1849 and didn't discover gold, but instead started a profitable freight railroad. Candidly, the property needed help. With Grupe, an accomplished developer, coming aboard, he brought in the master golf architect Robert Trent Jones, Jr. to tweak the design. Soon to be stretched to over 7,000 for elite competition, the slope/rating of 142/73.2 from the 6,749-yard tees provides ample evidence enough that the challenge here still exists. It is fun to see how much Greenhorn Creek has since blossomed. Among some of the more important improvements, Jones opened up some areas for improved playability.
Yes, Greenhorn Creek is a challenge, but if there is anything easy at Greenhorn Creek it is the par-fives. Three of the five are readily reachable by average strong hitters, though a two-putt on any is far from any certainty as all of the putting surfaces have enough pitch and speed to require the most delicate of touches. Of particular note is the sharp dogleg-right 4th. Here golfers typically hit their second shots over a rock wall constructed by Chinese miners. Of course, really big hitters may play to the right of the wall and have only a short iron second-shot approach into this attractive par-five.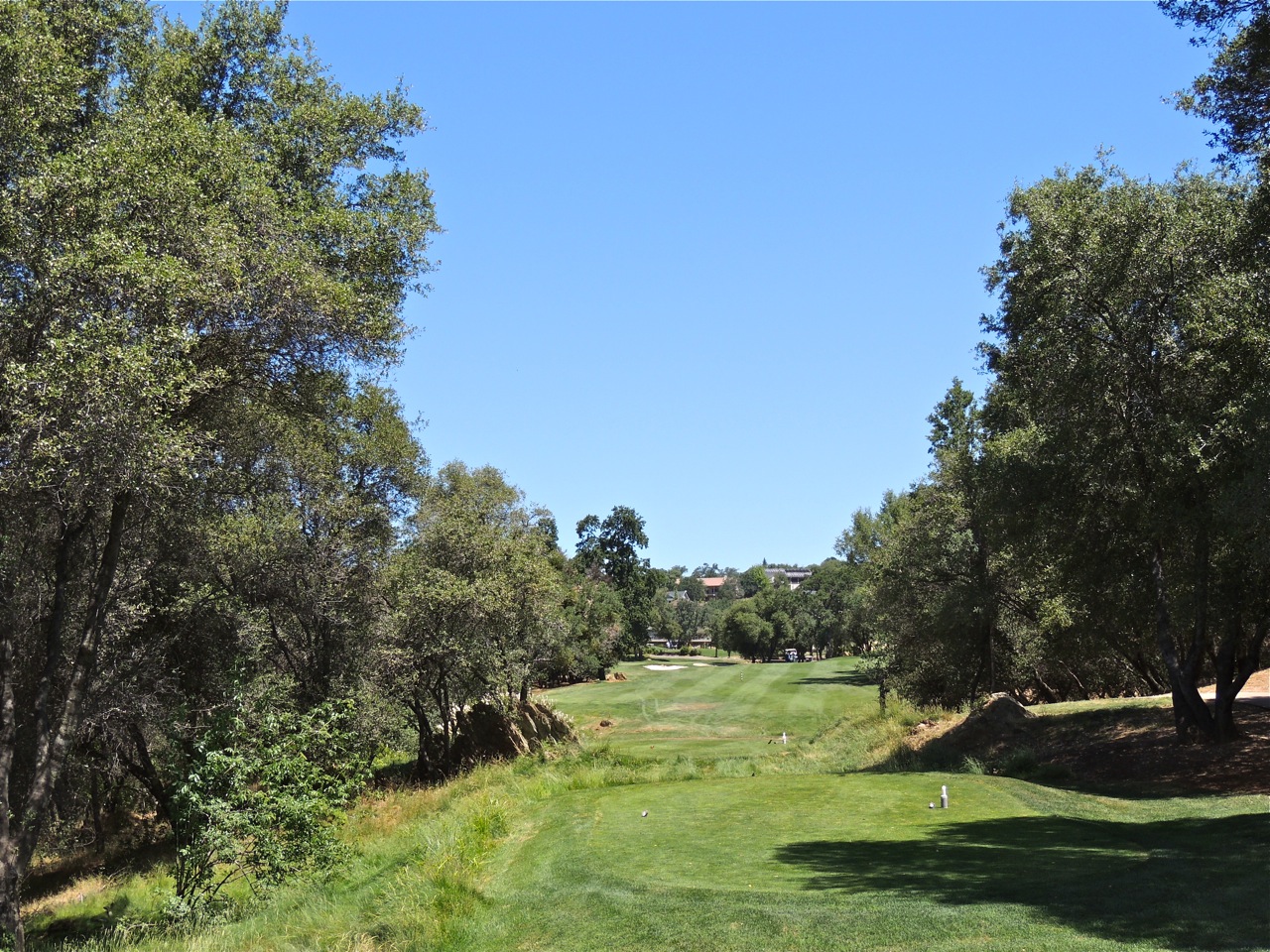 Above at the 16th hole is one of several intimidating tee shots at Greenhorn Creek.Fortunately there is more room on the right than there appears. Below is a view looking back from the putting surface.  (Photos by Robert S. Fagan)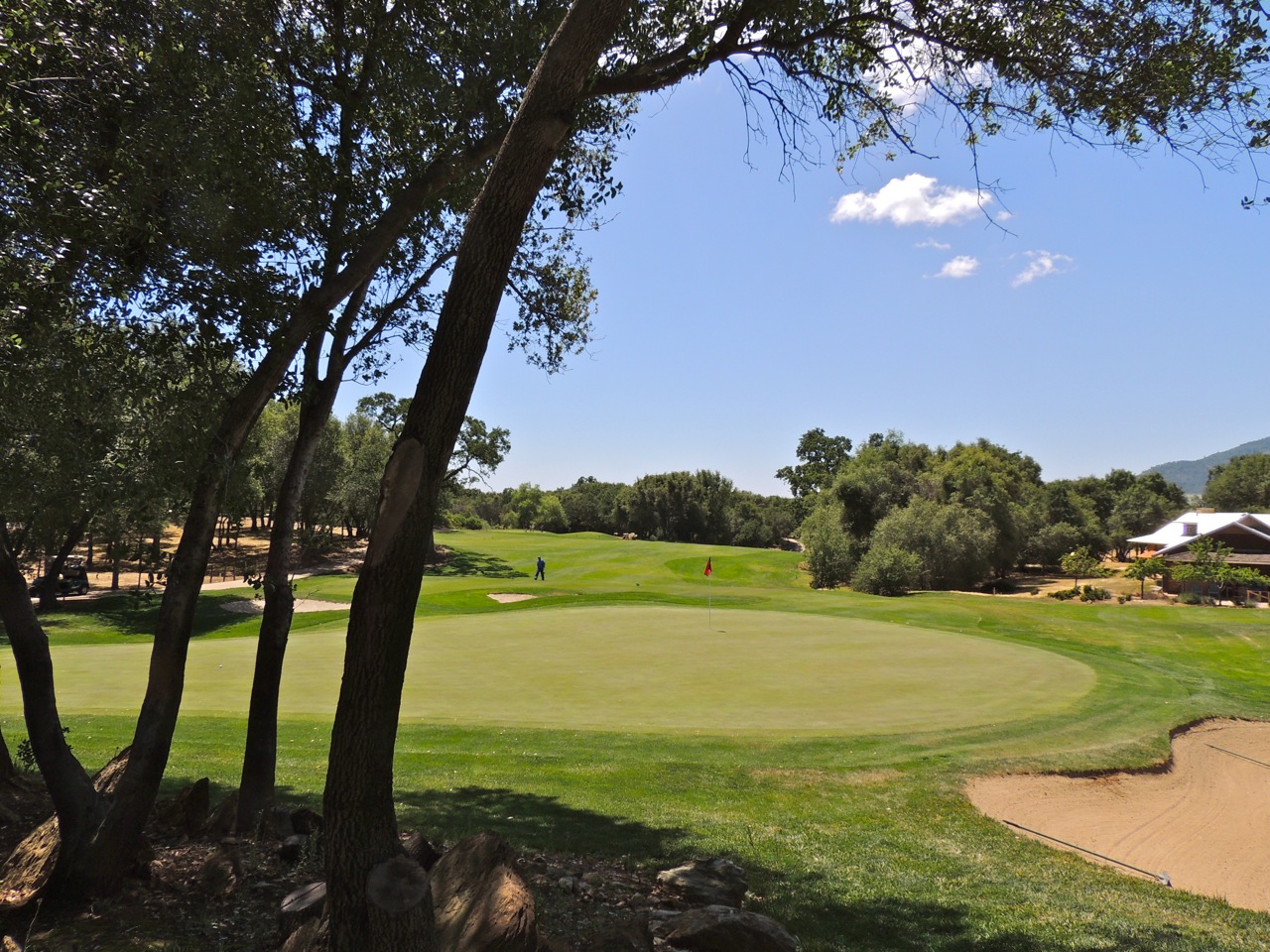 Five beautiful par-threes at Greenhorn Creek require some savvy club selections and vary considerably in look. Miss anyone of them in the wrong spot and you might quickly write down a double-bogey on your card. They play in different directions and enjoy a variety of hazards, water, slope, bunkering, and trees.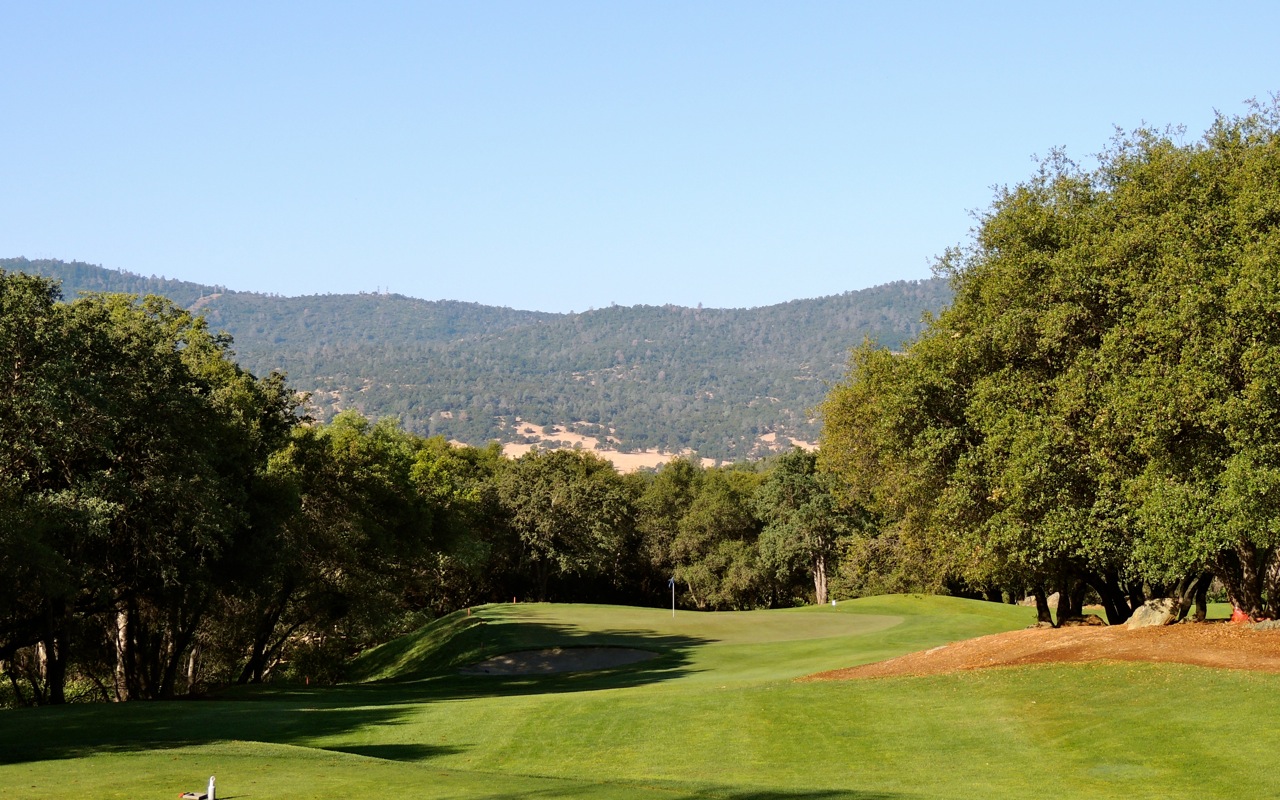 The 157-yard third hole begins the first of five very good and different par-threes at Greenhorn Creek.  (Photo by Robert S. Fagan)
For me, the difficulty beyond the par-threes lies in about half the two-shotters. Several have wide-open fairways for a grip-it and rip-it tee shots, but the others make you walk almost single file and leave your driver in the bag. Holes such as the 5th, 14th, 16th and 17th require safety first off the tee and really qualify as "shot-maker's holes." All this said, the forward tee markers at 4,887 yards make for a fun test for the newer or shorter hitting golfers.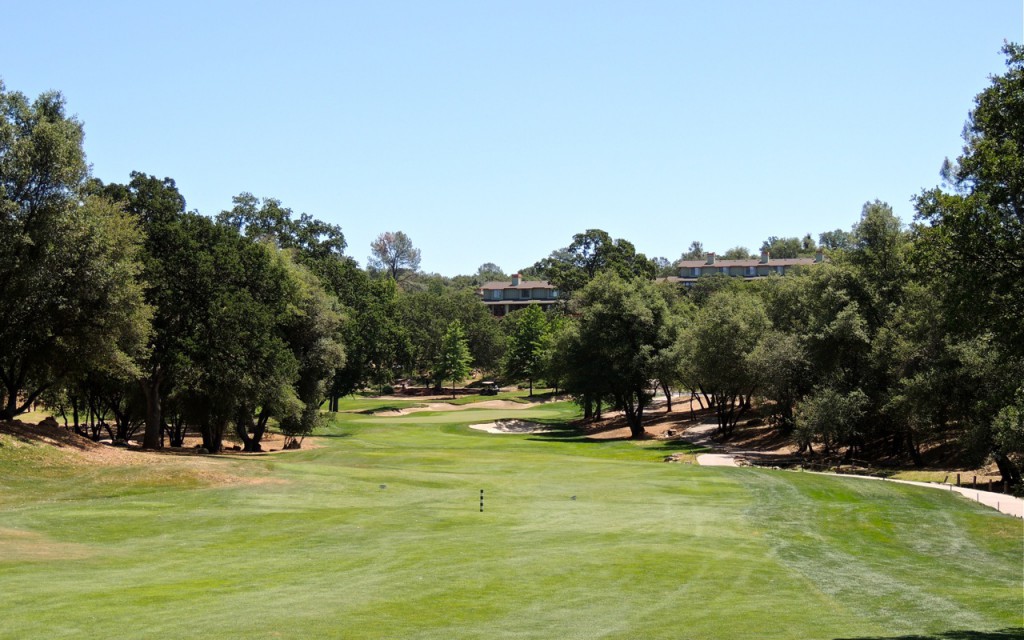 The 421-yard 17th is rated the toughest hole at Greenhorn Creek featuring a challenging tee shot, and precise approach, and a very tricky putting surface.  (Photo by Robert S. Fagan)
I was also delighted to discover that the immature, new course that I encountered back in 1996 has developed into an immaculately groomed layout. Yes, the putting surfaces are still firm, but they putt ever so smoothly and fast too! I couldn't find a bad lie in the fairways, but as you enter the rough areas you might encounter a snake before you find your ball, particularly during the warm weather.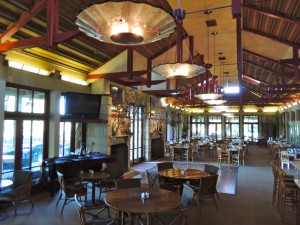 Today, there are many modern, comfortable timeshares that are available for rental stays along with a lovely residential community. A very comfortable clubhouse with an outstanding menu of culinary delights at CAMPS Restaurant adjoins a fully stocked golf shop. Once a month, you can experience a real treat of a gourmet wine dinner prepared by Chef Sherri Smith, a San Francisco Culinary Academy graduate. Sherri is well connected with both the thirty-two wineries as well as local ranchers so you can be assured your fare is fresh and tasty.
Nearby is a spacious practice range, and an area for corporate meetings, as well as private pools for homeowners, and a separate larger exercise/pool area for guests. Why Greenhorn Creek even offers a free mobile app that gives tips and yardages for the golf course.
As out-of-the-way as Greenhorn Creek may first appear, it is easy to drive from the Bay Area and the shopping and service amenities are less than five minutes away in Angels Camp. All around are wonderful wineries of note and there are many more interesting activities to pursue.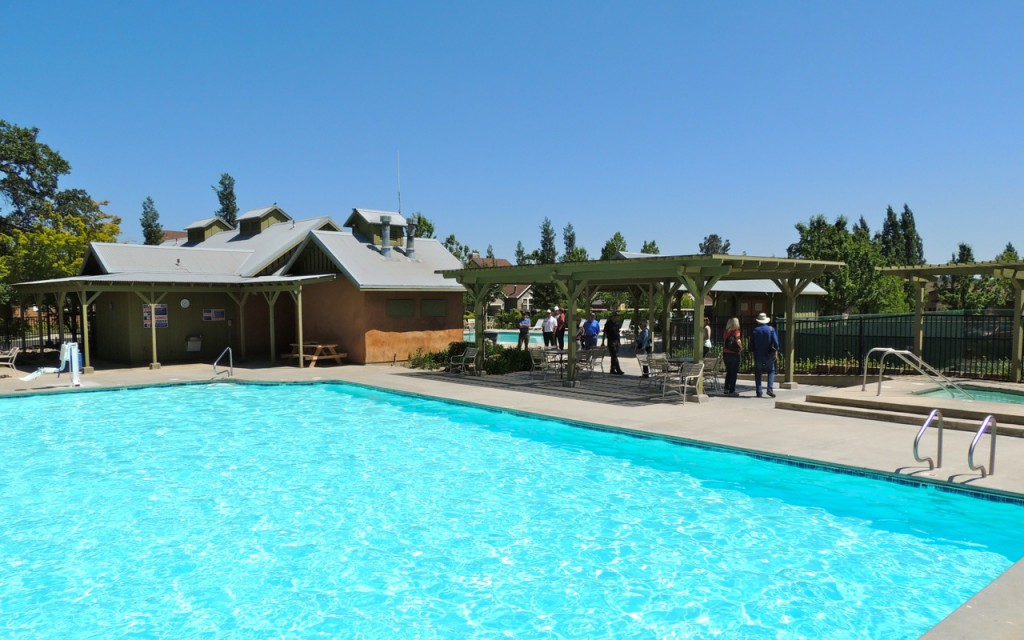 The member's pool at Greenhorn Creek makes for a quiet, peaceful retreat to work out, enjoy the hot tub, or swim laps at the pool all on a summer's afternoon.  (Photo by Robert S. Fagan)
Where once Indians, prospectors, and farmers once toiled, and then little trees and vacant lots dominated, the site has now given way to well cared-for homes with attractive mature trees, quiet streets, and a wonderful community. At the heart of it rests golf – quality golf. And so the legend of Greenhorn Creek continues. Come visit for a day, you just might stay forever.
Below is the view from behind the par-five 18th, a wonderful risk-and-reward hole fronted by water.  (Photo by Robert S. Fagan)