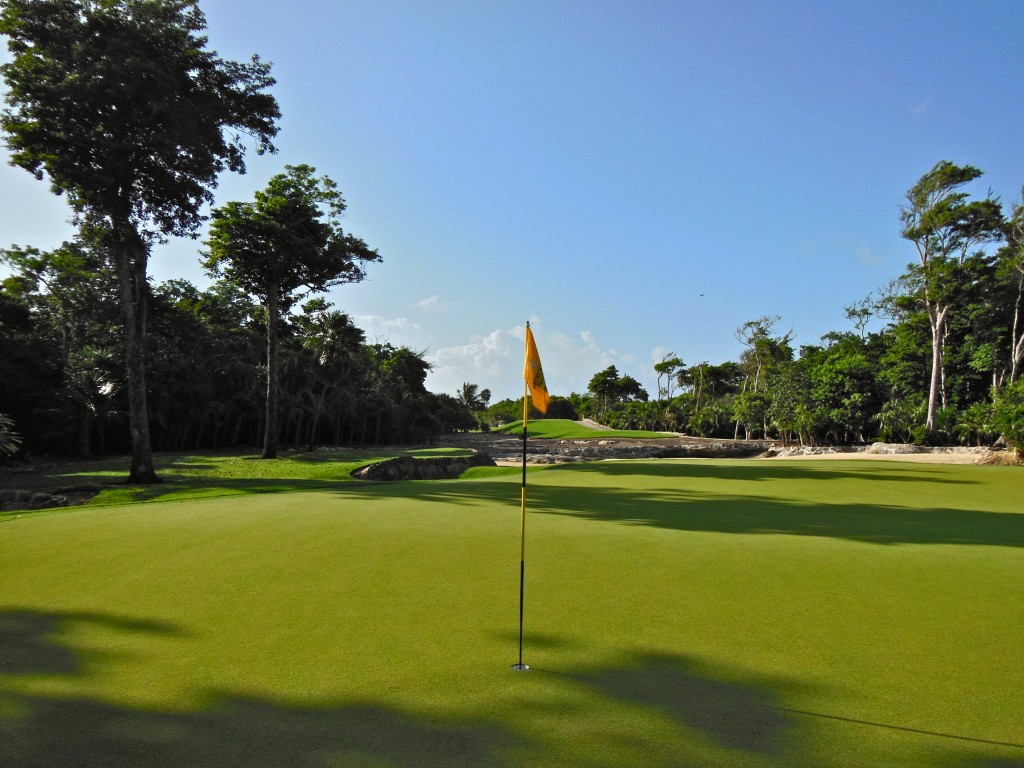 Picture postcard golf awaits you at the Iberostar Playa Paraiso Golf Club as seen from behind the par-3 second green, but golf is far from the only attraction.
Imagine playing a top P.B. Dye golf course amidst verdant rolling jungle terrain and traversing immaculate green paspalum fairways and greens in tip-top condition, hitting unlimited range balls, or sipping (chugging?) tequila, beer, soda, or enjoying sandwiches and snacks constantly available at every stop. Add to that an ice-cold towel to cool off and then there is the delicious food and exquisite lodging of a true Five-Star Hotel.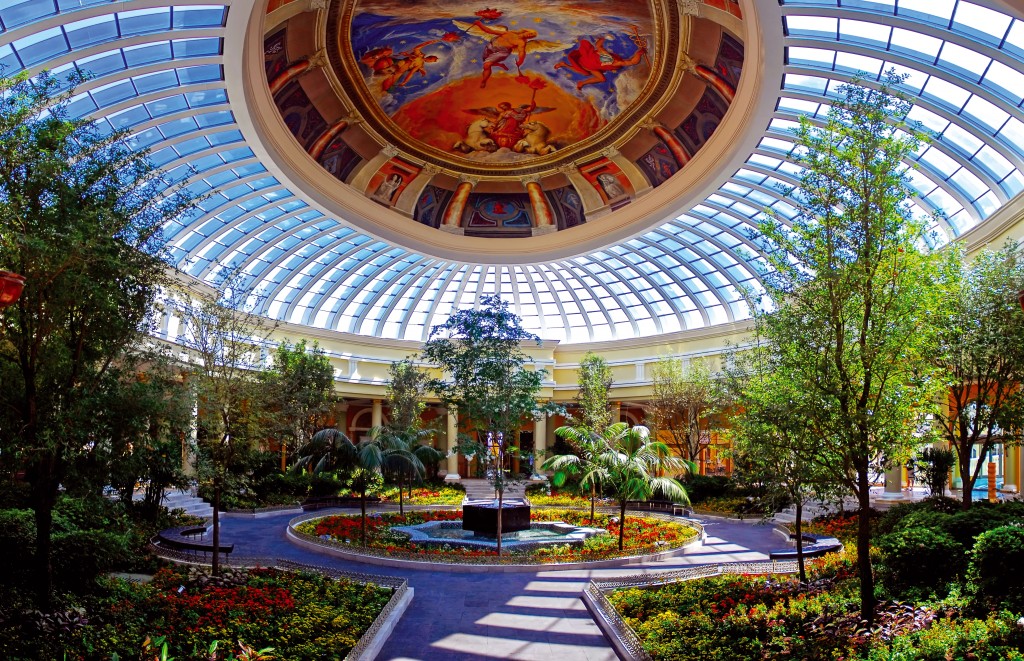 You pass this garden area on your indoor trek to your room at the Iberostar Grand Hotel Paraiso.
Yes, you are staying at a five-star resort with Italian, Gourmet, Japanese, and Steak/Seafood restaurants, coupled with breakfast and lunch buffets outfitted with plates as big as hubcaps. There is a huge saltwater infinity pool adjacent to the ocean complete with a swim-up bar, a heated indoor/outdoor pool with a retractable roof, and a tranquil lake pool with parasols, sun loungers, and of course towels available free of charge.
If you are into other sports, you can enjoy maneuvering a kayak, a catamaran, or windsurfing. How about taking snorkeling and diving lessons in the pool. Cycle tours, archery, basketball, volleyball, tennis and table tennis await the more active land lovers. Or maybe you want to learn about or practice yoga, tai chi, or partake a spinning class or work out in a fully equipped fitness center. Including the golf, these are all available at no extra charges for you for this is an all-inclusive golf resort!
Whether reclined under an umbrella at the beach or swimming up to an amphibious bar, you enjoy unlimited libations and snacks. Resting in your comfortable foam bed, jacuzzi, or terrace hammock, you rejuvenate your golfing bones in luxury. There is a world-class 32,000 s.f. spa, and all sorts of magnificent pools and gardens. At night you enjoy free live theater or take center stage and sing your bogies away in a Karaoke Bar.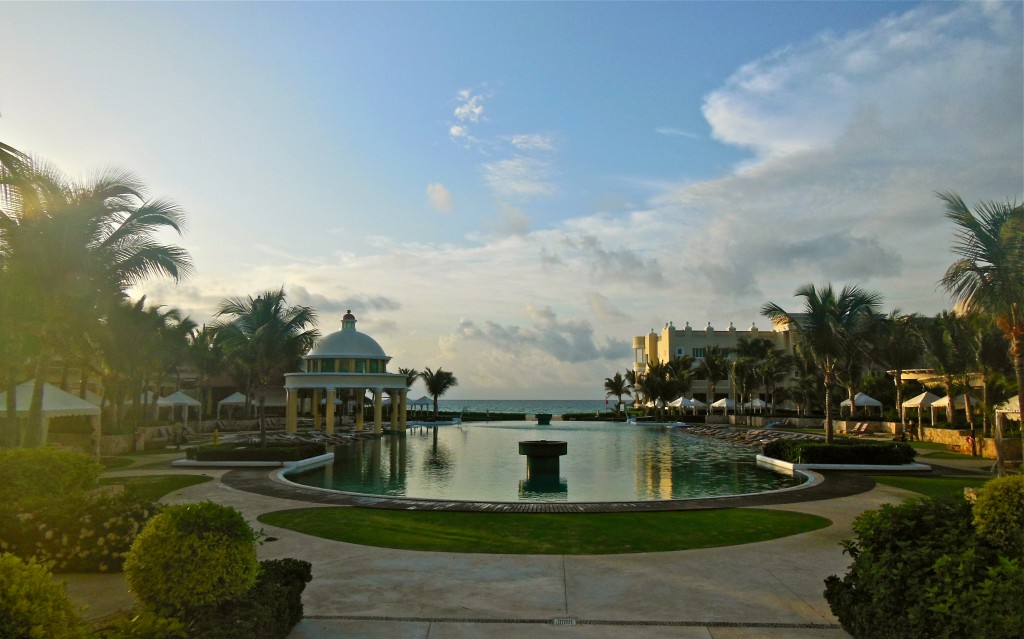 The pool, swim-up bar, and expansive beach beyond await as you dine at dawn.
Best of all, the people are courteous, friendly, and attentive. More succinctly they are happy and it shows. The pace is relaxed and slow, and never are you forced to fetch your wallet. This is not just any all-inclusive resort, but a Five-Star edition with magnificent golf included. You are enjoying the Iberostar Grand Hotel Paraiso in Riviera Maya near Cancun, Mexico – my choice as "Golf's Best All-Inclusive Resort."
At the Iberostar Grand Hotel Paraiso the term "all-inclusive resort" includes lodging, tips and taxes, food and beverages including your room bar, in-room 24-hour butler service, non-motorized water sports, entertainment, and resort activities. It is an adult-only offering that has already garnered the AAA Four Diamond Award.
Given the mostly tedious flat terrain of this coastal area near Cancun you might expect the usual cut-and-fill variety of cookie-cutter golf course, but P.B. Dye infuses an entertaining pulse into the on-site Playa Paraiso Golf Club. Opening in 2005, it is not the over-the-top type of shaping that is characteristic in a few of his designs, but it is not the lifeless repetitive shaping that greets you at many resort layouts, particularly in the Southeast or throughout the Caribbean. Instead Playa Paraiso is a combination of good playability, different looks, and character including much hand laid stonework. For instance, as you weave through the jungle you encounter the par-five seventh in a clearing without the plethora of his usual bunkering. The trick is that the massive green is actually three distinct levels and many more hole locations. As the yardage guide indicates, "This may be the toughest green you'll play this year." My approach was about four feet too short of the middle tier level and I found myself about eight feet below the cup some forty feet away on a lower level. Yes, P.B. Dye was going to protect par one way or another.
The par-5 seventh easily has the boldest contours on the course with what are essentially three distinct putting sections. This photo flattens them out.
Overall, the course measures just over 6,700 yards from the tips with a challenging 136 slope and 72.4 rating and it is testy enough to be used for the qualifying site when the PGA TOUR visits Cancun. The middle tees make for a fun day at a sensible 5,670 yards while the front tees are a very manageable 4,680 yards.
Not all the greens are as boldly contoured as the seventh, but all are interesting and there is a good variety of looks and shot requirements at the Grand Paraiso Golf Club. Then there is the all-inclusive aspect. Want a beer or two or three or six, there is no charge. The same applies to any other snacks you might want. Outside of the equipment, souvenirs, and clothing in the golf shop, everything else is included.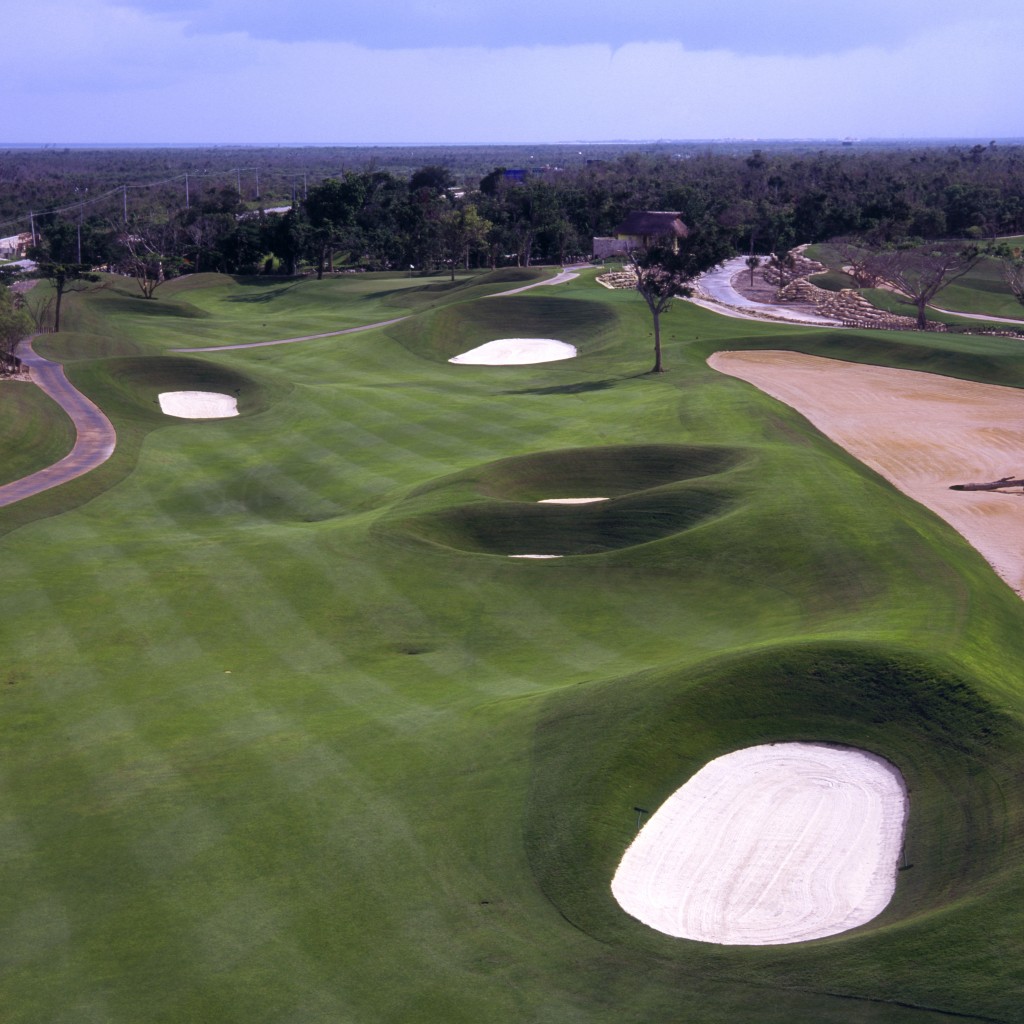 The 18th hole is a fun par-five, but one in which architect P.B. Dye could not resist moving mountains of dirt. You will want to stay out of the bunkers here! 
Staying at the Iberostar Grand Hotel Paraiso also entitles you to enjoy the amenities at the other adjoining Iberostar properties on site as well as the sister Iberostar Cancun Golf Club and the Iberostar Cancun Resort some 45 minutes drive along the main strip in Cancum. Set between the highway and the bay, this course is Cancun's only 18-hole course and typifies the low-profile style with lots of water and trees along with some interesting views. Novice golfers will be less threatened here and better players may enjoy a good score though the 6,734 yards is adequate and breezes can influence the challenge.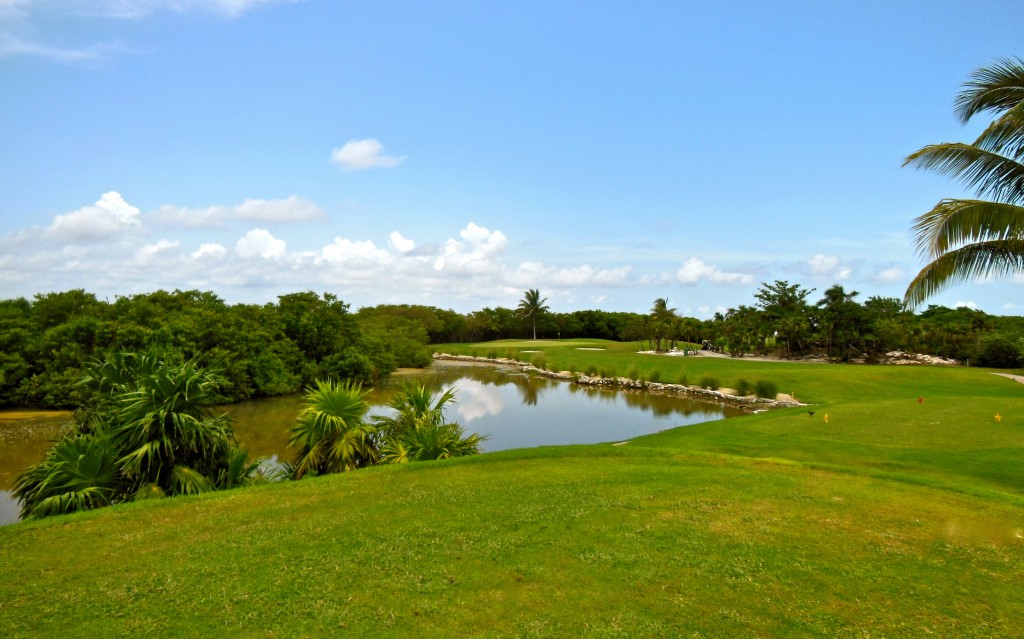 The 172-yard 14th typifies the terrain and challenge at the Iberstar Cancun Golf Club.
The Iberostar Cancun Resort is the former Hilton Hotel property that was purchased and restored in 2011 to the tune of $100 million. It enjoys magnificent ocean views to one side and golf course views to the other. What's more, it is Cancun's only oceanfront convention center with 49,000 square feet of indoor space and 60,000 square feet of outdoor meeting space.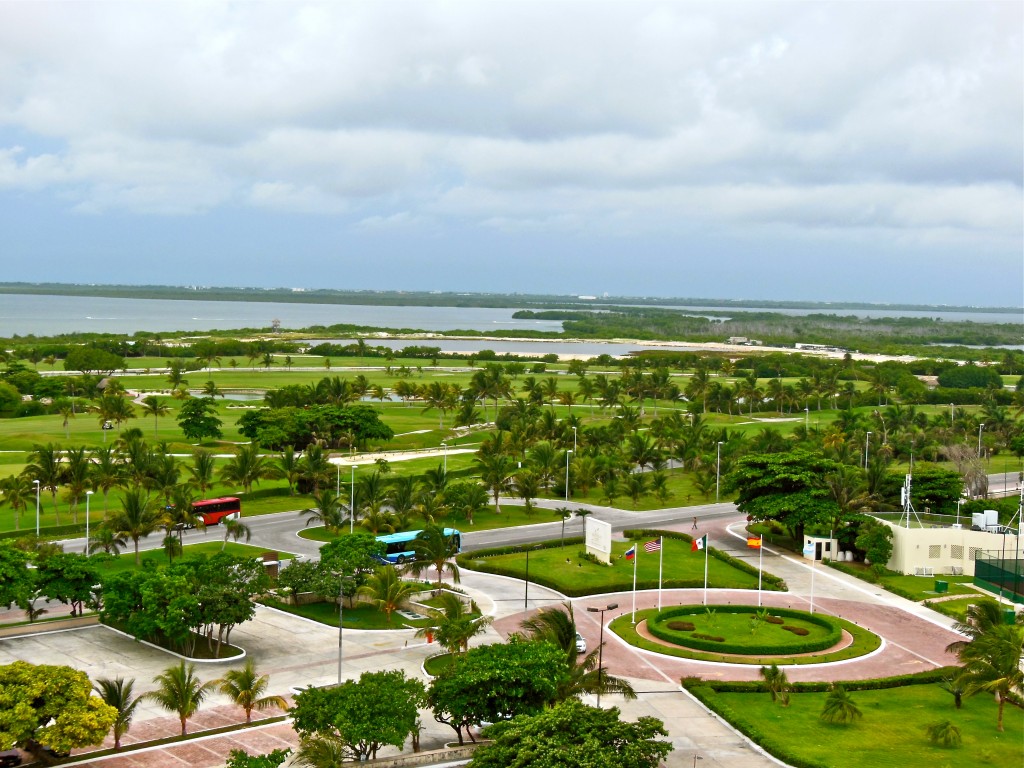 A view of the Iberostar Cancun Golf Club from the Iberostar Cancun Resort.
Back to the Iberostar Grand Hotel Paraiso. The grounds were magnificent as was the decor of the rooms and lobbies. I particularly enjoyed the food and appreciated the service. The beach and pools were sublime. And for a side trip, a short taxi ride into nearby downtown Playa del Carmen where a stroll along its 5th Avenue features a fun slice of Mexican night life and shopping as well. The golf was great, and the Playa Paraiso Golf Club was definitely better than expected – easily one of Mexico's better layouts! When you put it all together, you may begin to understand why the Iberostar Grand Hotel Paraiso is my choice as "Golf's Best All-Inclusive Resort!"
Caution: My stay was too short and I can't wait to return. You will too! For more information, consult: www.iberostar.com.
Below:  The par-3 sixth hole is the shortest hole, but one of the prettiest at Playa Paraiso.
Iberostar Hotels & Resorts is a family-owned Spanish hospitality company with more than 100 hotels in 15 countries. There are "Grand Collection" properties in Mexico, Dominican Republic, Jamaica, Spain, Cuba, Brazil, and Hungary. All but two are adult-only, and the entire Mexico and Caribbean portfolio is all-inclusive.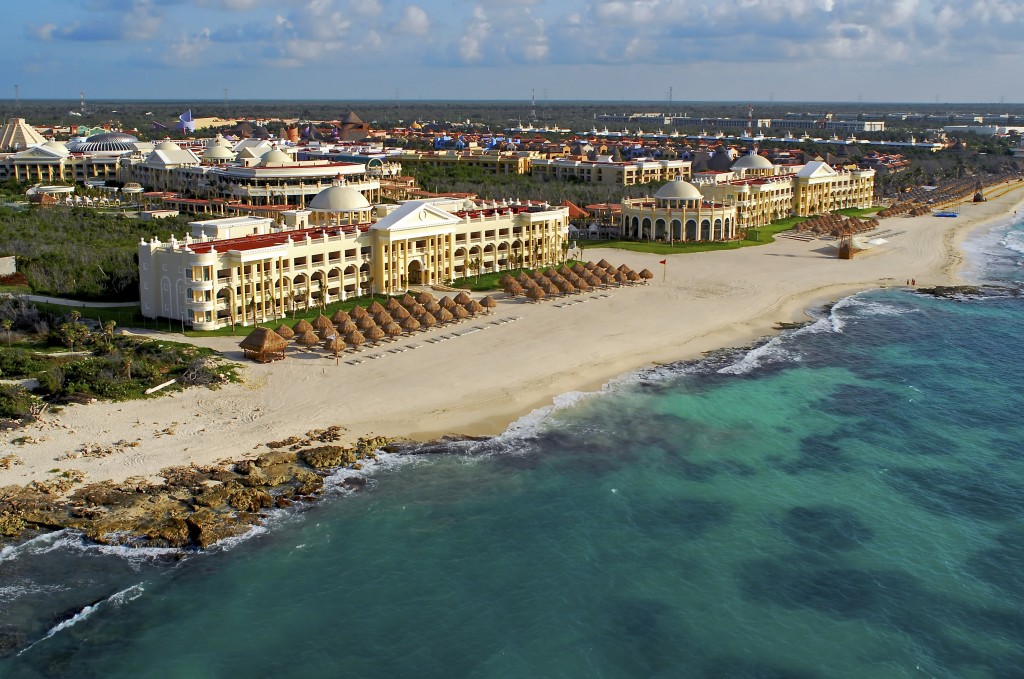 Iberostar Grand Hotel Paraiso – My Call for Golf's Best All-Inclusive Resort!