Flavorful, tender and (almost) all around good.
That's how I'd describe our late night dinner at Red Smoke Barbecue in Detroit's Greektown.
With its stylishly trendy décor, this barbecue restaurant surprises with its old-style slow cooking to create some wonderful pulled pork and beef brisket, plus tasty sides.   Tender and full of flavor, I enjoyed both meats as part of the Classic Combo, which for $16.99, gives you a choice of two meats (beef brisket, pulled pork, apple smoked chicken or House-made Andouille sausage), plus one side.   Served on Texas toast with five barbecue sauces –  the spicy hot Red Smoke, Michigan Cherry Molasses, Honey Mustard, Poblano Pepper and Mississippi Mud – the  tastes are rich and delicious.  My favorites were the Mississippi Mud and Cherry Molasses – no hot bite, just flavor.   Both the pulled pork and beef brisket, which were said to be cooked 14 hours, were wonderfully tender.  The brisket had a lot of fat, however, so when ordering, specify a lean cut (according to our server's after-dinner advice), otherwise, you're apt to leave about a third of the portion as throw-away trimmings.
The combo plate comes with a cornbread round, drizzled with honey.  My side choice – macaroni and cheese (yep, going for the carbs!) came in its own little casserole, had a thick
'meaty' noodle spirals, a good amount of cheese and a nice bread-crumb topping.  It was microwave hot – which obviously was how it was heated, so that was a little disappointing.  It also was a bit bland in flavor (I added salt and pepper), but still tasty.
My husband ordered the pulled-pork sandwich, which arrived on a hearty brioche bun. It was accompanied by sweet and crunchy bread and butter pickle slices and a way-too-tiny serving of coleslaw.  
Red Smoke Barbecue has daily specials, a nice variety of draft beers ($5 for a pint; $6.50 for 22 oz.) and its $3 bottle beer specials during our visit were, uh, special, including the Cleveland -brewed Edmund Fitzgerald Porter, from Great Lakes Brewing Company and Chicago-based Goose Island Honkers Ale.   We opted for a couple of drafts. The Founder's Porter was excellent, as was the Bell's Two Hearted Ale.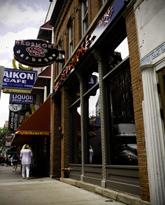 The atmosphere during our late-night meal was a bit conflicted – Saturday night football on the big screen was 'overdubbed' by Jimi Hendrix on the sound system.
I wondered how this modern joint would fit the authentic old-time mix of Detroit's Greektown, and it works.  It's great to have a nice barbecue option, with a kitchen open until 1 a.m. on weekends.
Red Smoke Barbecue
573 Monroe St.
Detroit, Mich., 48226