First off, I have to unabashedly admit that I really like Grand Traverse Resort and Spa in Acme, Michigan.
It's spacious – always room to roam. It's got three fantastic golf courses – The Bear (Jack Nicklaus), The Wolverine (Gary Player) and Spruce Run (Bill Newcomb). It has a wonderful spa. It has an accredited day care facility and in-room babysitting. It has indoor and outdoor tennis courts and a state-of-the-art fitness center. In addition, there are multiple indoor and outdoor pools and hot tubs
and a nice array of specialty shops, ranging from one that sells sports and outdoor wear (with lots of North Face apparel) to Dylan's Candy store.
It also has jogging paths, a year-round golf school, cross-country winter skiing and a variety of lodging options, from rooms and suites in the hotel or tower to beach or golf course condos. It has its own lakefront beach with watercraft rentals, a delightful on-property dog boarding facility, free, 24-hour shuttle service to nearby Turtle Creek Casino, five restaurants and an amazing conference/banquet complex.
And did I also mention it has one of the most spectacular views of Lake Michigan's Grand Traverse Bay? Nowhere else in Northern Michigan is there a similar view. Rising 17 stories above ground, you can literally see for miles from the glass paneled elevators, mid- to uppermost halls and guest rooms, and the Aerie Restaurant and Lounge at the top. The views are nothing short of breath-takingly beautiful.
And if all of that is not enough, Grand Traverse Resort now has another guest-pleasing feature – a tower full of completely renovated guest rooms. That's a smart and savvy investment for the resort, because where you sleep, shower and stay – your personal living experience –is a big factor in defining your satisfaction.
The rooms have an attractive, contemporary design and neutral color scheme and feel very cosmopolitan. There is modern art on the walls and good use of geometric squares and circles. Our standard king room also had a smart-looking, comfy blue tweed couch and a dark wood credenza that hid a single Murphy-style bed and provided a nice surface for travel items and the large TV.
The bathrooms have gray, woodgrain ceramic floor tiles, speckled white granite vanities, sparkling white brick tile in the glassed-in shower and wonderful 121-stream (yes I counted the them – 11-by-11 square) shower heads. The new bathrooms also have great mirror configurations – square in the king room, round in the two-queen doubles – that light like giant make-up mirrors and backlight like a giant night light.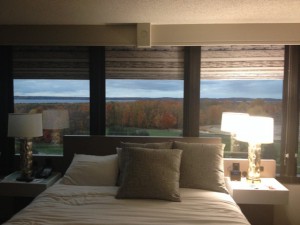 The room lighting also is uniquely functional and beautiful. Night-stand lighting, located under a translucent white pane of glass, illuminates the table surface and room with relaxing, soft light. You can brighten things up with the bedside and desk lamps, and in our room, a gooseneck lamp over the couch provided a perfect reading spot. Paint-striped window shades offer just the right amount of color when down, adding a nice touch to the night-time room – although many will want to keep them open to enjoy the views day and night.
My only puzzlement was our particular king room configuration. From the door, you enter a short hallway leading to the bed, whose headboard is against the wall of windows. The view is quite spectacular until you're actually in bed, facing the hall and entry door, with the room's most attractive feature – the grand view – at your back. The big, comfy, pillowed bed is basically the room's focal point. If you sit on the couch to watch TV, you overlook the bed, which sits between the two. I also felt sleeping so close to the windows was a bit chilly during our cool autumn stay and could feel a little uneasy – or perhaps crazy fun – during a storm.
Nonetheless, the newly renovated rooms are crisply clean and attractive, offering a stylish yet comfortable sleeping and living environment for leisure or business travelers.
Just minutes east of Traverse City, Grand Traverse Resort and Spa is a great year-round getaway. There is so much to do in the city – great shopping, dining, wineries and outdoor fun, but there's enough at the resort, including special seasonal events, to keep you happily content.
For more information, visit www.grandtraverseresort.com or call 800-236-1577