Anyone who thinks Michigan golf starts in April and ends in October needs to think again.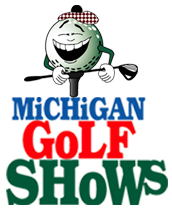 While the playing season is shorter than some, Michigan golfers are year-round fans. Many travel to warmer climates to escape the cold and snow to keep their games going. And many of those that don't run south or west in the winter continue to watch golf, read golf, think golf, practice golf and eagerly await the winter golf shows.
This year, Michigan and northern Ohio women will want to keep March 6 and 7 open on their calendars as the Michigan Golf Show at the Suburban Collection Showplace in Novi opens its doors to women, free of charge, Sunday, March 6, from 10 a.m. to noon; and then Monday, March 7, when Kay McMahon, who will speak at the show on Sunday, offers a one-day clinic at Eastern Michigan University.
In addition to the free admission from 10 a.m. to noon Sunday, two mainstage programs will be held specifically for women at the Michigan Golf Show that day:
The first, "Can You Be a Champion?" at 10:30 a.m. will focus on the 100th Michigan Women's Amateur Championship and the opportunities for women in competitive golf. Moderated by Joan Cleland of the Michigan Women's Golf Association, the panel will feature past Michigan Women's Amateur Champions Christine Meier (2013 and 2011), who now plays on the Symetra Tour, and Allyson Geer (2015); Multi-year qualifier for the National Executive Women's Golf Association's Finals as well as 2005 EWGA Championship Flight Net Winner Shelly Weiss; and Multi-year MWGA State Champion Darci Stocker (2015, 2012 and 2010). In addition, I'll be there to talk about the championship's history.
The second program, "Golf 8.5," at 11 a.m. will feature LPGA Teaching and Club Professional Hall of Famer Kay McMahon. McMahon, her trademarked Golf 8.5 and company, eduKaytion Golf, recently won an International Network of Golf (ING) Industry Honors Award for Player Development.
Kay McMahon is the owner and director of eduKaytion golf, which is headquartered at Cranwell Spa & Golf Resort in Lenox, Massachusetts. Elected into the LPGA T&CP Golf Hall of Fame in 2010, she is recognized in the golf world as a well-renowned instructor, a teacher of teachers, and an outstanding, entertaining, enthusiastic speaker exhibiting her passion for the game of golf.
McMahon's 'secret sauce' is what she describes as a highly simplistic approach to learning or improving the golf swing. After 30-plus years of teaching, she developed Golf 8.5. The Golf 8.5 approach simplifies how golf is taught and learned. It has proven to be highly successful not only for experienced players, but also introducing new players to the game.
McMahon's message . . .Golf is simple. Golf 8.5 proves it. There are only 4 things to do before the swing and only 4.5 things to do in the swing. The misconceptions that have caused you confusion and frustration for years, will be gone.
In addition, McMahon will be offering a one-day clinic, Monday, March 7, from 9 a.m. to 2 p.m. at the EMU Convocation Center on Hewitt Road in Ypsilanti. With plenty of free parking available, participants can spend an instructional day and lunch with Kay.
The cost for the clinic is $129 per person; or $99 for EWGA, MWGA, Women's Metropolitan Golf Association, Ann Arbor Women's Golf Association and Golf Association of Michigan members. The junior or student rate is $69 per person. Part of the proceeds from the clinic will benefit the Shirley Spork Women's Golf Endowment at EMU. For more information or to register, visit www.edukaytiongolf.com or call 518.669.1551.
The registration deadline is Monday, Feb. 29.
For more information on the Michigan Golf Show, which runs Friday through Sunday, March 4 to 6, visit www.michigangolfshow.com