Smooth Ambler "Old Scout" 10-Year Single Barrel Cask Strength Bourbon
111 Proof, Barrel 3057, Bottled 4/26/16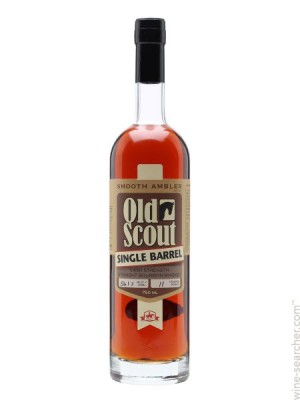 Two major things have happened to bourbon since about 2012.
One, bourbon became widely fashionable in a way it never was before, which lead to it becoming a collectable luxury. Increased demand depleted distillers' inventories and made bottles such as the Old Rip Van Winkle's, the Weller line and Elmer T. Lee, once widely available, disappear from shelves. This in turn created a secondary market of obscenely overpriced and overvalued whiskey.
Two, a proliferation of new "labels" flooded the market. Suddenly bourbon was coming at us from all angles, from all states, with high end packaging and ready-made backstories. The industry's dirty little secret was that almost none of these new brands were distilled by the company on the label.
Sourcing bourbon, either from one of the major Kentucky distilleries or, more common, from MGP of Indiana, is now common to the point of normalcy. There's nothing wrong with buying bourbon and putting your own label on it, it's just that almost no one doing it is informing the consumer of what's going on.
One of the more upfront and high quality producers doing this has been Smooth Ambler from West Virginia. As a consumer I appreciate their honesty about sourcing, which creates good will as they begin rolling out their own bourbons and ryes from their new distillery.
The Old Scout Single Barrel Cask Strength, a select bottling from a local package store, is probably their finest sourced product (it will be a while before their 10-year-old whiskey is mature). This is a sweet, upfront style of bourbon with an A+ nose of candy, caramel and butterscotch. Across the palate it's broad and full, dry and a little more muted in flavor but offering bits of caramel and crème brûlée.
The mouth doesn't quite live up to the promise of the nose with hotter rye spice riding in, but if you add a drop more water those sweet desert notes start to reemerge on the finish.
Score: 7