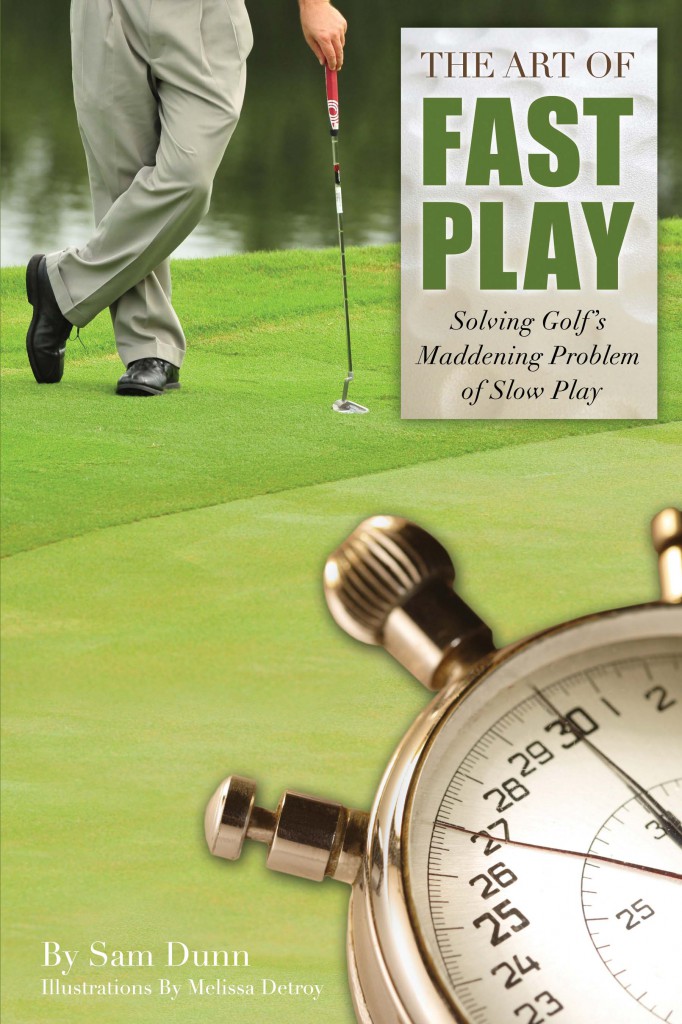 My original plan was to play a round with the usual foursome, better known as the MOTO Research Team. (Long story.) I would time the round carefully, knowing it would take more than four hours.
Then I was going to give each of the MOTO boys a copy of Sam Dunn's "The Art of Fast Play" (Vineyard Stories, $14.95) to read and study, if not memorize. Then I would time another round to see how much, or if, we had improved. I haven't given up on the idea; I just ran out of time to try it.
Who doesn't sometimes despair of the time squandered on the golf course? Not in the play, of course. But in the non-play, the non-essential leakages of time that keep us away from other important things in life, like Twitter.
And in the spirit of the book my only argument with it is the subtitle, "Solving Golf's Maddening Problem of Slow Play." This is redundant, and takes too long to read. Otherwise, applause for Mr. Dunn, striding forth like Don Quixote with stopwatch in hand, trying to prod all the slowpokes out there, and showing fairly convincingly that we're all guilty from time to time.
This is particularly true when it comes to playing in carts, rife with time-squandering opportunity. This suitably brisk volume is loaded with easy-reading analyses of what contributes to slow play and the strategies to turn it into the opposite, suggestions more concrete than shouting, "While we're young!" at dawdlers. (Not that that's necessarily discouraged, mind you.)
It's not about hurrying or feeling rushed out on the course. It's about not wasting time, and it's recommended for courses as well as individual players. I'd say slip it into your bag for reference, but there will be no reading out on the course!
***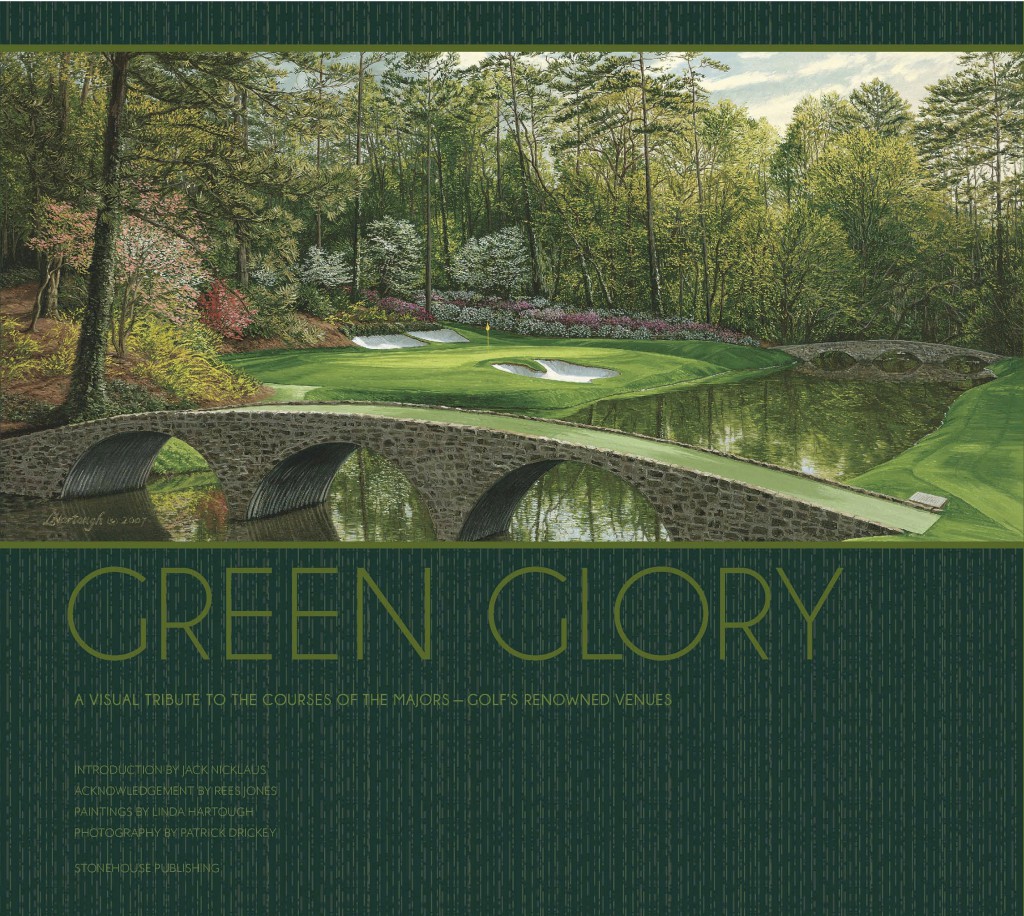 "Green Glory: A Visual Tribute to the Courses of the Majors – Golf's Renowned Venues" (Stonehouse Publishing, $55) is a volume to slip onto the coffee table. And then probably leave there for some time to come, since it's stuffed with goodies.
Begin with the paintings of renowned golf course artist Linda Hartough, and parley that with the photos of Patrick Drickey and text by M.E. Mortensen, and the sum becomes greater than the parts, which are pretty good to begin with.
Using a 1950 cutoff date (Prestwick gets a bye), at least one hole from every course that has hosted a major on the men's tour is depicted in the oversized pages. Augusta National, as the only major always played at the same course, is afforded a portfolio of Hartough's vibrant paintings.
The PGA Championship, which changes venues more than any of the other majors, is represented by 45 different courses, the U.S. Open by 26.
Recent chatter about Royal Portrush hosting an Open Championship is tweaked by the reminder here that the Dunluce Links did just that in 1951, when Max Faulkner posted a winning 3-under score to waltz off with the whopping £300 winner's purse.
We learn that from Mortensen's text, the cherry on top of the artwork. He captures the verbal portrait of each course and adds the context of the tournament (or tournaments) played there. After all, as Jack Nicklaus notes in an appreciative introduction to the book, "You can't separate the battle from the battleground."
And for a book so concerned with the history and traditions of the game, it's nice to note that a portion of the sales proceeds will go to support The First Tee program.
***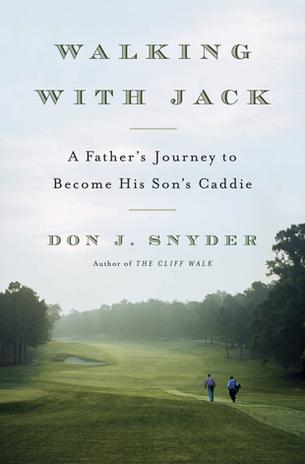 I might have thought I'd read all I wanted to about Yanks learning to loop in the Auld Sold in Oliver Horovitz's "An American Caddie in St. Andrews," reviewed here. But damned if Don J. Snyder's "Walking With Jack: A Father's Journey to Become His Son's Caddie" (Doubleday, $25.95) isn't entertaining, too.
And Snyder, an accomplished novelist and memoirist, also plumbs other depths. His entire rationale for going to Scotland to earn his caddy chops stems from a long-extant promise that if his son, Jack, ever made it to a pro tour, the elder Snyder would carry his bag for him. He also did it because, between high school and college, Jack seemed to be losing confidence in his abilities, and Don wanted to show he meant business.
It seems an extraordinary gesture for a man approaching sixty, but Snyder's love for his son and his three other children is clearly an abiding one, and throughout the book he blatantly wears his heart on his sleeve.
Yet Snyder has had a complicated and difficult relationship with his own father, and the father-son dynamic is examined here in all its thorny glory, not only from the Snyder family vantage point, but from many of the players Snyder caddies for.
The stories are varied and rich, poignant and sorrowful, sweet and humorous. I defy any golfer who has played with his father, or son, to remain unmoved.
Snyder father and son do make it to a pro tour, and tensions and revelations amp up from there. I won't spoil the narrative here. But I think it's fair to say that if the book falls short of a fairytale ending, it's still a happy one.
***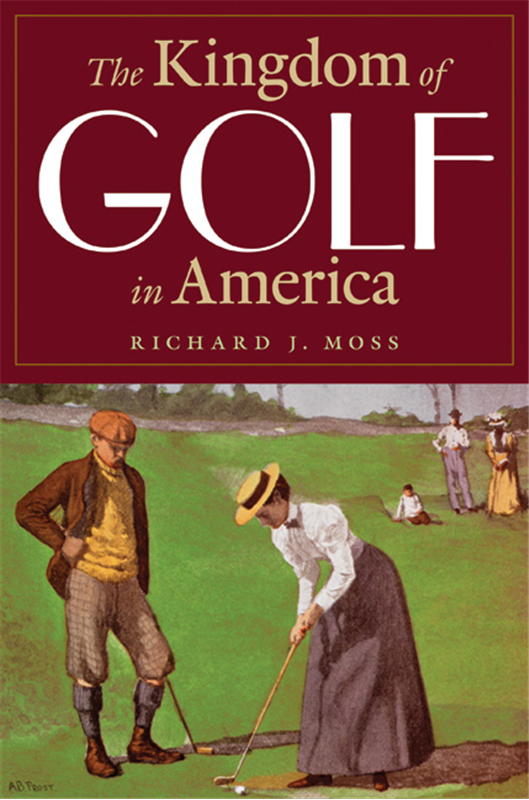 It's a little difficult to know how to take "The Kingdom of Golf in America" (University of Nebraska Press, $34.95). Author Richard J. Moss is a Colby College professor emeritus of history, and certainly this is a rich survey of the history of golf in this country.
But it's not really an academic work. There are three appendices and a bibliographic essay citing sources. But there is no index, nary a footnote, and the author is himself enough of a golf addict to add personal asides and zingers that make the book too readable to be merely scholarly!
Tracing the emergence of golf in the U.S. from about 1880 on, Moss details the varied tracks golf moved briskly along in establishing itself in this country, as a game that developed for the elite, yet also in egalitarian ways. It doesn't blink at the exclusions and restrictions golf clung to along gender, racial and religious grounds. And yet it clearly shows how the game can capture a player's soul in countless positive ways.
My take is that Moss doesn't really break a lot of new ground here, relying greatly as he does on journalistic accounts of the game through the years,. But he does provide a useful lens through which to view the game—successful as a community (a kingdom, if you will), but lately troubled as an industry.
Indeed, his concluding chapter is a bit doom-saying: "Golf, today, is in a world of hurt…all the talk seems to be of loss, course closings, demographics, shrinking demand, and the economics of the game."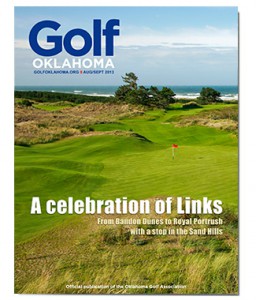 He hardly offers any realistic quick fixes. And yet he expects it to endure: "[Golf], for its adherents…is an essential, a giver of health, meaning, and peace. Golf in the United States has always been an antidote, a form of medicine, for the ills of modernity. There is no reason to believe that this century will be any different."
We'll book a tee time to that.
This piece first appeared, in slightly different form, in the August-September 2013 issue of Golf Oklahoma.