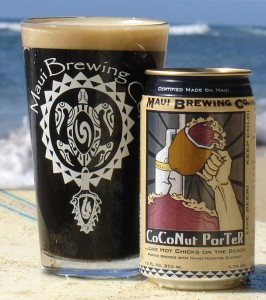 The first time I was lucky enough to try the Maui Brewing Co.'s CoCoNut PorTeR was after some had been delivered to me in Vermont, about the time ten inches of snow had fallen.
This time I ran across it in its natural habitat, and was lucky enough to be in The Terrace Restaurant at the Ritz-Carlton Kapalua. For starters, the weather was a lot better.
Drinking the beer with a thick blanket of Vermont snow visible through the window was enough to put visions of grass skirts in my head; the flavor sealed the deal.
Made with six different malts, Cascade and Columbus hops and hand-toasted coconut, the beer gives off a mild roasted quality with coffee and chocolate notes.
The coconut is actually fairly subtle; it doesn't fall out of a tree and knock you on the head, but it's more apparent if you let the beer warm slightly.
Why the capital letters in the CoCoNut PorTeR name? "Just being weird one day," Garrett W. Marrero, the brewery kahuna told me.
I expected him to tell me more the next night, when we planned to visit the company's brewpub not far from the hotel. Meanwhile, this time I enjoyed the view of palms, pool, blue sky and beach, while savoring the new menu at The Terrace.
Formerly strictly a breakfast venue, The Terrace is in the process of becoming the premier restaurant at the property, under the aegis of executive chef John Zaner.
Confronting our usual hardships, the Golf Road Warriors had packed up in the morning and driven from Wailea in south Maui (which is sort of west) and headed to west Maui (which is sort of north), with a stop at the King Kamehameha Golf Club. What the heck, here's a map: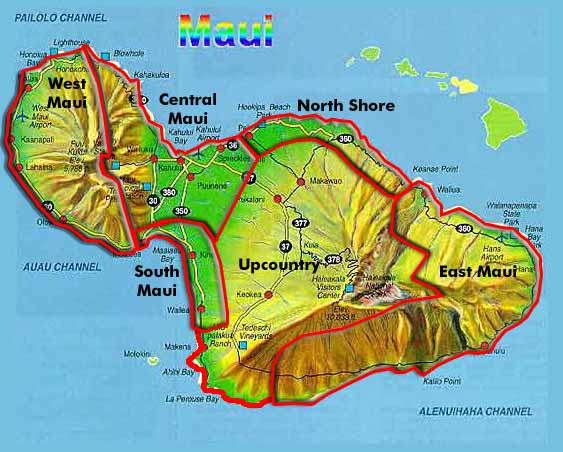 Leaving the Fairmont Kea Lani and landing in the Ritz-Carlton, Kapalua is akin to abandoning the castle for the palace. It's a no-lose situation. The Ritz is a 54-acre luxury playground within the 23,000-acre Kapalua Resort. (And where, I hear, one spa treatment includes soaking in a beer bath with Maui Brewing Co. brew.)
It wasn't until we reached the Ritz that I found time to do some soaking myself in one of the property's outdoor whirlpools and had a chance to walk along the beach and put my feet in the Pacific.
A small wedding was underway right on the beach—a man and a woman with two young girls, the officiant and a photographer.
Later, as though ordered up by the Maui Visitors Bureau, a world class sunset unfolded right off my balcony—a cerulean blue base with vibrant streaks of brilliant red, mounds of cottony clouds and the sound of pounding surf. Kind of what I'd imagined with that first sip of CoCoNut PorTeR.
Name: CoCoNut PorTeR
Brewer: Maui Brewing Company, Hawaii
Style: Porter, plus
ABV: 6%
Availability: Year-round, nine western states and Virginia and Maryland
For More Information: www.mauibrewingco.com
Previous: It's Good to Be the King
Next: Life on the Plantation