[April 5, 2016]–Having polished off my sole bottle of the Rhye IPA, I'm looking forward to trying a full pint on Thursday at the first Tap Takeover of 2016 at Wildwood Barbeque in Hadley, MA. Eight Smuttynose beers will be flowing beginning at 5 pm, and I hope to be behind the counter helping to pour. (In May, Vermont will finally come to Massachusetts, as von Trapp seizes the Wildwood tap handles.)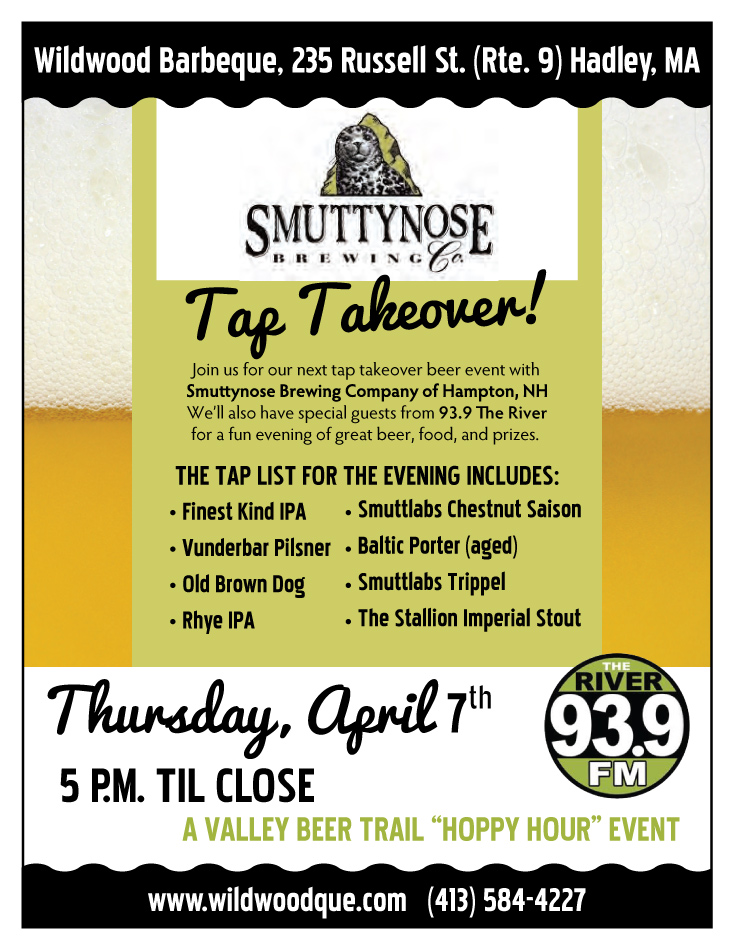 To confess, I'd be happy to try any Smuttynose beer on tap. Seems to me the company has been on a bit of a roll lately, and I don't say that because a slew of beers from the Smuttlabs branch of the company have lately been showing up on my doorstep. (None of the ones I've tried, alas, to be at the Tap Takeover. And, in a change from the poster, an Imperial Porter will sub for the Imperial Stout).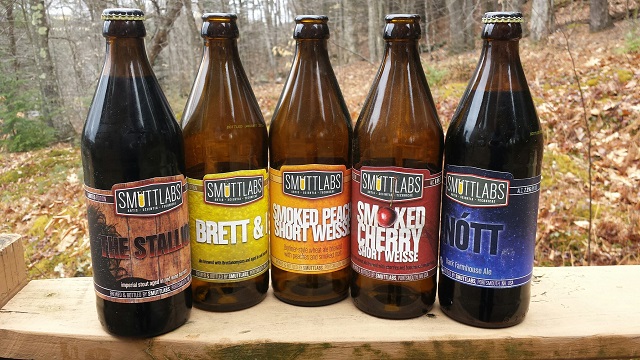 It's because they've all been well-made and interesting beers. Clearly there's plenty of room for experimentation in the relatively new Smuttynose brewhouse in Hampton, NH, which I commented upon in our last Smuttynose encounter prior to Christmas, trying out the Smistletoe.
The Smuttlabs beers are a little like shooting stars, thrilling to see but tough to find. They come and go in a flash, show up on shelves in unpredictable ways, vanish before you've fully appreciated them and leave a halo effect behind.
The brewery's seasonal beers (which it calls Calendar Beers) also come and go, but at least you can pin them down. The Rhye IPA showed up in mid-February and will linger through early June, a nice run, if not up to the year-round status of eight other Smuttynose beers.
One of the year-rounders is what some have called one of the best New England IPAs around, Finestkind. The Rhye IPA is said to be build upon the same chassis, but with some significant changes. Mainly, the addition of 30% rye malt added to the grain bill, changing up the hops (to Magnum, Falconer's Flight and Citra), increasing the dry-hopping (with Citra) by a multiple of four, and tweaking the mash procedure.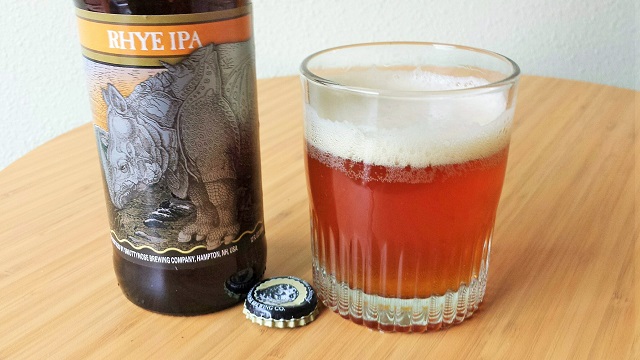 The result is a light copper beer with an orange cast. One would expect the rye to add a peppery, spicy note to the beer, and so it does—there's a spicy tickle to the nose, along with a load of hops and a caramel sweet aroma. It all comes through in the flavor as well, but mainly the peppery quality. The sweetness fades quickly, the beer is not terribly bitter, and the almost savory spiciness is the lingering effect. I can't say that I loved it, but it was enjoyable to the point that I'm looking forward to trying a little more on tap this Thursday.
Looks like there will be a few extras at Wildwood as well. Radio station WRSI will be on hand from 5:30 to 6:30 with a bunch of giveaways, including to tickets to shows by Übeer Fest, Darius Rucker and Bonnie Raitt.
Name: Rhye IPA
Brewer: Smuttynose Brewing Company, Hampton, New Hampshire
Style: Rye IPA
ABV: 6.9%
Availability: Through early June in 27 states and Washington, D.C.
For More Information: www.smuttynose.com
Related posts:
TAP Beer(s) of the Week: Ticket to Rye vs. Ruthless Rye