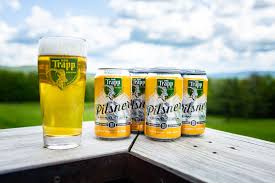 [Oct. 30, 2020]–We had our first significant snowfall today in southern Vermont. (Well, about an inch, but it stuck around all day.) Which makes a tasting of pilsners somewhat seasonally suspect. But I was down to the twelfth can of a von Trapp Brewing mixed 12-pack, and a couple cans of the Paulaner showed up by way of announcing the beer's reintroduction to the U.S. market in November. So why not put them side-by-side?
(I sort of did that recently when the two breweries showed up together in a six-pack selection of Oktoberfest beers for an article on the Morning Read website: "Oktoberfest: Supply Your Own Oompah.")
Well, these brewers know what they're doing. I have a fairly extensive background on the von Trapps and their brewery in Stowe, Vermont in a previous review of their Weissbier. A quick recap: A small brewery opened at the von Trapp resort in 2010, and was successful enough that the family, of "The Sound of Music" fame, opened an expansive mostly lager brewhouse in 2015 with a 36,000 barrel annual capacity.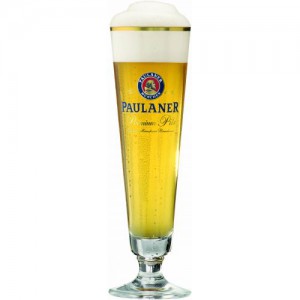 Paulaner, of Munich, is a slightly larger concern than von Trapp, a multinational powerhouse brewing in excess of two million barrels annually. It's also been around a little longer, since 1634, but the Paulaner U.S. press release about the Pils noted that the brewery has been tinkering with that recipe only since the mid-1800's.
I'd say both breweries have it about right. Not that they're stylistic twins, quite. The von Trapp is a Bohemian-Style Pilsner, while the Paulaner is a Bavarian-style Pils, and historically there are some minor differences. Bohemian or Czech-style pilsners tend to be deeper in color than German Pils, richer in malt and softer in the finish, while the latter are often more highly carbonated, drier with a more lingering bitter finish.
That didn't quite pan out in these examples. Visually the von Trapp suffers by comparison, with a slight haze and a pale yellow aspect next to Paulaner's crystal clear brew and its vibrant golden color. It holds its own thereafter, but this is kind of a stylistic switcheroo.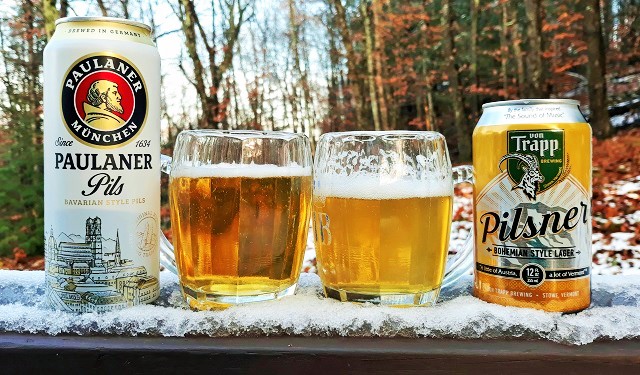 The von Trapp won a Silver medal at the 2015 Great American Beer Festival in the Bohemian Pilsner category, so it's all close enough. In the glass the von Trapp has a most inviting herbal, grassy nose with fruity hints along the lemon, apple, pear line. The classic Czech Saaz hops are in the mix, along with Perle. The beer goes down as invitingly as its aroma, crisp, with that slight hint of lemon and crackery crispness, finishing with a lightly brisk bite. The lingering impression is, Another, please?
Paulaner's bouquet is a little maltier, a touch husky, yet the beer is a little lighter on the palate (it's 4.8% ABV versus von Trapp's 5.4%). It uses a blend of Hallertau hops, and there's an appropriately aggressive carbonation with a real peppery bite to the finish I quite enjoyed.
One obvious advantage to the Paulaner was 4.9 more ounces in the can. But either beer should satisfy seekers of a well-crafted pilsner, no matter the season.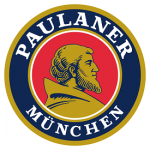 Name: Paulaner Pils
Brewer: Paulaner Brauerei, Munich, Germany
Style: German Pils
ABV: 4.8%
Availability: Year-round in all states
For More Information: https://www.paulaner.com/us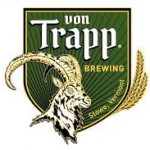 Name: von Trapp Pilsner
Brewer: von Trapp Brewing, Stowe, Vermont
Style: Bohemian-style Pilsner
ABV: 5.4%
Availability: Year-round in
For More Information: www.vontrappbrewing.com
Related posts: TAP Beer of the Week: von Trapp Weissbier
TAP Beer of the Week: Reissdorf Kölsch vs. von Trapp Kölsch Style