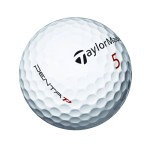 Seems as though no matter where you live in the United States, this has been one hot summer.
And two of the hottest golf balls being played this summer are the TaylorMade Penta TP and Srixon Z-Star Tour Yellow. I've given both of them some test drives and the results have been impressive.
TaylorMade is banking on the five-piece (yep, that's right, five piece) Penta TP as being the ball that finally brings the company the attention it believes it deserves on pro shop shelves and in the hearts and minds of the best players.
I have found the Penta TP to be a superb multi-purpose ball. It has lots of pop off the driver and seems to stay straighter on my miss-hits with the big stick. It also launches strong and rather high for better distance. The ball feels good on wedge shots and comes off the clubface smooth on chips and putts.
The company claims an NdV4 core, with an advanced neodymium compound, delivers faster ball speed to promote more distance, and an ultra-thin cast thermoset urethane cover delivers a tour-caliber blend of spin, soft feel and superior durability. Low-Drag Performance (LDP) forgives off-center hits by delivering added lift to keep ball airborne, and a PF 1000 mantle teams with the high-energy core to limit spin off the driver.
 The Penta TP sells for around $43 a dozen.
 For more information, visit www.taylormadegolf.com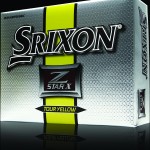 The Srixon Z-Star Tour Yellow and Z-Star X Tour Yellow are difficult to miss, and from what I've seen on the fairways there aren't a ton of players using the balls…yet. But their yellowish-green hue makes it very easy to keep an eye on them, whether you are standing over the ball or following it on its flight toward the target, and they perform well.
Of course, non-white golf balls are nothing new. Several companies have sold, or currently sell, golf balls of various shades, including pink. Paula Creamer plays a pink Precept Lady iQ 180 on the LPGA Tour, and Wayne Levi won a PGA Tour event when he captured the United Airlines Hawaiian Open using an orange Wilson Pro Staff golf ball back in 1990. But Srixon believes the time is right for a little more optical excitement on the fairways and greens.
The company says its new golf balls incorporate the science of visual perception with the psychology of color effect on the brain. With tests showing that yellow is the most visible color in the visual spectrum (see yellow tennis balls), and psychology telling us that green is the most calming and stress relieving color, Srixon designed the golf ball to incorporate both colors "to tap into a player's mind and expand the benefits of playing a better ball."
While other colored golf balls have been priced at the lower end of the green (as in money) spectrum, the Z-Star X Tour Yellow balls are premium balls that were designed to offer best-in-category performance for players seeking improved distance, spin and feel preferred by Tour players and competitive golfers worldwide, says the company. The balls feature an ultra-thin urethane cover technology, a larger core, and a soft cover.
The Z-Star Tour Yellow is designed for low-to-mid handicap players seeking a combination of distance, spin control and a soft feel, while the Z-Star X Tour Yellow is a distance-oriented Tour-performance ball for better players looking for explosive distance and high spin performance around the greens.
The Z-Star Tour Yellow golf balls were tested by numerous PGA and Nationwide Tour players presently playing the Srixon Z-Star series of balls
The balls hit the stores on April 1 of this year and are priced at $39.99 per dozen.
For more information, visit www.clevelandgolf.com or www.srixongolf.com.