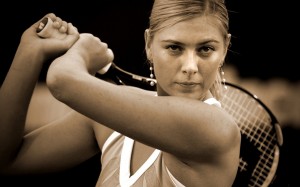 Maria is back!
Well, maybe not all the way but pretty close to it.
The glamour girl, Maria Sharapova, has gritted her way into the finals of the Sony Ericsson Open in Key Biscayne, Fl. and will take on Victoria Azarenka, the tourney's 2009 champ, in the finals today.
Sharapova, looking stunning and leggy as always, has run through the competition behind held just outside of Miami and is seeking her first title since May of last year and her first ever at the prestigious event. She was runner-up in 2005 and 2006 and then missed the tournament three straight years because of injuries that slowly took a toll on her game.
Maria has had to do it the hard way. She took out Alexandra Dulgheru in a brutal, nearly four-hour quarterfinal match and then came back from a sloppy first set against Andrea Petkova in the semis to win in three. Sharapova lost the first set, 6-3, and double faulted three times on her first service game of the match. But she rallied to crush a stunned Petkova, 6-0, 6-2, in the final two sets to move onto the championship match against the eighth-seeded Azarenka, who has looked anything but dominant in her matches.
Sharapova continues to struggle with her serve at times, although she is able to fight through the double faults and somehow remain mentally strong and focused. She has had to remake her service motion after shoulder surgery, which makes her style rather awkward and ineffective at times. But she can still put lots of pace on the ball and use the serve as a weapon.
Sharapova's ground strokes have returned to crisp form as she sprays forehands and backhands to either side of the court with low depth, keeping her opponent off balance until she is able to put the point away. She has always been a determined defender and her length allows her to run balls down and keep points going when other women would be walking back to the other side of the court to serve or receive serve.
Sharapova went into Key Biscayne ranked 16th in the world but she will rise significantly and crack the top 10 again no matter how she fares in the finale, which she should win.
If you like tennis, you like Maria Sharapova. Besides her looks and style on and off the court, she has more willpower and spunk than many male players. With the millions she has amassed and all the injuries she has had to deal with, it would have been easy her to float off on her yacht and say goodbye to competitive tennis. But instead she worked like a dog to get back to the top 10 and it's a credit to her and the women's game that she's a force again.
With Venus Williams on the decline and continuing health concerns hovering over Serena Williams, who everybody knows is the real number one female player, Sharapova's path back to the top is clear. At her best, the three-time Major winner can beat Caroline Wozniacki, the current number one, as well as Kim Clijster and any of the other top five to 10 players.
Here's hoping Sharapova wins tomorrow and continues to improve and play well into the Major tournaments of late spring and summer.
It's hard to believe but Sharapova is only 23 and she has a lot of great tennis left in those long legs and arms.