I had visions of "Deadliest Catch" when Captain Tom Martin invited me aboard "Lucky Catch," a 37-foot lobster boat, to go haul up traps from the sea bottom off of Portland, Maine.
"Don't worry, we're not going that far out," he told me, though, as we began a 90-minute expedition into placid Casco Bay. "We'll be pulling up lobster traps from 40-feet down in only 10 minutes. The cold water temperature here is perfect for the lobsters, plus there is an abundance of food for them."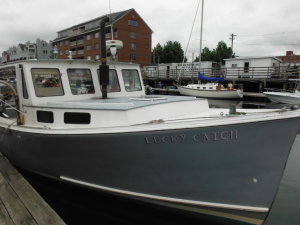 So I quickly found myself, courtesy of stern man Brian Rapp, in a long orange apron and rubber gloves, putting lobster food – herring- into a mesh net hanging in a trap. The traps are designed to catch only bigger lobsters, and they are checked every three days. The old adage says be careful what you wish for. "The clamp of a lobster claw is very painful," Rapp warned. "It will create a blood blister." Lobstermen use a pair of pliers to put tight rubber bands around the creature's pincher and crusher when they retrieve them from the 300 wooden or steel traps they will haul up via winch and check in a 12-hour day at sea.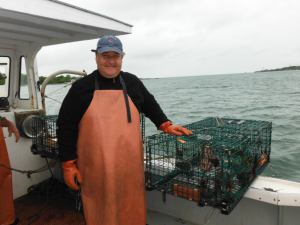 We're only checking eight traps on this June day during this tourist experience set up by the concierge at Inn by the Sea, in Crescent Beach, for $25.
But from November through April the "Lucky Catch" and her crew work commercially over a 20-mile radius, when the stakes are much higher and so are the waves.
For now, though, it's optional assistance from the passengers onboard with a touch of marine biology education about "keepers," "soft shells," "shedders" and the like.
If you don't mind getting to know lunch before you eat it, you can catch and designate your own lobster while onboard, pay the wholesale boat price – five dollars for a 1.5 lbs. lobster – upon docking, and literally hand-carry it, alive, across the pier to Portland Lobster Company.
10 minutes and $9.95 later you'll find your catch red as a stop sign, steamed, on a plate with a baked potato, corn on the cob and melted butter. I suggest Portland-made Sea Dog blueberry beer to wash it down.
Back at Inn by the Sea for desert, Executive Chef Mitchell Kaldrovich created a lobster sorbet for desert. "It's both a curiosity and a hit," he said. You might have winced at the thought, but it tasted refreshingly and richly like a spoonful of frozen bisque.
Visit www.InnByTheSea.com or call (207) 799-3134.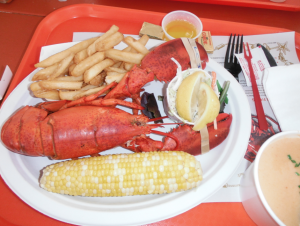 Michigan-based travel writer Michael Patrick Shiels may be contacted at InviteYourself@aol.com or via www.TravelTattler.com