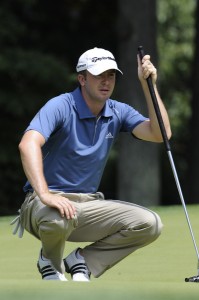 Birdie. Martin Laird. He tried to give it away early, but came through in the clutch in the end to post his biggest victory. A long hitter, if he continues to putter, he will be another European to watch.
Bogey. Steve Marino. Another runner-up for Marino. The only positive for Marino is that he's quickly becoming a fan favorite. A lot of people will be pulling for him to get that first victory.
Birdie. Arnold Palmer. "The King" probably got a kick out of how difficult it was during the final round at Bay Hill. The winner came in with a 75. Always great to see Palmer have such a presence at his tournament. Long live the King.
Loser. Tiger Woods. Woods keeps saying he's making progress, but it's difficult to see after he shot a 74-72 on the weekend. Ho-hum, a tie for 24th. He continues to play like  just another guy out there.
Loser. Phil Mickelson. He joined Woods in the 24th spot. It doesn't appear as if he has much momentum going into Augusta, but you never know with Phil.
Winner. Jim Furyk. After a shaky start to the season, Furyk posted his best finish with a tie for ninth. He could be rounding into form. Wouldn't be a bad pick for the Masters.
Winner. Sergio Garcia. Sergio! There's some hope after a tie for eighth. Let's see if the can build on it.
Loser. Spencer Levin. Not quite ready for prime time with a final round 76. Still a player to watch, especially for his flare-ups of temper. He had a beautiful explosion Saturday.
Birdie. Sam Saunders. Arnie's grandson finished in a tie for 30th. You know Grandpa was proud.
Loser. Bubba Watson. He had a shot after firing a 68 on Saturday, but he imploded with a 78 on Sunday.
Birdie. Mark Wilson. The Elmhurst resident and two-winner in 2011 had his best finish in a while with a tie for 11th.
Loser. Ernie Els. Another big name is struggling with his game. He went 73-78 over the weekend to finish in a tie for 70th.