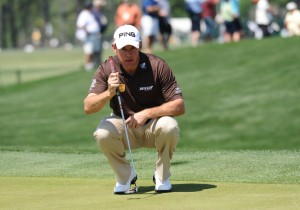 Birdie. Lee Westwood. I suppose. There's a lot of hand-wringing over Westwood vaulting back to the top spot by winning a low-level tournament in Jakarta. He was the only player in the field in the top 70. Good for you Lee, but does anyone truly believe you're the top player in the world at this point? Furthermore, Westwood won't be backing up his ranking at the Players Championship. He isn't playing.
Birdie/Bogey. Luke Donald. It isn't easy going into a tournament knowing you have to win to become No. 1 in the world. Just ask Phil Mickelson. Donald almost pulled it off. He would have gotten there if Brandt Snedeker hadn't played out of his mind. However, with the exception of a birdie on the first playoff hole, which Snedeker matched, Donald struggled down the stretch, missing greens. He didn't knock down the rap he isn't a good closer. While Donald played well, it was a missed opportunity to say he is the No. 1 player in the world. Let's see if he gets another chance.
Birdie. Brandt Snedeker. He went into Sunday back in the pack and shot a 64 to eventually win in a playoff. That shows you've always got a chance. Good job, Brandt.
Bogey. Jim Furyk. It was stunning to see Furyk completely collapse with a 76 Sunday. His horrible round dropped him into a tie for 21st.
Birdie. Tommy Gainey. "Two Gloves" almost pulled it off by winning in his home state. A third-place finish, though, shows the potential for bigger things. With the two gloves and funky swing, he'll become a big star if he starts winning.
Birdie. Tim Herron. The big guy finished fourth. Always fun to watch Herron. Gives you hope of what you can accomplish if you're fat and out of shape.
Bogey. Heritage Classic. Hopefully, the great finish helped save the tournament, which is on life support without a sponsor. It would be a shame if this was the last trip to Harbour Town. It's a great course with a great 18th hole. Everyone would miss it.
Birdie. John Daly. He made the cut and finished T-71. Any time Daly is playing on the weekend, it's a good thing these days.
Bogey. Ernie Els. Talk about your game falling apart. Els shot 75-78 to miss the cut. Brutal.