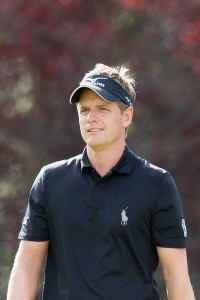 Apparently, there isn't a consensus about Luke Donald being currently ranked the No. 1 player in the world.
Robert Lusetich of Fox Sports wrote:
Even more than the recent brief stays at the top by Martin Kaymer — who has suffered as he has curiously turned from his natural fade shot to a draw — and Westwood — whose resume doesn't include a major — Donald's ascension is sure to set tongues wagging about the true value of the rankings.
Not only has Donald not won a major, but he's won only three stroke-play events in the past five years.
And two of those — the 2006 Honda Classic and last year's Madrid Masters — were against weak fields.
For Woods at his peak, such a haul would've represented a relatively ho-hum month.
In an interview during the spring, Lee Trevino said:
"I don't know any of the players anymore. I'll sit down and I'll watch it when Tiger is playing. Luke Donald, how can he be No. 1? He's won one tournament in the last five years!"
Neither Lusetich nor Trevino are wrong for thinking that way. It does seem strange a player with so few victories on his resume should be regarded as the No. 1 players in the world.
However, the ranking is more of a commentary on the state of the game in June, 2011. Nobody has stood out and dominated in the Tiger vacuum. There's been a great parity with seemingly a new winner every week; several have been relative unknowns. Meet Keegan Bradley.
As a result, Donald's ranking is based on his consistency. He probably isn't getting enough credit for his string of top showings. He has finished in the top 10 in 14 of his last 15 tournaments. That's Tigeresque, folks.
Plus, he has won two big tournaments this year: The Match Play and last week's BMW PGA Championship against a top field in Europe.
In this day and age, it all adds up to being No. 1 on June 1.