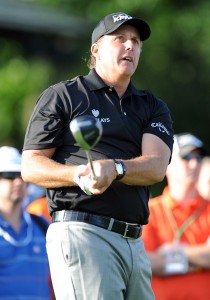 Hate to say it, but time is running out for Phil Mickelson in his bid to win a U.S. Open.
Mickelson will turn 41 on Thursday. That's not ancient, but he definitely isn't a kid anymore.
When the five-time Open runner-up steps to the first tee Thursday at Congressional, he has to know his window is closing quickly when it comes to pursuing his Open dream. How many more good opportunities does he have left? Will he become this generation's Sam Snead?
Let's not forget Mickelson suffers from psoriatic arthritis. He says the condition is under control, but who knows when it will flare up again?
There are two Phils these days: Good Phil and Inconsistent Phil. We saw Good Phil when he blitzed the field at Houston in April. However, he has only 4 top 10s in 12 starts this year. His consistency is lacking. Luke Donald, he's not.
Mickelson, though, did shoot a 67 during the final round at Memorial. Perhaps the good score will give him momentum going into this week.
This is a golf season in search of a good story. Right now, it's been a hodge-podge of different winners every week.
Mickelson finally winning a U.S. Open would give the season its defining, feel-good moment. It would be quite a present to the birthday boy and to us.
******
From my book, "Golf List Mania," here is the list I did on Mickelson's heartbreaks at the Open.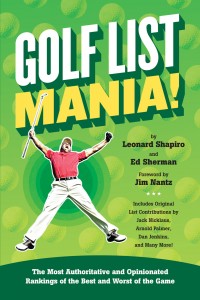 Phil's Runner-up Blues
Phil Mickelson's is golf's high-wire act. Win or lose, we know Mickelson isn't going to play it safe. The U.S. Open, though, isn't a tournament in which daring play is rewarded. It is a plodder's event, where par is a good score. Perhaps that's why Mickelson hasn't been able to get over the hump in a tournament he desperately wants to wins. Through 2010, he had a record five runner-up finishes in the U.S. Open. Included is a meltdown of epic proportions.
Here's the rundown of runner-up Phil:
5. 2002 at Bethpage. Tiger Woods won this tournament, but Mickelson definitely was the "people's favorite." The rowdy New York crowd went crazy as Mickelson shot a 67 on Saturday to pull within five shots of Woods. Then on Sunday, Mickelson had a chance when a birdie on 13 narrowed Woods' lead to two shot. But the rally ended when an errant drive on 16 led to a bogey. Mickelson may have won the hearts of the New York fans, but Woods went home with the trophy.
4. 2009 at Bethpage. The Phil love fest resumed. The New Yorkers cheered for Mickelson as if he was Derek Jeter. They had additional motivation. Prior to the tournament, it was disclosed Mickelson's wife, Amy, was suffering from breast cancer. It would make quite a story if Mickelson could win one for Amy. It was all set up for him. An eagle on 13 tied him for the lead during the final round. Alas, Mickelson couldn't bring it home, as his putter failed him down the stretch. Another runner-up finish, this time to Lucas Glover.
3. 2004 at Shinnecock. Mickelson came into his first U.S. Open as a major winner for the first time. Two months earlier he broke through at the Masters. He played beautifully at Shinnecock and looked to be in position to make it two majors in a row. During the final round, he made birdies on 15 and 16 to take the lead over Retief Goosen. But in a classic Phil moment, he wilted with a double bogey 5 on the par 3 17th. The collapse included a three-putt from five feet. He falls short again, this time by two shots to Goosen.
2. 1999 at Pinehurst. Mickelson's wife Amy was involved in the drama again, but this time for a much happier reason. With Amy ready to deliver the couple's first child at any moment, Mickelson wore a beeper on the course. He said he would leave immediately if it went off. Against this backdrop, Mickelson carried the lead down the stretch. Most people remember this tournament as the one Payne Stewart won by sinking the dramatic par-saving 15-footer on 18. But Mickelson had his chances. Sitting on the lead on 16, he made a bogey. Then on 17, he failed to convert an 8-footer for birdie.
Stewart made the shots in the clutch; Mickelson didn't. After Stewart won, he grabbed Mickelson and said, "You're going to have a baby." The next day, Amy delivered a girl.
1. 2006 at Winged Foot. The American version of Jean Van de Velde at Carnoustie. Despite struggling all day, Mickelson arrived at 18 with a one-shot lead. Then in a sequence of events that will be dissected forever, Mickelson sprayed his driver left, hitting a hospitality tent. Why did he use driver? Then he went for a miracle shot, hitting a tree. Why didn't he play it safe and try to punch out? At worst, a bogey puts him in a playoff.
Taking the safe route, though, isn't part of Mickelson's game. Ultimately, it cost him a double-bogey, handing the title to Geoff Oglivy. Afterward, Mickelson uttered his immortal line, "I am such an idiot."
He knew he blew it. But he also knew he couldn't play it any other way.