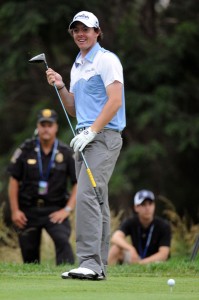 Here's my assessment on Rory McIlroy from my blog at Crain's Chicago Business:
Yes, Sunday was a great day for golf.
With Tiger Woods sitting at home nursing all his physical and mental woes, the game needed a player to step up and fill the massive void. Rory McIlroy all but grabbed golf fans by their collective throats and demanded, "Take a look at me."
The engaging 22-year old from Northern Ireland delivered a performance for the ages, completely shattering the notion of a diabolical U.S. Open. He shot 17-under, won by 8 shots and played only 4 holes out of 72 over par for the entire tournament. Just when we thought we saw everything from him, he leaves us with a signature shot with a near hole-in-one on the par 3 10th.
Here's the link to the complete entry.