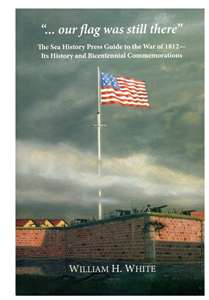 Does your heart swell a little bit when you rise to hear or sing the National Anthem at sporting events? The celebration of the Bicentennial of the War of 1812 also marks the 200th anniversary of the penning of the words to this song.  Some call this war 'The Forgotten War' or the 'Second American Revolutionary War'; others call it the war that 'nobody won';  some know it as the war during which the U.S. Navy first played a starring role;  many don't know a thing about it.  Essentially, the War of 1812 marked the first time the mighty British Navy was ever truly challenged…..by the fledgling American nation.  Also joining in the fray were France, Canada, and Native Americans.   Three years later, after all was said and done, nothing essentially had changed;  borders, possessions, power, and control were virtually unchanged.  The only real losers were the Native Americans, who had mostly decided to support the French and British.
2012 marks the 200th anniversary of this conflict and the U.S. Navy is celebrating in a big way.  Since April, an armada of Navy and tall ships has stopped in coastal cities along the eastern seaboard for week long celebrations, concerts, events and airshows.  The armada will continue visiting cities in the U.S. and Canada along the St. Lawrence Seaway and throughout the Great Lakes until October.  The fleet stops in Detroit and Windsor September 3-10, 2012 where dozens of activities will bring attention to the U.S. Navy and the tens of thousands of young men and women who serve.  For a full schedule and more information, visit  www.ourflagwasstillthere.org.
In Detroit, a few special contests have been added. If you appreciate what the Star Spangled Banner represents and think you can write a great 6th verse relevant to what is happening today, get your pens (or computers) out.  Francis Scott Key was compelled to write as he observed 'bombs bursting in air';  Oliver Wendell Holmes wrote a virtually unknown 5th verse (see below) during the Civil War.  What can YOU write about, considering our conflicts today? Submission deadline is August 15, 2012…..Michigan residents only.
ENTRY INFORMATION – STAR SPANGLED BANNER SONG WRITING CONTEST:
Create a new and relevant 6th verse to the Star Spangled Banner in celebration of the 200th anniversary of its creation during the War of 1812.
 In cooperation with the U.S. Navy Recruiting District Assistance Council-Michigan (RDAC-MI), the Michigan Council for History Education, and the Michigan War of 1812 Bicentennial Commission.
 WHAT?  The Star Spangled Banner became America's National Anthem in 1931 though it was based on a poem, 'The Defence (sic) of Fort McHenry' written by Francis Scott Key as he watched the fort's bombardment from the HMS Tonnant. During the Civil War a 5th verse (see page 2 for lyrics) was added by Oliver Wendell Holmes.  For this Bicentennial celebration, there is an opportunity to pen a 6th verse to be added to this important song.  Your knowledge and experiences can be used to create new and relevant content based on current events, pride of the USA, and the recognition of heroes. This song writing contest will allow you to share your vision in shaping the future of the USA and its people
 WHO?  This contest is open to all Michigan residents in two divisions, Adult and Youth.
 WHY? The Bicentennial of the creation of the Star Spangled Banner offers an excellent opportunity for individual participants to learn and share information about all wars.
 HOW?  By individually researching key topics surrounding this event and current events you may use resources available at local libraries, museums, and the internet.  Then, transfer this learning into song lyrics and submit the work as follows:
A paper version of the lyrics.
Optional DVD performance of this newly created music.
 WHEN?  To take advantage of summer vacation time, entries must be postmarked by Wednesday, August 8, 2012.  Any late entry will not be accepted.
 PRIZES:  The Star Spangled Banner Song Writing Contest offers the following awards:
Adult Division (age 18 and over):  1st Place – $500 and 2nd Place – $200
Youth Division (may not have reached age 18 by 11:59pm August 15, 2012)
1st Place – $500 and 2nd Place – $200
 Awards will be presented at a special event during the Bicentennial of the War of 1812 to be celebrated September 3-10, 2012 in the Metro Detroit area. Photos taken at Awards Ceremonies may be used in publications of the U.S. Navy and other organizations, and may be posted on various websites.  There may be additional interviews, biographical information, and news coverage requested by local media and U.S. Navy Community Outreach (NAVCO) or PR personnel.
Guidelines for Star Spangled Banner Song Writing Contest:
Lyrics should be adaptable to the 'official' Department of Defense version.
A paper copy of the submitted Lyrics is to be included in the submission.
A Video DVD of the performance of this submission of the First and proposed  6th Verse may be included; DVD must be marked with Artist's name.
An Artist submission form (with Guardian/Parent Signature if a Minor)
Declaration that the submitted lyrics are original is assumed with Signature on Entry Form.
Declaration that the Artist would be available during 1812 Celebrations.
 Please note:  Failure to follow these guidelines will result in disqualification of entry.
 Judging Criteria:
25 points, creativity and originality
25 points, responding thoughtfully to theme, cadence and musical compatibility
20 points, presenting of content clearly and effectively
20 points, appropriate spelling, grammar, flow of content
10 points, completeness and quality of the submitted materials
Bonus of up to 10 points on short written statement on "what motivated your current viewpoint"
***If there is any plagiarized content, entry will be disqualified
 Example:  5th Verse, written by Oliver Wendell Holmes during the Civil War (1861)
 'When our land is illumined with liberty's smile,
If a foe from within strikes a blow at her glory,
Down, down with the traitor that tries to defile
The flag of the stars, and the page of her story!
By the millions unchained,
Who their birthright have gained
We will keep her bright blazon forever unstained;
And the star-spangled banner in triumph shall wave,
While the land of the free is the home of the brave.'
 NOTE:  Lyrics will be judged by a panel of local and national experts.   Winners may be asked to video-record their submissions for use by various organizations and must agree to media interviews.  Winners agree that their work may is original and may be also used for promotional purposes.  Submissions become the property of Contest Sponsors for use in print or other media as judgment determines.
Decisions of the contest judges are final.
Any questions may be directed to NRD-MI RDAC Chair Janina Jacobs via email at Jjacobs2456@gmail.com.
Official Entry Form 6th Verse to the "Star Spangled Banner" Contest:                                      
SONG WRITING CONTEST:
Contest Focus:  "Create a 6th Verse to the Star Spangled Banner"
Artist Information:
 
Division:
 
Artist Name:
 
Adult:Youth:
Date of birth:
Home Address:
 

City:

Zip:

 
Home or Cell Phone:
 

Email:

 
Artist Signature 
 

Date:

 
Guardian/Parent  Signature:   (Required if Artist is a Minor)
 

Date:

 
Are these original lyrics created by the Artist?
Circle Appropriate Response:                 YES                       NO

Song Lyrics

Provided

Circle Appropriate Response:                 YES                       NO
If applicable, I can perform during 1812 celebrations in Sept.
Circle Appropriate Response:                 YES                       NO

Video DVD Provided

Circle Appropriate Response:                 YES                       NO
Optional Bonus Point Statement (Maximum 10 points): 'what motivated your current viewpoint?'         
 Entry Material to by submitted to and postmarked by Wednesday August 15, 2012:
Send to:
Janina Jacobs, St. Basil Parish, 22851 Lexington, Eastpointe, MI 48021
ATTN: Star Spangled Banner Contest
Decisions of the judges are final and may not be contested.
Form: OE-SSB
For Office Use Only; To be assigned by judges:  Blind Entry Number:___________      
The Star Spangled Banner
Lyrics By Francis Scott Key (1814) and _____________ (2012)
Oh, say can you see by the dawn's early light
What so proudly we hailed at the twilight's last gleaming?
Whose broad stripes and bright stars thru the perilous fight,
O'er the ramparts we watched were so gallantly streaming?
And the rocket's red glare, the bombs bursting in air,
Gave proof through the night that our flag was still there.
Oh, say does that star-spangled banner yet wave
O'er the land of the free and the home of the brave?On the shore, dimly seen through the mists of the deep,
Where the foe's haughty host in dread silence reposes,
What is that which the breeze, o'er the towering steep,
As it fitfully blows, half conceals, half discloses?
Now it catches the gleam of the morning's first beam,
In full glory reflected now shines in the stream:
'Tis the star-spangled banner! Oh long may it wave
O'er the land of the free and the home of the brave!And where is that band who so vauntingly swore
That the havoc of war and the battle's confusion,
A home and a country should leave us no more!
Their blood has washed out their foul footsteps' pollution.
No refuge could save the hireling and slave
From the terror of flight, or the gloom of the grave:
And the star-spangled banner in triumph doth wave
O'er the land of the free and the home of the brave!Oh! thus be it ever, when freemen shall stand
Between their loved home and the war's desolation!
Blest with victory and peace, may the heav'n rescued land
Praise the Power that hath made and preserved us a nation.
Then conquer we must, when our cause it is just,
And this be our motto: "In God is our trust."
And the star-spangled banner in triumph shall wave
O'er the land of the free and the home of the brave!   

1

2

3

4

5

6

7

8
 Office Use: Blind Entry Number:___________