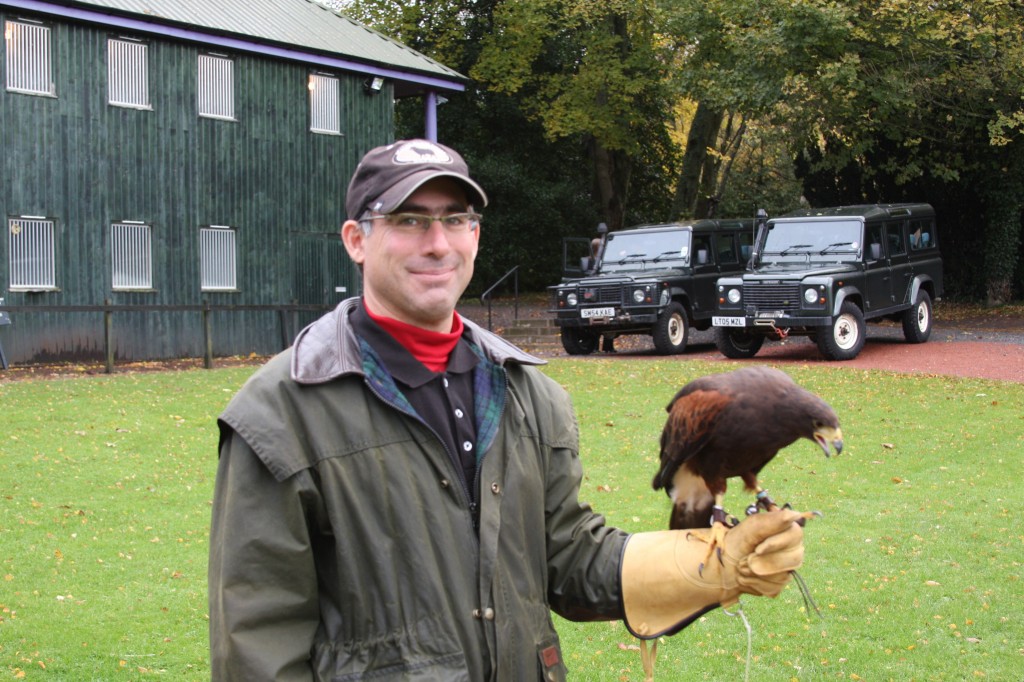 While I did not make any eagles on either the King's or Queen's golf courses at
Gleneagles Resort
, in Scotland, I did encounter a golden eagle in the lobby of the luxurious hotel.  He'd come to fetch me– on the arm of his keeper– for my falconry lesson.  For thousands of years, humans have been using birds of prey as a means of getting food.  While my new friend Nigel was not able to hunt for me because he was a rescue bird who'd been injured in Dubai and was recovering at Gleneagles, he made a perfect ambassador for the resort's unusual program.  Up close, Nigel was gorgeous as a supermodel, but with a wildness that looked as if it might resurface at any moment, which only added to his attraction.
I worked more closely with Delta, the  Harris hawk pictured above, who was smaller than Nigel, but no less stupefyingly beautiful.  Gleneagles features the first dedicated falconry school in the world.  The sport, not unlike golf, has earned a reputation for symbolizing high birth and nobility.  But clearly, the birds don't know that, as they were perfectly willing to work with me as long as their handler continued to feed them.
Our hour-long introduction to falconry was everything a short class should be, providing background, explanations of how and why the sport has been pursued for centuries, and a glimpse into the practice of it.  And it was a chance to look at world-class predators close up, which should prepare you for your next golf match, if your friends are anything like mine.