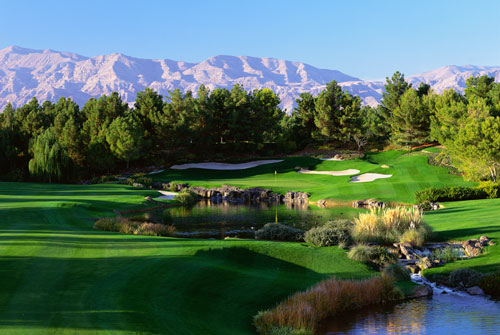 It's not every day that two of golf's hottest young guns have to twirl their drivers on the back tee box and wait for a couple of hacks to duck hook and slice their drives and eventually get out of the way before bombing their own tee shots into a perfect fairway lined with a burbling creek and sculpted to a perfection so extreme that taking a divot feels a little like spilling coffee on Jesus's flowing white robes.  But then again, it's not every day that a couple of journalists get to play Shadow Creek Golf Club, in Las Vegas.  Shadow Creek invented the idea of a high-dollar golf property serving as a private enclave for big-hitters– and I don't mean that they're big off the tee.  Just peruse the lockers inside the clubhouse for the names of presidents, sports heroes, movie stars, and major-winning golfers.  Though other courses– particularly Cascata and Wynn– have plagiarized the idea, neither has come even remotely close to recreating the feeling of playing Shadow Creek– one of the absolute wonders of the golfing world.  And as much as I hate to admit it, this completely manufactured fantasyland of a Carolina golf course dropped out of the sky in the middle of a flat, dry plain in Nevada is still one of the  best golf courses I've ever played, and ranks even higher in overall experience.  And only part of that experience is due to the pick up and drop off by limo, and a caddie as proficient as Curtis Deal, who would have been worth spending four hours with even if he wasn't reading every yardage, stalking every putting line, and giving my partner lessons along the way.
I'll spare you the specific details of my day except to say that I shot a career round by channeling someone who was definitely not me– nearly every fairway hit, practically every green in regulation, and even when aforementioned near-perfect caddie may have, ahem, misclubbed me on the par-three seventeenth (his version might suggest that I actually mishit the right club) and I ended up in the bunker and had to strike a miraculous sand save that rolled an inch past the hole with Dustin Johnson (who had some recent bunker misfortunes of his own) watching as I tapped in for par thus saving Curtis from imminent tasering and possible execution, every other thing about the day was so sublimely perfect that I am not even making it up when I tell you that as we strolled out to our drives on 18, Michael Jordan drove by in his Tar Heel blue golf cart and waved demurely.   If MJ (whom I suspect was responsible for the difficult pins that day) had known we were media as opposed to someone important, we might have gotten just one finger instead of the whole hand.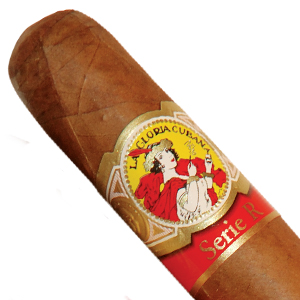 All of which is a long way of getting around to what I smoked out there (other than my drives!), and though it seemed to have hallucinogenic properties based on my wholly unexpected performance, it was only a La Gloria Cubana Series R and not something stronger (or illegal, even in Vegas).  I lit up on the tenth tee as a reward for shooting 39 on the front side and immediately commenced hitting a strong drive to the left side of the fairway and a nearly pristine 5-wood with a perfect arc of draw that hit a foot above a gaping greenside bunker but backed up instead of sallying forward, so as my playing partner searched for an errant ball in the deep fescue I was forced to hit a perfect sand shot just past the hole onto a down slope that rolled it back to four feet and I made the putt for par.  That's some cigar!
The taste was of spice and leather, and it came through nicely even though I'd mistreated such a friendly and well-meaning smoke– I'd pulled it from my humidor three days earlier but left it in my golf bag in the Vegas heat and aridity so the wrapper was cracked and peeling.  Perhaps it was knowing that the Strip was only twenty minutes away, but the La Gloria seemed to exude a hint of expensive perfume and the vibe of the poker table.  It seemed to deliver a rather strong dose of nicotine, too, but that could well have been my heart pounding from a couple of crisply-struck short irons that sailed over bunkers onto the greens, or from knowing that I was on the verge of shooting the very best round I've ever played.  While I can't attribute that entirely to the cigar, you can bet that I'm going to buy a box of La Gloria Cubana Series Rs for my humidor and always keep one handy in my golf bag.
As for Dustin and Ricky and Michael Jordan– sorry for the hold up, but we were busy making pars and birdies all day.