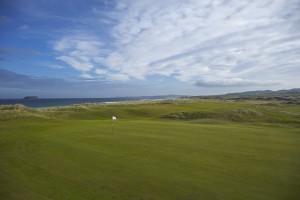 The bags are packed– the golf travel bag that looks to be containing a body, the world's largest suitcase, and a computer bag full of electronic gear ranging from current adapters to battery charges to a camera that shoots stills and videos.  First flight departs in two and a half hours, but I'll head off to the airport early for a relaxing start.
Which still leaves half an hour and I don't dare check email or pick up the phone now that all communications indicate I'm unreachable for the next ten days unless you're one of my tenants with an emergency or a sheep along the roadside on the way to Ballyliffin, our first golf destination on this trip.  It's at the very northern tip of Ireland, hidden among fescue-covered dunes.
And what better way to build up a little extra anticipation than to visit their website at www.ballyliffingolfclub.com.  If I thought it would help, I'd look at the hole-by-hole descriptions and plot my strategy– as if I might actually hit the ball where I intend to after 20 hours in transit.
Better go check one last time on the Pro-V1 supply . . .