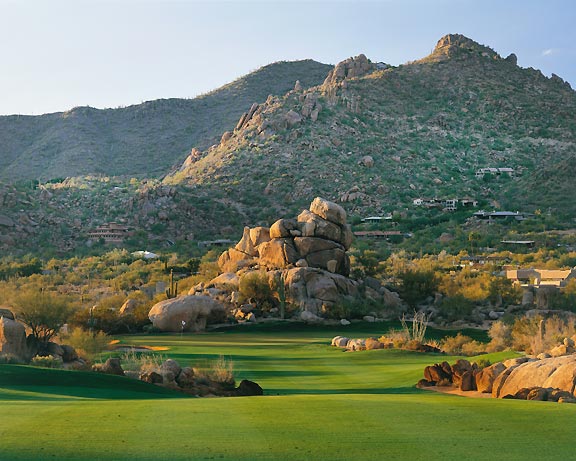 Photo by John and Jeannine Henebry
Is this a great country, or what?  In the span of one long day today the Golf Road Warriors enjoyed the municipal magnificence of the McDowell Mountain Ranch Golf Club early in the desert morning chill with the sun just coming up over the sagauro-studded peaks, an afternoon round amidst the refinded desert finery of The Boulders Resort, and finished the evening watching amateur bull riding at the Buffalo Chip Saloon in Cave Creek.
Now, back in the comfort of my casita at the Boulders, with a small juniper fire burning in the fireplace and the patio doors open to another crisp desert night filled with stars, it occurs to me that despite the fact that cowboys and golfers might as well be cowboys and aliens, this part of the world is one where such divergent cultures can agree upon the global peacemaking attributes of great barbecue and live in happy harmony.  There are few places on the planet where more divergent forces come together and respectfully sidestep each other with frosty mugs of Bud or Hefewizen and a friendly nod from the Callaway clad to the Carhartt sporting.
Just for the record, I offered the Golf Road Warriors $500 if one of them would ride a live bull, and despite the fact that Kessler claims to descend from a long line of bull riders (bull, yes, riders not so much), none had enough medical coverage to take my bed.