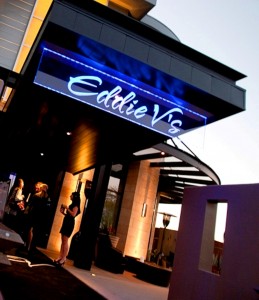 . . . isn't really even a steakhouse, exactly.  And while it compares favorably to such personal favorites as El Gaucho in Portland, N9ne in Vegas, and even the storied Peter Luger's in Brooklyn, New York, Scottsdale's Eddie V's is really the best seafood restaurant in Scottsdale.  Though much about it feels like the greatest steakhouses.
Which is to say that although it's located amidst the upscale malls of Scottsdale Road, from the minute you see the loungy outdoor furniture gathered under heat lamps (in case the clear desert night turns crisp), you'll recognize that this restaurant lives in a different stratosphere.  Inside, you're caught up in a flow of light and sound and texture from this masterpiece of modern restaurant design.  The bar is sleek and warm with much glass and twinkling lamps, live saxaphone music and chimes of laughter from the patrons who are themselves sleek and modern and well-kept.  A cocktail of wood finishes, tile walls, neutral tones, and bold lighting create something, well, sexy.  Seductive.  And of course, hunger-inducing.
Beyond wine racks that seem to float above the floor as if suspended by bustle and good cheer, one of several dining rooms awaits in more subtle light, the banquets set above the main floor suggesting somehow a stateroom on a boat, your white-jacketed waiter an able Captain of Deliciousness standing by to navigate you toward a great meal.
Wait staff seem genuinely happy you've come to see them– something as rare as the perfect ahi tuna– and excited about the dining experience they're about to provide.  Like the best waiters worldwide, they've learned enough psychology to anticipate just how much friendliness might be appropriate, whether to share a personal anecdote with one couple, or stick to business with another.  All while being responsive to the merest questioning glance in case you desire another drink or perhaps were simply wondering what the capital of Uzbekistan might be.
Then, at some point, when you've adjusted to the atmosphere and finished that first refreshing cold glass of pinot gris, you'll remember that you came to Eddie V's to eat, and attend to the task at hand.  While the menu features many of the things you'd expect at a fine steakhouse–  various filets and au poivres, etc.– my wife and I barely glanced at the meat section.
We began the meal with the yellowtail sashimi with red chiles, toasted coriander, and ponzu that practically tasted like a fresh salt breeze off the ocean, with a little kick from the chiles smoothed out by a hint of sweetness from the ponzu.  We followed this with an old-school Caesar topped by white anchovies.  We ate the full romaine leaves with our fingers, the crisp green life rafts heavy with croutons and the garlicky dressing and clusters of parmesan.
For the main, I opted for the Pacific ahi tuna seared with wasabi potato puree and ginger-soy glaze– a gift from the sea so fresh we could hear the chugging engine of the fishing boat it was caught by hours before.  The potatoes lent some heft to the plating.  Representing for our other ocean, Renee chose the North Atlantic lemon sole with a light parmesan crust in a lemon garlic butter, accompanied by a tomato and herb salad.  The serving was about the size of small hotel suite, which is where we took the remainder to eat for lunch the next day, delicious cold in our room at The Boulders Resort, with possibly the best side dish ever created.  We enjoyed the crisp freshness of the broccolini with lemon and garlic, but the spicy crab fried rice with scallions and mushrooms could easily have been, by itself, a full meal. Chunks of crab poked out like gold seams in a mountain of glittering rice excited with chile oil and the dark forest depths of the mushrooms.
For dessert, we shared the hot chocolate Godiva Cake with vanilla bean ice cream, a divorce threat on a plate, as Renee and I tried distracting each other away from the gooey river of chocolate running down the cake mountain toward the berg of ice cream threatening to blast a hole in the hull of cake and bring the whole thing down.  Our subtertfuge failed, and we clanged spoons on several occasions.
I considered picking up and licking the plate.
Eddie V's is located at 15323 N. Scottsdale Rd.  Call 480.730.4800 or visit www.eddiev.com.