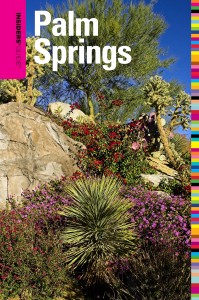 Yep, even when we're working on a guidebook we look at, well, guidebooks.  Not that we don't also do our own research and always hope to find great unheralded attractions or an undiscovered hiking trail or secret new bars or restaurants that aren't in the book and only known to furtive locals. But let's face it; why start from scratch when someone at least half competent has already made at least a rough map of the territory?
So this week, while preparing for the upcoming Golf Road Warriors trip to Palm Springs, I started looking through the terrific Insiders' Guide (note the position of the apostrophe, by the way) to Palm Springs that somebody had sent to me in the mail– most likely the Visitors Bureau that is hosting us.  After perusing the golf section I began to admire the writing, not just the obvious mastery of subject matter that the author conveys but also the breezy, irreverent tone– only to discover that the guide book was written by friend and fellow A Position member Ken Van Vechten.  Who when I called to tell him of the coincidence reminded me that we'd talked about this weeks ago and he'd told me on the phone that he was sending the book.
I'll probably be quoting from Ken's guidebook when I'm on the road next week, but here's a great piece of golf writing to whet your appetite– Van Vechten's description of Pete Dye's Stadium Course at PGA West, a notoriously difficult venue that I can't wait to play.
"During high season players with Furyk-meets-Freddy Kruger swings have stood 12 deep on the first tee, having willingly forked over nearly $300 for the honor.  They lost sleeve after sleeve of four-dollar-each Titleists, put so many Xs on scorecards that it looked like a fund-raising tourney for former porn stars, and needed an assist from two CPAs and an MIT grad in the locker room just to add it all up.  And they loved it."
Read more from Ken Van Vechten here.