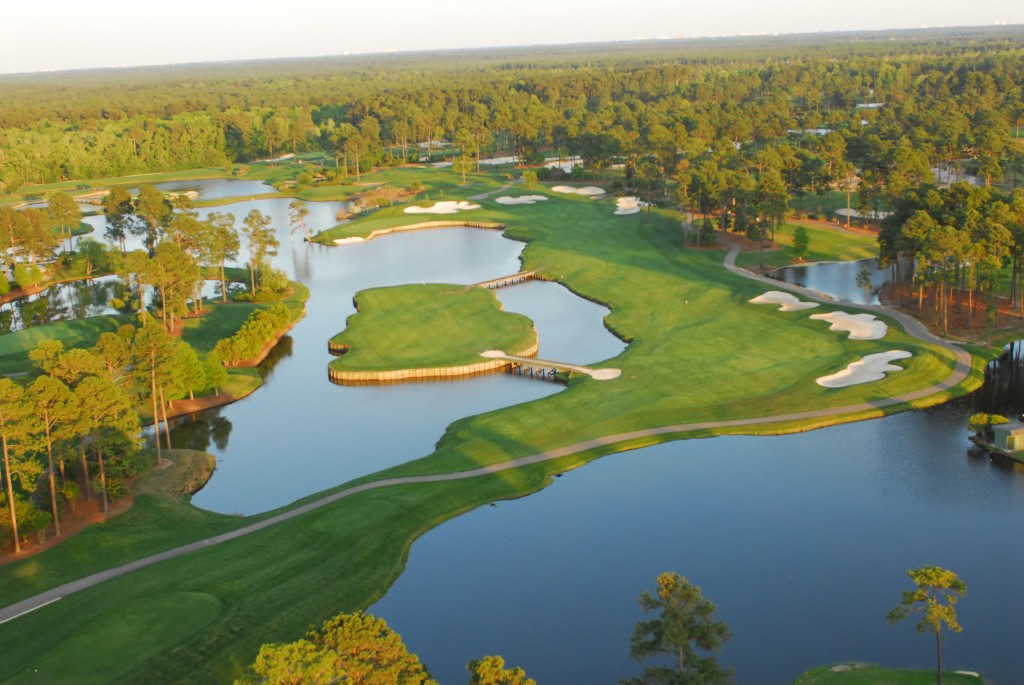 The Golf Road Warriors have completed their final sortie and withdrawn from the golf battlefields of Myrtle Beach.  But we finished with a bang– possibly my favorite course played during a week of playing great courses.  While not usually a fan of Arnold Palmer's golf designs, I found King's North at Myrtle Beach National a sublime architectural gem that was also just downright fun to play and left strong impressions of many of the very strong holes.  If I can remember half a dozen from the course after playing more than 90 holes during the week (and I often can't even remember what I had for breakfast) that's about the best recommendation I can offer.
As we've discovered time and again, having fun on the golf course often starts with choosing the right set of tees.  We abandoned the potential heroics (but also the almost certain mayhem) of playing the course from 7,000+ yards and opted for the next set at 6,481.  If there'd been a set in the middle we may well have gone with those– and enjoyed ourselves less.  At 6,481 I had the chance to swing pretty much every club in my bag (even though I hate half the clubs in my bag) and faced a variety of yardages and shot-shaping requirements into the greens.  And occasionally I even executed them successfully.
The great first shot on the opening par five has everything– water, sand, trees, you can hit a fade or a draw– and the hole finishes at a very handsome green complex that proves, well, complex, as it's mostly hidden around a left bend protected by a bunker at the tight corner.  Although water lurks on the first two shots, it's not really in play.  Number two is equally good– pound it up a ramp for a short approach, otherwise add a club to compensate for the climb.  The second shot must fly a waste area decorated with beachy grasses.  Holes on the front side continue to prove extremely pleasing to the eye and while the course has little in common with Ireland, some of the lines brought Palmer's stellar work at Tralee to mind.
On the par-three fourth hole, fellow warrior Bob Fagan earned the "closest to the tee" award when he topped his tee shot.  Not to be outdone, Jim Woodring– Executive Vice President of Interactive Services and Marketing for National Golf Management, and a very good stick– actually hit a shot that landed in the lake and then bounced off the water and over the bulkhead to grass. My advice: do whatever Jim Woodring asks you to.
One of the best holes on the entire course– and one that Woodring suggested would make a great finishing hole– is number six, a par five called "The Gambler."  It was actually dedicated by Kenny Rogers, who wrote the song of the same name.  What's great about number six is that you cannot carry an iota of doubt with you as you step up to the tee shot.  An island fairway to the left of the regular fairway is narrow but deep and requires commitment and execution but will give you a chance to reach the green in two.  Even taking the easy route to the mainland fairway involves risks, as I discovered in the process of sinking a sleeve of balls in various watery graves.  Coincidentally, I also noticed that the guy who hit the shortest and most conservative tee shot (hello, Jim Woodring) was also the guy who had a six-footer for birdie (don't worry, Jim, I won't embarrass you by saying whether you made the putt).
Throughout the round I also noted that many of the greens feature an easy side and a more difficult side, so if you don't want to risk shooting at pins there's always a bail out or a run-up or some other strategy to pursue.  Holes are often separated by neat pine straw that lends a manicured and well-taken-care-of look to the whole place.  Memorable features on the back nine include a waste area on the left of the par-five 15th hole that stretches for six or seven thousand miles, and of course the island green at number 17, with bunkers in the shapes of "S" and "C" for South Carolina.  King's North finishes in style with a long par four boasting 42 bunkers, several of which I managed to avoid.