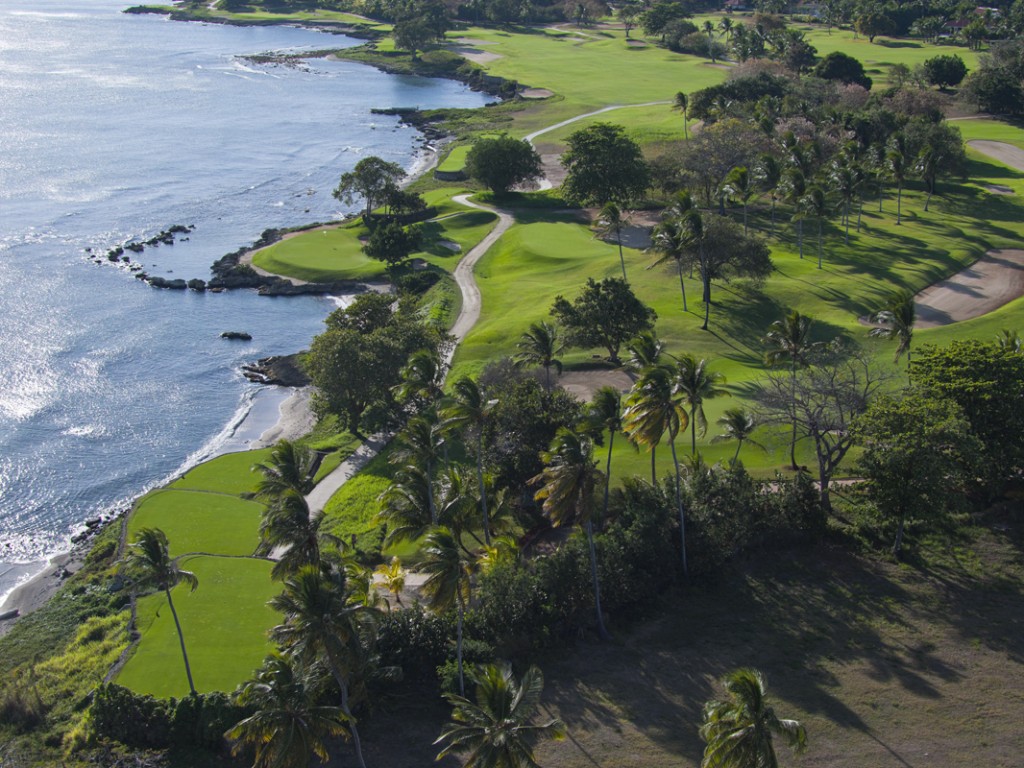 1) First, injure your back playing soccer (a sport which you are much too old to be playing to begin with), a couple of weeks before your trip to Casa de Campo, and then ride in the back of a battered pick-up truck in Mexico a week later for at least an hour to make sure the injury doesn't heel.  Oh, and maybe sit on a plane for twelve hours just before your round. This will accomplish a shortening and compaction of your golf swing to a point where you will discover, to your own surprise, that you can, in fact, control the flight of your golf ball.  Fear of shooting pain is a very effective teacher– and could lead to shooting low golf scores.
2) Take extra club, even when you're not hitting directly into the wind.  Wind blowing across the flight of your ball will also shorten your shots.  Additionally, many of the greens here are elevated, so landing in front of them will prove not at all helpful.
3) Be assigned Rafael as your caddie.  If there is a caddie hall of fame, and if there's a photo on the wall there, it should be of Rafael, who has been caddying on Teeth of the Dog for 37 years.  He has perfected every aspect of this difficult profession: he's friendly and polite without being obsequious; able to manage four marginally competent players, keep their clubs straight while carrying all putters and wedges around the greens, and provide yardages on every shot; and he's possibly the best reader of putts I've ever encountered.  If you can follow directions such as "hit it here" or "one cup left, this one is fast" you'll find yourself as astounded as I was to be dropping 10-20-footers all day long.
4) Chipping in for birdies helps.
Built by Pete Dye and opened in 1971, Teeth of the Dog is the anchor of Casa de Campo Resort's line-up of 63 golf holes (plus another 18 at a private club called La Romana that may be accessible to resort guests, but you didn't hear that from me).  Teeth of the Dog is perennially ranked as the top layout in the Caribbean and currently sits at #47 on the list of Top 100 Golf Courses in the World.
What's most noticeable to fans of golf course architecture is the way you forget about the golf course architecture.  Dye's " canine dental" work is seamless, and so you don't find yourself always commenting and observing.  It is a highly refined artwork in which the genius is subtle.  What you notice instead of bunkering patterns and lines of play are details like the way the surf breaks in white spray against dark rocks just off shore, the sounds of birds in the trees, and how much you love your playing partners, even if you've just met them.
Seven holes overall play along or over the blue Caribbean– on the front side the water is to your left and even with the wind blowing stiffly toward it, most players won't have too much trouble avoiding splashdowns.  On the return nine the water runs along the right side so beware a tee shot struck toward the middle of the fairway with just enough sidespin to catch the breeze and disappear into the briny deep.
While the inland holes reminded playing partner Jeff Neuman of Pebble Beach– how they seem to pass the time between spectacular oceanside holes– in some ways these are better, often wide and welcoming off the tee and then tightening toward the greens, where bunkers protect the landing areas and steep-sided slopes repel shots without enough moxie to get all the way there.
And the course features possibly the best collection of par threes anywhere.  Number five will elicit such erudite commentary as "wow" and "yikes".  We played it at wedge distance with a wind in our face and toward the water, and the green looked to be about the size of a coconut floating in the sea.  The tee shot feels as if you're hitting it off a boat anchored just off shore in the breakers.  If you hit into the bunker short of the green– well, at high tide there might not even BE a bunker there.  And a tree blocks the right side for those who are thinking about hitting a high draw.  Number seven is like a big brother version of five– this one called for a three-wood with a similar scenario though more room to land the ball (much of which also happened to be covered with bunkers).
Number thirteen splits the distance on yardage of the previous par threes, weighing in at about 170 yards.  The green bobs like an island in a sea of sand, and a low ball flight will accomplish almost nothing of note.  Hit it high between two framing trees and right at the pin.  This one is great as much for its difference from the other par threes as for its ability to build drama for the final short hole, number 16, which again plays across ocean water but this time the liquid hazard lies to the right.  Pods of pot bunkers add further interest.
Teeth of the dog is solid from first tee to final green in the very way you would expect a top-rated course to present.  I rolled my eyes only once the whole day, when a well-struck approach shot to the eighth green disappeared over a hill.  I thought the ball might have rolled down to the putting surface just out of view but instead lay at the bottom of a steep swale that left an impossible pitch back to a narrow green with stone wall and ocean on the other side.  But as they say, a hole is only blind once, so I'll leave it to my next round to fully decide whether the hidden swale was unfair.
We followed our round with the buffet lunch at La Cana– a perfect half-day on our first full day at Casa de Campo.