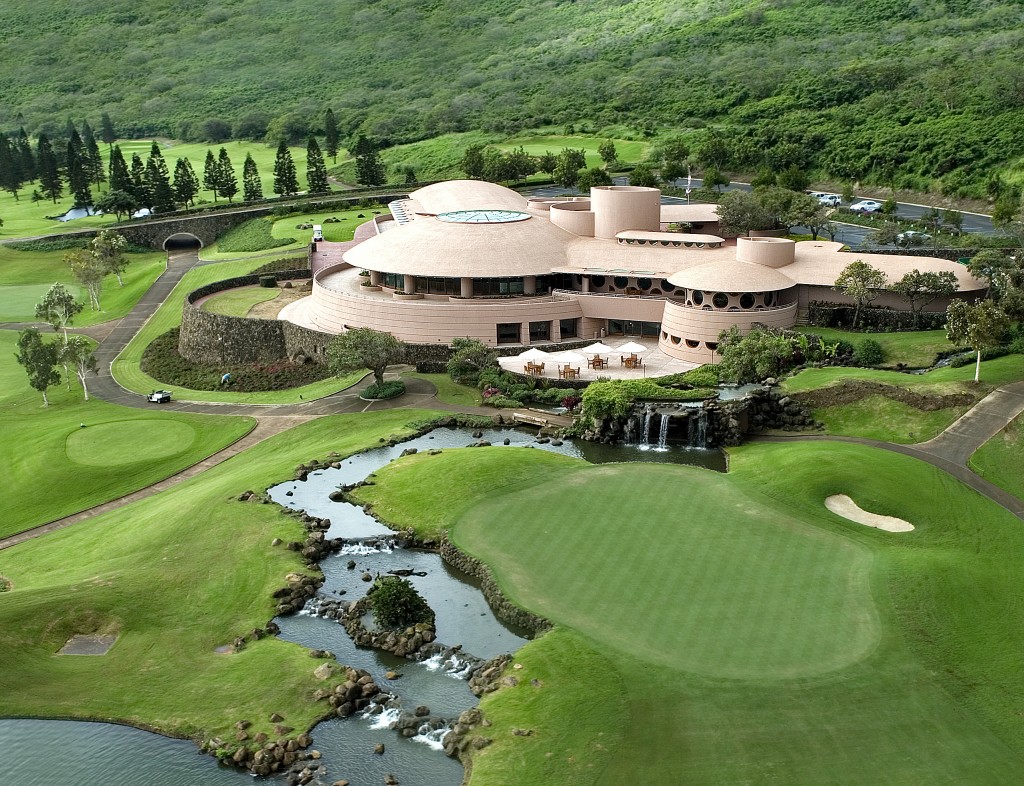 . . . It all makes sense at the only private golf club on Maui that offers a "member for a day program."  Located between Wailea and Kapalua, the King Kamehameha Golf Club is farther from these great resort golf destinations in spirit than it is physically along Highway 30.  The club climbs and descends steep mountains and foreboding canyons overlooking agricultural lands and offers what Director of Golf Rick Castillo calls "a bi-coastal view"– which is to say that the Pacific Ocean is visible in two opposite directions  Haleakala volcano also competes for your gaze.  For players who've enjoyed the golfing assets of some of the world's greatest resort properties on Maui, King K offers a remote, private, quiet respite from the hum and thrill.  A little more time for reflection.  And the true feel of having a phenomenal golf course more or less to yourself.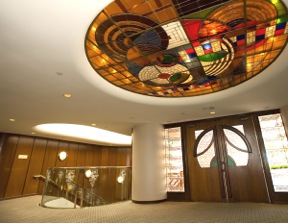 The original design for the striking clubhouse at King Kamehameha was first conceived by Frank Lloyd Wright as a private home in 1949, but the house wasn't constructed and plans remained at Taliesin until Wright met Marylin Monroe in 1957.  Although Monroe and husband Arthur Miller began adapting the plans to fit their own plans for a family, they eventually separated and shelved the house.  Fast forward 31 years later, when the plans for the Monroe/Miller house were rediscovered by the original developers of the King K clubhouse, who were looking for a design that would suit the hillside of their new golf club in Waikapu.  The plans were expanded to encompass 74,000 square feet that now house an art collection worthy of a museum as well as some of the most luxe clubhouse amenities imaginable– all featuring Taliesin-approved design elements, from the shower doors in the locker rooms to baseboards to the lighting and leaded glass windows.  Highlights of the artwork include a hand-painted mural by Herb Kane colorfully depicting a gathering of Hawaiian chiefs in ceremonial regalia.  From the outside, the building fits beautifully into its setting, the rose color matching the hue of the surrounding West Maui Mountains.
Rick Castillo, who managers the golf operations with quiet perfection may be one of the only PGA members anywhere who is also the curator of a cultural and artistic museum, and he'll offer a tour to folks who'd like to drive up and see the facilities even if they're not interested in golf.
But anyone who also loves artfully-designed golf will find the course beckoning with possibly greater interest than the clubhouse– though while you're playing, the clubhouse will beckon beautifully from many holes and also promises a fine lunch at the conclusion of a round.  Originally designed by Ted Robinson and refreshed later by Ted Robinson, Jr., this true mountain layout plays to 7,060 from the Kahuna tees through pines, paper bark and kiawe trees, jacaranda and African Tulip, and other island flora.  Grounds are immaculately maintained with color, texture, and shape lending a museum quality to the golf holes, as well.
The family Robinson created a layout boasting abundant risk/reward opportunities.  While fairways are wide and will welcome many even less than ideal tee shots, it's best to hunker down for the approaches, some of which are hit blindly to greens secreted behind bunkers or falling waters (to use a Frank Lloyd Wright term) or surrounded by short-mown swales.  Many of the putting surfaces are elevated; this, combined with grabby Bermuda grass forces boldness or may result in disappointment or at the very least another shot to reach them.  The routing winds across a mountain slope but with holes playing largely perpendicular to the grade and also somehow playing either directly with or into the wind, thus proving less penal to side-spun shots that on many similarly mountainous courses might disappear forever.
Number six provided an opportunity for the Golf Road Warriors to discuss architectural merits vs. trickery– something we'll find nearly any excuse to talk about if anyone will listen.  The best drive at King K's sixth travels to the left side of the fairway but stops rolling just before the lake positioned there.  Shots hit to the right will leave an even blinder approach to a green which provides no evidence of its own existence other than the flag peeking above a rock-lined streambed.  The set-up almost guarantees tentativeness while requiring the opposite to reach the putting surface successfully.  While I parred the hole I argued against its fairness, though fellow warrior Jim Frank pointed out that since this is a member's course it will only be fully blind and unknown to most players during the first of many rounds they're likely to play there.  Many of the holes on the front side offer the opportunity to shape shots they way you please and they deliver a high beauty quotient.  I was reminded several times of mountain layouts I've encountered in Colorado, British Columbia, and other famously beautiful if un-Hawaiian locales.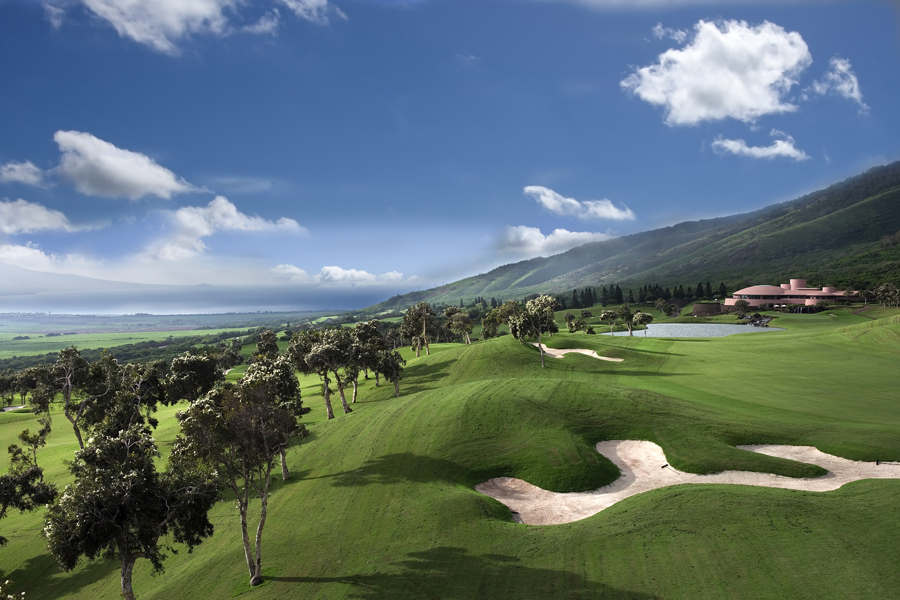 The back nine commences and concludes with a par three followed by a par five.  The tenth, a rollicking downhill ride of 213 yards requires striking a confident blow to carry a front bunker, and some players will be happy just to end up in the swale below the green.  Number eleven is a long and daunting par five that may require a lay-up on the third shot– and if you lay-up to the right side you may discover you're left with a downhill lie for an approach hit over water that you can't, see to a shallow green, a rather devious combination of challenges.  Streams and rock walls and flower gardens appear throughout the back nine and all the day's drama builds in intensity at the 559-yard eighteenth, which climbs past fairway bunkers a lake, and a burbling waterfall to a green situated just below the clubhouse.