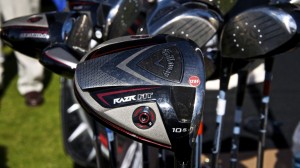 When the Golf Road Warriors hit Scottsdale back in December I felt a bit like James Bond, outfitted with an ingenious weapon for use against my rivals.  Just as the beloved "Q" provided Bond with deadly umbrellas and toxic fountain pens, Tim Buckman, Callaway's Senior Director of Global Communications, fitted me out with the company's deadly-accurate new RAZR Fit driver months before it actually became available to golfers who weren't also M1 spies.  I kept it in my golf bag with an unassuming head cover and slipped it into play on the second day of our week-long adventure.  And began hitting fairways with a regularity that amused me and confounded my opponents.
Callaway's OptiFit Hosel system allows golfers to adjust the club's face angle to three address positions– Open, Square and Closed– by shifting the "cog", a rotatable element of the hosel that changes the angle of the shaft axis relative to the head. Rotating the cog enables you to choose a preferred look at address while also minimizing the ever-unpopular slice or hook generated by your, um, possibly imperfect delivery of club to ball. Because the shaft doesn't rotate with the cog, shaft graphics and grip reminders remain consistent– which is to say look and feel remain the same even when you adjust the face angle.   The club also allows you to shift two OptiFit weights in the clubhead to promote a draw or neutral shot shape.  The clubhead itself is composed of a forged composite material lighter than titanium that puts more than 7 million carbon fibers in the crown, resulting in an optimal center of gravity and high Moment of Inertia.  The aerodynamic contouring doesn't just make the club look deadly; it also reduces energy loss from drag, resulting in higher impact speed and thus more distance.
The bad news is that despite the success I enjoyed with a club that nobody else had access to, Callaway Golf nonetheless went ahead with their nefarious plan to make the RAZR Fit available to everyone.  In fact, Callaway has provided the club to all the Golf Road Warriors visiting Palm Springs this month, which means that now my opponents will be hitting fairways as reliably as golf writers showing up on time for a buffet, and thus the competition will likely come down to short game efficiency and putting– and more on that shortly.
The RAZR Fit is the best driver Callaway has produced, and pairs well with seven varieties of their RAZR Fit irons.  They're sharp.  And they'll shave strokes off your game.  But please don't tell anyone.  In the meantime, I've asked Callaway's Tim Buckman to see whether he can come up with a putter that also works as a flame thrower.
Here are two videos– one from GearEffectGolf.com, and one from Callaway Golf, describing the RAZR Fit driver.