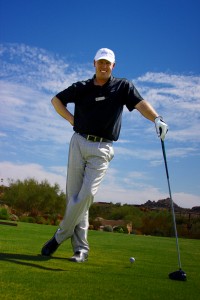 Players venturing south to the desert for a warm, dry fall or winter golf trip will face a unique challenge: how to hit shots that hang in the air longer than Superman showing off for Lois, and that land softer than the final notes of a Kenny G song.  Desert courses such as the beloved layouts at Troon North, in Scottsdale, are often target-style, meaning that fairways and greens present lonely islands of grass in harsh desert topography full of cacti, rocks, arroyos, rattlesnakes, and other dangers.
Doug Hammer, Director of Instruction at Troon North, says, "Out here in the desert the greens are firm and fast and often elevated.  They also have false fronts with hazards and heavy bunkering to hit over, so you need to know how to hit the high, soft shot."
When trying to launch shots likely to be approved by NASA, Hammer recommends a full swing with the ball positioned forward in your stance.  "Keep your lower body quiet.  If you slide you'll catch the ball on an upswing.  Try to pinch the ball between the club and the turf and keep the clubface from closing, like on a cut shot.  Inside of 100 yards, take less than a full swing with a slightly weaker grip and an open stance. You want to slip the club under the ball and above the turf.  Try not to take a divot, and just brush or sweep the grass."
The high-flier may prove especially helpful on Troon North's Pinnacle course, where the front nine features holes with forced carries over arroyos; or on the second hole of the Monument Course, a par three of approximately 150 yards that plays to a very elevated green with bunkers positioned short and right and a big false front.  If you're short, the ball will roll back down to where you can't even see the hole.  Which, at least, will give you another opportunity to practice the short high shot again.