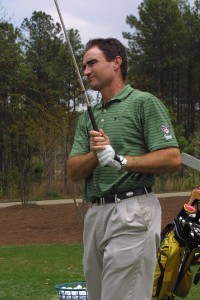 As legendary golf instructor Charlie King will tell you, one of the best ways to get people to improve their golf– or their knitting or whittling or ice fishing, for that matter– is to provide some incentive or motivation.  It's the exact phenomenon that explains why Peter Kessler whipped me in golf all week until we put a small wager on the match and I came roaring back to win.  The fact is, I could be playing for a bottle cap but the mere fact that I'd collect something upon a victory seems to make all the difference.  Sure, I'm flawed psychologically, but at least I'm aware of the flaw.
After golf at the most excellent Oconee Course at Reynolds Plantation last week, a handful of Golf Road Warriors and friends headed for the Reynolds Golf Academy, the royal domain of Charlie King, who explained that while challenges like weight loss programs have before and after photos that provide their own rewards, golf instruction doesn't.  Which is why he's devised a skills test to give to players both before and after they complete a series of golf lessons with him– and after many of these classes, he offers prizes that people want, so that they'll be willing to perform the tasks that make them improve, even if the tasks themselves hold out all the attraction of shoveling coal.  The Academy stages a series of Red Zone Challenges throughout the year where they might award prizes of $5,000.
King also points out that traditional high-tech instruction where a golfer's swing is compared to a touring pro's so as to point out the deficiencies, is more or less meaningless.  His notion is to teach players the true skills that directly affect the golf ball– how to impart top-spin or hit a draw, for example.  He explains that there really are no fundamentals in golf, just physics, and trying to teach players rigid methods just doesn't work.
King condenses a few of  his teaching tenets into a very short classroom session and then waves us all outside into the Georgia sunshine to go through a shortened version of the Red Zone Challenge.  He also mentions there will be a prize, so I immediately like my chances despite the fact that my opponents included a teaching pro who'd just qualified for a national tournament, and a local club champion, in addition to my golf nemesis, Peter Kessler.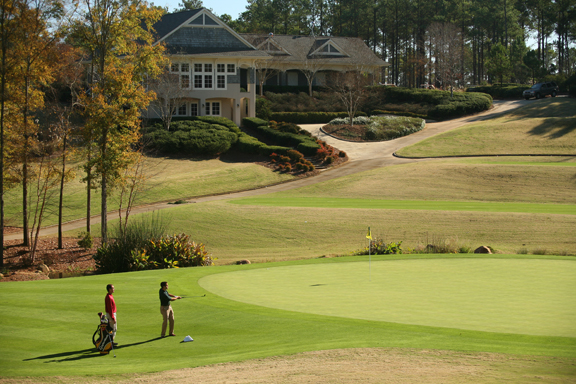 Our challenge for the afternoon is to hit two shots each at six different skills stations, with an opportunity to earn 30, 20, 0r 10 points for each shot depending on how close to the pin it ends up or– in the case of a 60-yard pitch– where it lands.
On the first shot, a short chip over the corner of a bunker to a downhill pin, three of us earn 20 points on our first shot.  I chunk my second into the sand and Kessler blades his over the green.
Next up is a low running chip of about 40 yards.  I hit two 20s (within six feet), some of the other competitors make two 10-pointers, and Kessler makes one for 10.  I've moved into the lead.  I don't know what the prize is– it could be anything from a logo golf ball to a Maserati (though I figure the golf ball is somewhat more likely)– but I want it.
We move to the bunker itself next– and based on my recent bunker play out on the golf course over the past few days, I'm not surprised when I earn 0 points for barely getting each of my shots over the lip into the tall grass fringing the sand.  The pro and the club champion each score twice, closing the gap.
For the 60-yard downhill pitch over a hazard, Charlie King tells us that learning to control where the ball lands is really the key, as opposed to where it rolls out to.  Kessler and I both hit two into the circle for 40 points (you have to hole it to earn the full 30 points on a single shot), and everyone else hits one or two outside the circle but in 10-point range (10-12 feet).  I've staked my claim to a decent lead moving into the putting challenges.
On the long lag putt Kessler and I both score a 20 and a 10, leaving me with 130 points, Kessler with 110, and a couple of the real players with 90.  You may have noticed that I have not mentioned Brian McCallen's performance, as a kindness and a favor to my good friend.
The final challenge is a six footer with about a foot and a half of break to it, and I get an advantage here by going fourth and watching the other players roll it.  I'm the only contestant to make both my putts– in fact, nobody else makes even one.  I am the Red Zone Champion!  I choose between the prizes of a Reynolds Golf Academy shirt and four Reynolds Plantation cabernet wine glasses– I go with the wine glasses as it's always a good idea to bring home something the wife might like.  I also already have about 200 golf shirts, and if I bring home one more I may need to rent a storage unit for them.  And so yes, I beat the pro and club champ, but most importantly, I take down Kessler.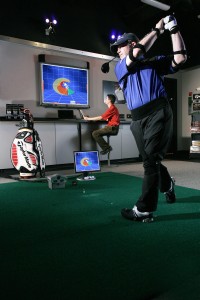 While we are right there in Charlie King's domain, we also make a quick visit to TaylorMade Golf's The Kingdom– which though I'm told was not named after Charlie King, or even TMAG president Mark King, perhaps it should have been.  Located in the same semi-private enclave as the Reynolds Golf Academy, The Kingdom consists of TaylorMade's most sophisticated practice and fitting facilities, including a TOUR trailer where clubs that you're fit for are built overnight so that you can play them the day after your fitting.  Everything about the experience will make you feel like a TOUR professional– at least until you step up and stick a drive in the shrubbery.
The facility encompasses TMAG's MATT (Motion Analysis Technology by TaylorMade) laboratory consisting of a high-tech club-fitting tool, high speed cameras, launch monitors, and a computer smart enough to understand even your swing.  The system creates a sophisticated 3D computer-animated image of your swing that's viewable from 360 degrees, including from underneath.  I have no idea why you would want to see your swing from underneath.  Fitters use the data to choose club specs specific to your swing, range of motion, and other personal factors.  Data is sent right out to the TOUR trailer, where TaylorMade techs build your set as if you really matter.  When combined with a stay at the close-by Ritz Carlton Hotel at Reynolds Plantation, there is no better reward for a golf geek than a three-day visit to The Kingdom and a new set of clubs.  And if said golf geek wants to play against me in the Red Zone Challenge, I'm ready to go.  Just let me finish this glass of cabernet first.