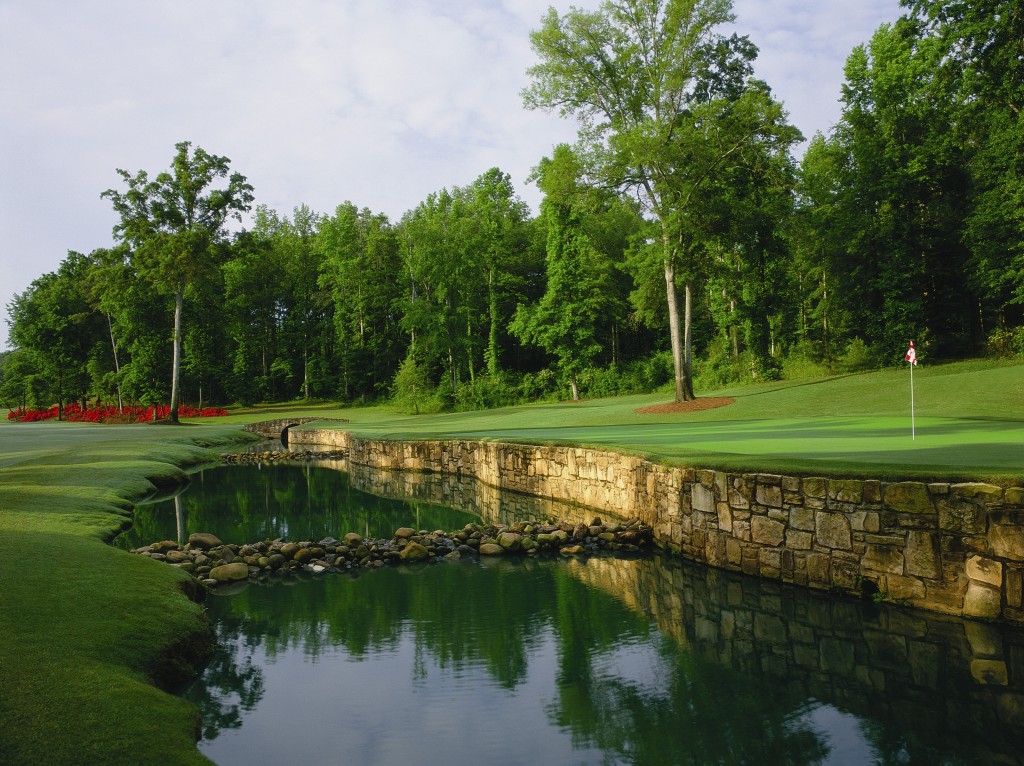 There's at least one moment in everyone's first round at Reynolds Plantation's Great Waters Golf Course where you come off a hole that just played down to a lakeside green and then tee off away from the lake and by the time you get to the next green you're at the lake again and you wonder: did I forget to take my medication this morning?  Such is the nature of Jack Nicklaus's fine work here that it makes use of a collection of coves and inlets and peninsulas in, around, and beside Lake Oconee to route a layout that at times brings to mind Augusta with its tall pines, sculpted pine straw, blooming azalias, and finely manicured golf playing fields.  It's as clever a routing as you're likely to see anywhere, and viewed from above most of the back nine radiates out from a dry point in the middle of a peninsula jutting into the lake, with the holes spoking out toward and away from the water– sometimes at the same time.  This in addition to several holes– such as  the terrific par-three eleventh and the daunting 540-yard eighteenth– that play entirely along it.
Nine of the golf holes at Great Waters manage to play along Lake Oconee, and the ones that don't still work to build anticipation for those that do.  This former home to the Andersen Consulting World Championship of Golf can make anyone who plays the course with a single golf ball feel like a champion.  Yet despite all the opportunities to hit into the water, the course is as difficult to the mind as it is seemingly dangerous to the Titleist.  The lake works as a hazard, a backdrop, and a psychological "nyaa nyaa" (thumb against nose, fingers wiggling).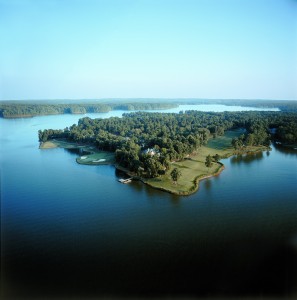 You can tell from the very first tee that Great Waters will be all about angles and ball positions.  For playing partner Dave Gould, though, it was also all about new ways of uttering cliches.  In the middle of the initial fairway he told me to "hit it stone dead" and then pointed out his goal of uttering cliches from other cultures (this one from the British Isles) throughout the day.  On the green, when our other partner, Ryan Ripa, picked up Dave's penny ball marker Gould promised to send him a 1099 after the round.
Ripa, a co-founder of Golf Road Warriors sponsor Grow the Game Golf, is particularly well-named, as he tended to "rippa the ball offa the tee."  One of the drawbacks of playing with younger golfers is that you hate them immediately for their flexibility and the ease with which they execute swings that would land guys like Dave and me in the hopsital.  Ryan was difficult to hate despite his long-ball capacities, especially as he manned the phone app leaderboard for us and reported throughout the round how our various matches were going.  They were going well, in general– at least until we came to the 18th hole later in the day.  But more on that in a moment.
Number five was a particular favorite of mine on the front side– a left-dogging 422-yard par four that requires a draw smacked out through a chute of trees over a stream to set up an approach back over the stream to a green tucked scenically behind well-crafted rockworks.  Ripa faced a tough shot from the fringe here (Nicklaus's signature swaley pitching areas surround many greens), and Gould described the shot as requiring you to "hit the gas and the brakes at the same time."  Number nine also delivered great asthetic and golfetic challenges– the second shot demands a high, soft bomb over a huge slice of lake.  And speaking of slices, that describes my own approach quite accurately.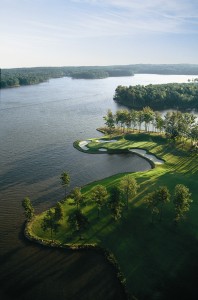 The entire back nine ratchets up the water-to-grass ratio and asks you to step up your game, as well– all but one of the holes provides the opportunity to utter the space-age phrase "splash down" in a lake or stream.
Going into the eighteenth, our overall match between groups was tied, as was my daily match with Peter Kessler playing just ahead of us.  When we heard girly screaming from our opponents from out on the 18th fairway I first thought perhaps they were bluffing.  But upon coming up to the green ourselves a few minutes later we learned that Tom Berardo– husband of our most gracious hostess at Reynolds, a five handicapper, and even better than that at barbecuing salmon, steak, and porkchops– had dunked an eagle from 93 yards out.  Thank God it wasn't Kessler, I thought.  Then discovered that he'd only managed to make a birdie, winning our match with his very last shot of the day.
Our hosts at Reynolds knew what they were doing when they scheduled our golf rounds, as each course thus far has represented a step up in quality, excitement, and just plain fun– a tough accomplishment, as we started at a high level to begin with.  And that just makes tomorrow's final round at Jim Engh's The Creek Club all the more enticing.