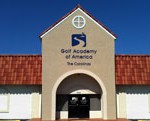 It may be the world's only institute of higher learning that offers free range balls with tuition.  Today, the Golf Road Warriors stopped in for a tour at Myrtle Beach's Golf Academy of America and were universally impressed by the facility and the earnest hard work of the students and faculty members and administrators (and even the receptionist) that we encountered.
The 16-month program offered by the Academy prepares students ranging in age from their twenties to their sixties for careers in golf– including jobs as Directors of Golf, General Managers, Head Professionals, and a wide variety of positions at manufacturers and other golf-related companies.  The current student body at the Myrtle Beach campus is approximately 300, including a handful of women.  Over the years, students have come from as far as India, the Czech Republic, South America, Korea and many other locations where little training is available in golf, though most of the students are American.
Students graduate with Associate Degrees and can continue on for another two-year program or transfer credits to earn a Bachelors Degree.  Eighty one percent of graduates end up with jobs in the golf industry.
The heavy-weight curriculum offers courses in the history of golf, clubfitting, golf instruction, accounting, merchandising, marketing, and much more.  Facilities at the Myrtle Beach campus include putting and full swing areas, simulators, video analysis equipment, club fitting and repair labs, an indoor putting and sand complex, classrooms, computer labs, and way, way more.
Given our experience over many years with golf pros who apparently settled for jobs in the industry because they were unsuccessful on tour, and had no qualifications and the wrong personality for the job (especially having chosen such a solitary sport like golf in the first place), we think Golf Academy of America is exactly what the industry needs: a place to nurture a crop of earnest, well-trained personnel who are in the golf business because they chose it as their first career and learned the skills that will make them successful businessmen.
We also sat down with Director Jim Hart to learn more.  To see a video of Hart talking about the Academy, click on our video tab above.